One of our awesome loyal readers, Donna, contacted me in August 2020 about getting some design help for her upcoming New Jersey cottage's curb appeal makeover project.
She was inspired by an article I wrote back in August 2019 about a local client's curb appeal project and she and her husband were wanting to use similar colors for their own home's project.
And since I just LOVE doing curb appeal makeovers, I couldn't say no!
Donna provided me with photos of her sweet fairytale cottage along with links to the roofing and siding materials their contractor wanted to use.
Here are the "Before" shots Donna sent me. SO much potential with this cutie!
---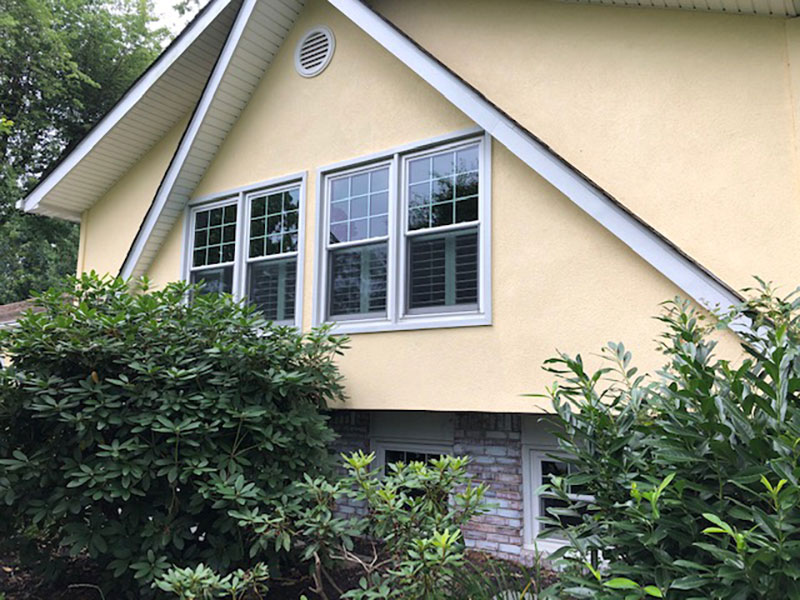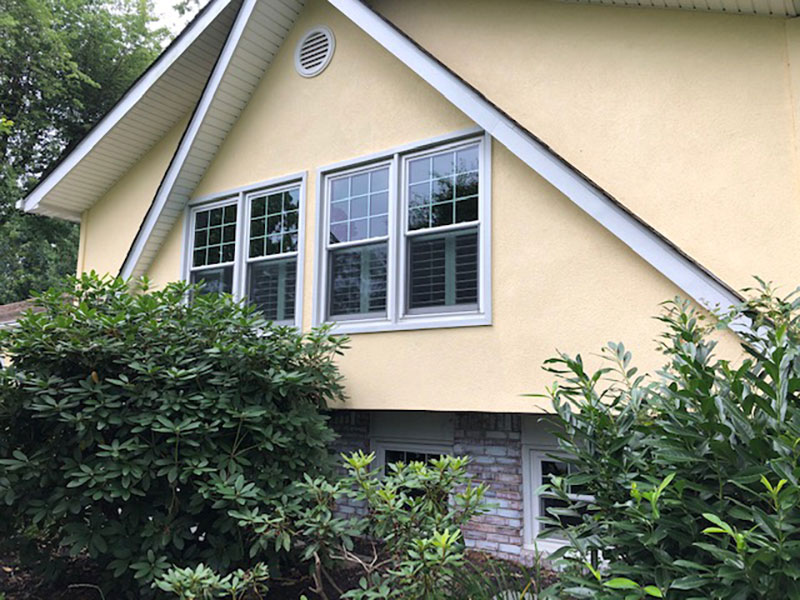 So I got to work looking for inspiration photos and selecting paint and material colors. I was starting to envision removing the triangular roof line from the front facade and replacing it with stucco and shakes to give it more of a traditional cottage look.
I also envisioned having the garage doors faux-painted to look like wood to add some warmth and even more charm to the front elevation.
Here are the renderings I came up with. For those of you that have been following this blog for a while, you might notice the "Sanctuary" logo on the renderings. Seems like forever ago that was the name of this blog (Pssst: I don't miss it at all!).
I kept in touch with Donna to find out the progress of her project and as with most projects, there were delays: they changed contractors, there were weather delays, and, of course, Covid-related delays.
I was so thrilled to receive some progress photos last June (yes, this post is WAAAAAAAY overdue!). They ended up going with a different color scheme and I think it turned out so lovely and charming! And they're super happy with the outcome which is ultimately THE most important factor.
I love the color scheme they chose as it lends a sophisticated feel to such a unique and quirky exterior. And I really love that they removed the faux round vent at the top of the triangle and added some battens and that gorgeous gable pediment instead – proof positive that little details like these can make such a HUGE impact on a final product.
Donna said she's still tweaking things here and there but is really enjoying the process. I'm so happy that Donna and her husband will be able to enjoy their "new" cottage for many years to come!
Doesn't their home look so beautiful? Well done, Donna!
---
If you enjoyed reading this article, make sure to sign up for the weekly newsletter below so you never miss a post.
Thank you so much for following my blog and allowing me to inspire you to create your own lived-in, loved-in spaces!