Everyone LOVES a good Before + After story, so I thought I'd highlight a curb appeal makeover project for one of my local clients.
She completely overhauled the interior and did a gorgeous job – she just needed some help figuring out what to do with the exterior on a limited budget.
Come and take a look at how we injected some French Country flavor into the exterior of my client's typical "meh" Florida stucco house!
THE LONG & HAIRY (EW) BACKSTORY …
My interior styling client, Christina, actually was a former portrait photography client of mine.  She's a super cool chick – we clicked right away – and I had so much fun getting to know her family during her puppy's photoshoot.  It's always a huge blessing to have such awesome clients!
So fast forward a year and a half, and Christina called to let me know that she recently got divorced and was looking to get a fresh start with her new life as a single woman.  She bought a cute, but typical, Florida stucco home in THE sweetest little hidden neighborhood that was full of huge, beautiful oak trees dripping with Spanish moss.
As I pulled up to her home for the first time, I couldn't wait to see what was inside.  The outside definitely needed to be freshened up, but I already knew that so I wasn't surprised to see that.  Christina purchased the home as a fixer-upper and completely renovated the interior and I was so excited to see what she did to it.
When I first stepped into her home, I knew it was going to be something special.  She really loves French Country style and she had those beautiful touches all throughout her home.
Her kitchen instantly made me want to slap on a Parisian apron and cook something; then I wanted to go soak in her amazing bath after I was done whipping up my imaginary meal; then I'd follow all that up with a looong nap in her dreamy bedroom.
Look at how sweet all of these rooms turned out.  But there's a reason why they look a bit unfinished, so keep reading to find out why.
Image Provided by Client

Image Provided by Client
Image Provided by Client
SO WHAT THE HELL DID SHE
NEED ME FOR, ANYWAY?
So you're probably wondering if she did such a great job all on her own, what the hell did she need my services for?  She obviously knew what she was doing when she remodeled her house and she did such a fantastic job, so what gives?
Well, here are 3 reasons:
Reason #1: Christina wanted to hire me to help accessorize her home. She said she was good at selecting all the "big stuff" like cabinets, tile, paint colors, etc. (she used to work for a national custom builder), but she found accessorizing to be tricky.
Additionally, she received a quote from a local design firm that was going to charge her – are you ready for this? – $30,000 to put 2 area rugs, a handful of throw pillows, some wall art, and knick-knacks throughout her little house.  My jaw dropped when she told me the price – that made me sick to my stomach – shame on them.
Reason #2: Christina wanted me to give her lanai (that's the fancy word we use for screened-in porches in Florida) a total makeover.  It was a small porch FULL of crazy design challenges, but I was looking forward to kicking that porch right in the nuts.  She told me that she meditated every morning before work, so I knew I wanted to transform it into a very serene space for her where she could find peace and mindfulness after a stressful day at work.
Reason #3: Christina wanted to give the exterior of her house a French Country-flavored makeover and wasn't sure where to start.
I was SUPER excited to help her finish creating her little dream home (especially her future meditation porch!) and got started designing mood boards soon after we met.
However, life always has a way of changing in a heartbeat, and Christina was offered an awesome career opportunity in Charleston that she decided to pursue.
She was planning on renting out her pretty home (the reason for the undecorated spaces) in case Charleston didn't work out for her so she now only needed me to help her with Reason #3.
THE "MEH" BEFORE SHOT
Since Christina had recently finished the interior remodel, the exterior was next on the list and you can see why.
It looked a little tired and run down and desperately needed a little injection of freshness, serenity, and coziness to brighten it up a bit.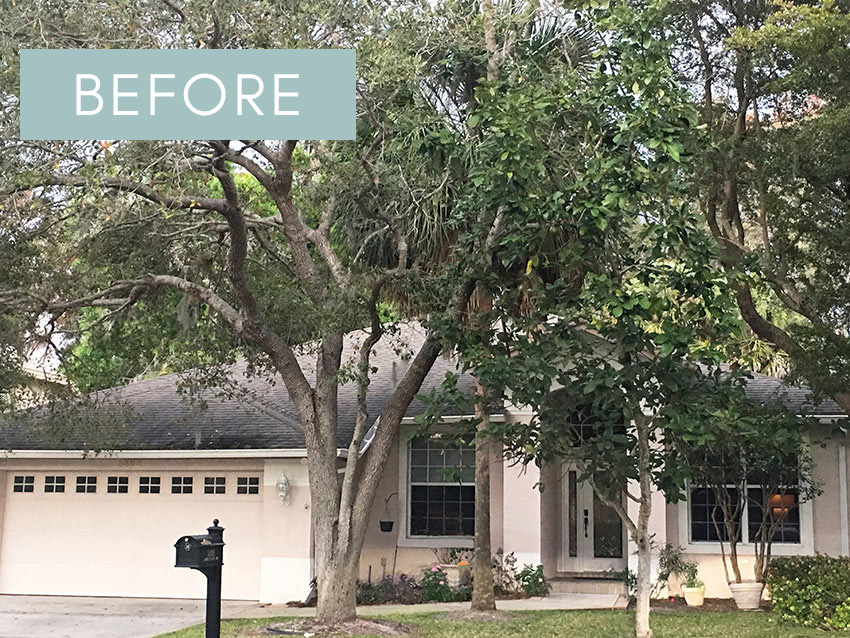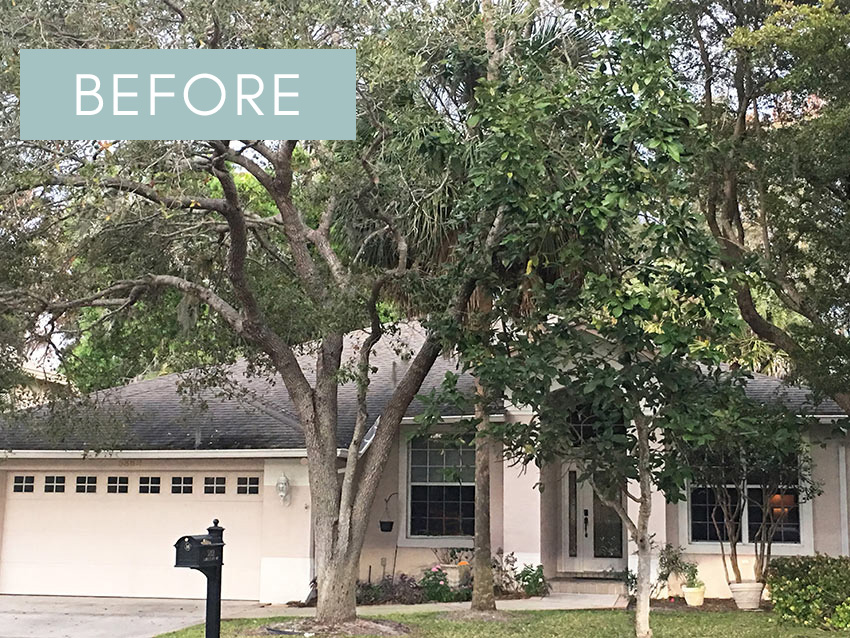 Her main wish for our curb appeal makeover was to carry the French Country style to the exterior, even though the house does not resemble a French Country house in any way.  But that's ok! We were really just trying to channel the overall sophisticated, yet relaxed, feeling French Country style effortlessly exudes.
Luckily, my "superpower" is being able to envision the final product on a design project before it's even started. I realize that many people don't have that ability so I don't take it for granted for a second.
However, many people can't envision the outcome of how their homes will look after a makeover so I like to provide them with as many tools as possible to help them see what I see.  I find that these tools give them the confidence they need to make decisions since there shouldn't be any surprises at the end of the project.
I came up with two options for her (I was secretly hoping she'd pick Option A …) to see which one really resonated with her soul and made her feel a sense of peace and serenity.  I also worked some Photoshop magic to show her what her house would look like with the proposed color schemes, new lighting, decor, roof, and landscaping.
So let's check out Christina's two options!
CURB APPEAL MAKEOVER: OPTION A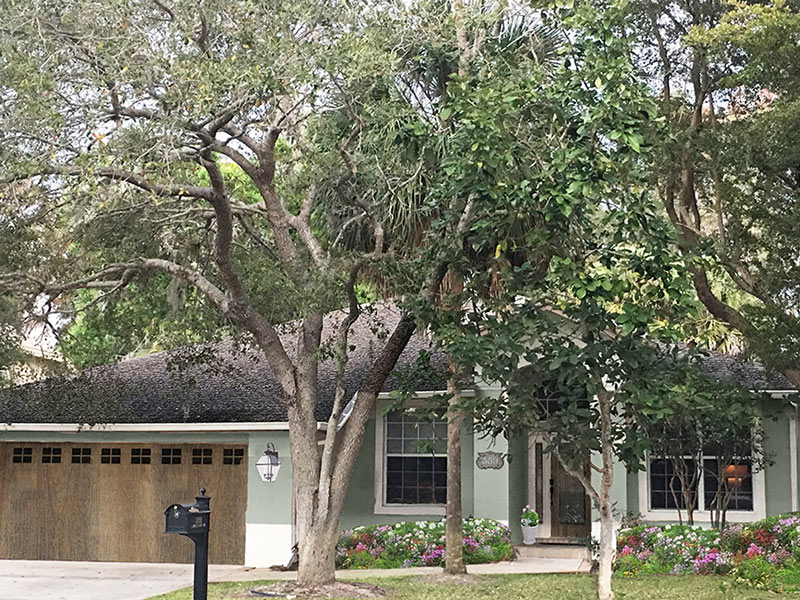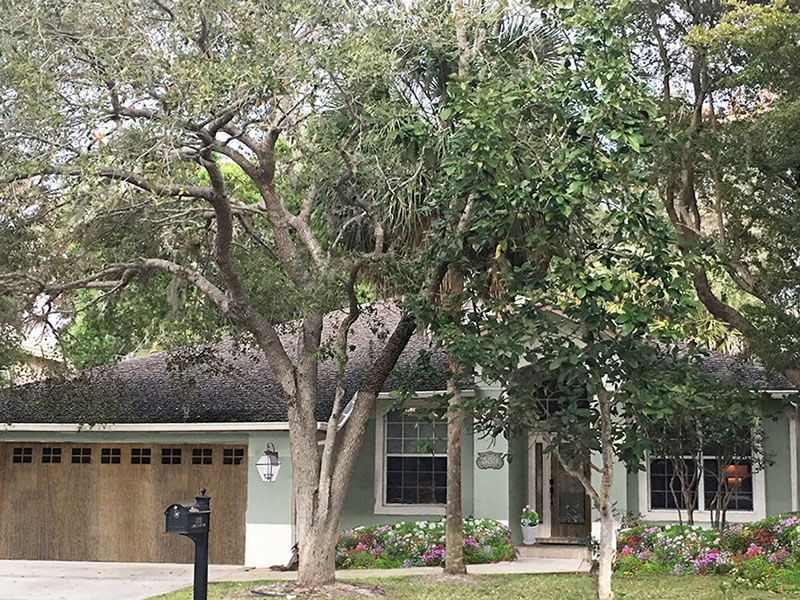 Click Image to Enlarge
This is the option I was secretly wishing Christina would pick.  I imagined this beautiful color on her home right after we finished our first meeting.   It's such a gorgeous blue/green/gray color from Sherwin Williams.
It's actually the same color The Hubs and I painted the exterior of our previous home, a sweet little vintage beach cottage.  It was such a relaxing, soothing color, and I knew it would be a great option for Christina.
And the faux-painted woodgrain on the existing garage door would be the budget-friendly cherry on top!
CURB APPEAL MAKEOVER: OPTION B

Click Image to Enlarge
I loved the color palette on that sweet inspiration home and was trying to carry that feeling over to Christina's house.
Honestly, I wasn't super excited about this color scheme but I wanted to give her a "safe" option in the event she didn't want a somewhat bold color in a neighborhood full of beige or gray homes.
But DANG! – look at those gorgeous black distressed pots.
THE FINAL REVEAL
Since Christina was going to be renting out her home, she didn't want to make a huge investment in the curb appeal makeover which is understandable.
The big-ticket item was the professional paint job, which took up most of her budget.  She didn't go overboard with the landscaping (I love her minimalist approach!), pots for the porch, the faux-painted garage door, or a new front door. But I absolutely love how it all turned out!
Image Provided by Client
Image Provided by Client
She ended up going one swatch lighter for the blue/green/gray paint color I proposed and I think it looks so beautiful.  That gorgeous color against the bright white accents makes her home look so crisp, clean, and inviting.  And I really adore the lantern lights and the address plaque she happened to find.
Even though she didn't go with the exact products I suggested, my mood boards helped give her the confidence she needed to purchase similar items and I'm so thrilled I was able to help her in that way.  She just needed that little bitty push …
If she happens to move back to Florida, she plans on buying a new front door, faux-painting the garage door, and adding some additional decor and landscaping.  But how lucky her current renters are to live in such a pretty home!
Thank you so much for following my blog and for letting me help you create your own lived-in, loved-in spaces!