If you've been following my blog for awhile (thank you!), you might remember this post from February 2020 about tackling a mini-makeover project for our powder bath.
We moved into our new farmhouse on Thanksgiving Day 2017 so it's not like this bathroom was outdated and desperately needed a rejuvenating refresh.
Rather, it was more about wanting a reason to actually use this little forgotten room even though I walk past the dang thing at least 50 times every day. The Hubs used it periodically but I honestly completely forgot about its existence on several occasions.
When I first decorated this room in 2018, I just threw some Benjamin Moore Hale Navy up on the walls and called it a day. But the bathroom was so dark and cave-like and it lacked any semblance of a personality – totally "meh." BO-RING.
So fast forward to late spring 2020 (at the height of the pandemic lockdown): I came up with a new idea of dedicating this small space to all of our pets and started designing some fabric and removable wallpaper to order through Spoonflower. I thought if I could see all my furbabies together in one space, I'd surely use start using this bath!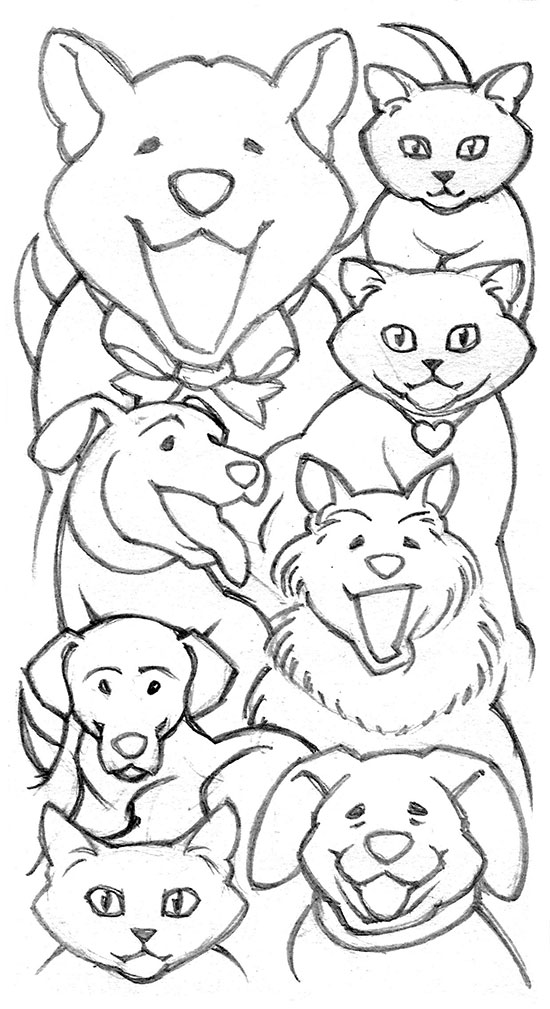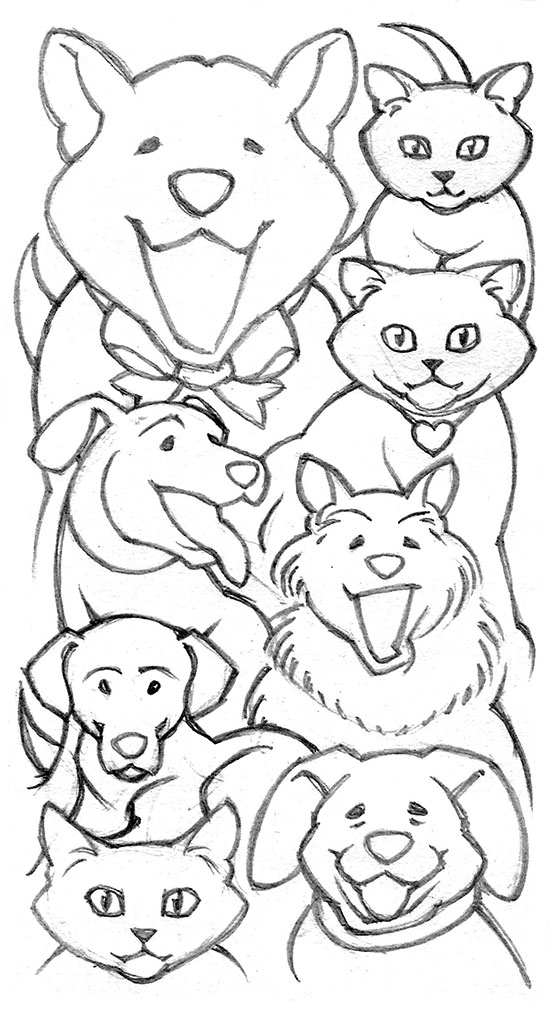 WALLPAPER TO THE RESCUE … OR NOT
In late 2018, I commissioned a local Naples artist to sketch all of our pets (both past and present) and thought it might be fun to turn his sketch into wallpaper for our powder bath. I mean, how freaking cute is this drawing?
It didn't take me long to design some wallpaper and some fabric (to make hand towels) but it did take FOREVER to get my sample swatches from Spoonflower – through no fault of their own (pandemic) – so that considerably slowed down the entire process.
The wallpaper samples turned out super cute (see below) and I slapped them up on the walls to see which one I liked best. They all definitely put a smile on my face but ultimately, I just wasn't "feelin' it" so I never ordered any rolls and went, as they say, "back to the ole drawing board."
Even though I didn't go with any of my own wallpaper designs, I was still intrigued by the thought of using wallpaper to jazz up the little joint and started doing some inspo research.
I found a few wallpapered powder baths I liked well enough, but I kept coming back to this sweet little bath designed by Emily Henderson.
I loved how fun and playful, yet sophisticated, her design was and I thought this could be a good Plan C for our little bath.
The wallpaper is Dashes wallpaper in navy by Rebecca Atwood and at $70/roll, was a bit out of my budget so I shopped around for something similar and ended up buying this Tempaper navy blue dots peel & stick wallpaper at Home Depot for only $35/roll.
Now, I've never hung wallpaper before but I have removed wallpaper and it's a BITCH and why I've shied away from using it since the '90s. But I figured since this stuff was peel & stick it couldn't be THAT bad, right? Hah. What a fool.
The first 2 sheets looked pretty good and they lined up nicely. However, the 3rd sheet is another story – it started STRETCHING and then the damned dots wouldn't line up! I thought I was either going crazy or doing something wrong so I went back and read the customer reviews. Turns out the same issue happened to a bunch of other people. SWEET VINDICATION (The Hubs thought I was nuts).
So after hanging two rolls and TONS of cuss words effortlessly flying out of my mouth every 5 seconds, I decided this wallpaper hanging shit's not for me and quit. I returned the remaining unopened rolls to Home Depot and this is exactly how the room stayed for almost 4 months.
Back to the old drawing board once again … but not for long!
---
If you enjoyed reading this article, make sure to sign up for the weekly newsletter below so you never miss a post.
Thank you so much for following my blog and allowing me to inspire you in creating your own lived-in, loved-in spaces!