I've been dealing with a HUGE pain-in-the-arse client of mine for a year now and I'm ready to pull my friggin' hair out – it's that bad.
We've been searching for a new kitchen runner rug but she can't make up her dang mind. I keep presenting her with all kinds of beautiful choices, but none of them meet up to her lofty expectations.
Not only does the rug need to look timeless and classic, but it also needs to be non-toxic (low to no VOCs) and super easy to clean because she's a "hot sloppy mess" kind of cook (her words, not mine).
Now, I don't talk smack about my clients but I'm not worried about any fallout from this particular client and I'll tell you why …
THIS HORRIBLE CLIENT IS ME and I'm THIS close to firing myself!!
MY CHALLENGE OF PICKING
A RUNNER RUG FOR OUR KITCHEN
We were never able to have rugs in any of our former homes because we had two cats who mistakenly thought any rug was theirs to pee on.
But after they both passed away last year, I was ALL about bringing some area rugs into our farmhouse like NOW.
Our kitchen's  "temporary" scatter rug found a new home …
But then I learned how freaking toxic area rugs can be due to the materials and chemicals involved in the dyeing and binding processes and so I had to slow my roll.
I have asthma and chemical sensitivities so I had to be very mindful about the construction materials we used in building our farmhouse and now I also need to be mindful about selecting "safe" rugs for our home.
It's cute but functional as well, providing comfort while doing laundry.
After spending an embarrassing amount of hours hunting for non-toxic rug choices for our home, I've narrowed down my list to the 12 contenders below.
I searched for rugs that looked classic, were cotton, jute, or wool, had no backings on them (No. 12 is questionable), and were easy to clean.
I also contacted the manufacturer of Nos. 5, 6, and 7 (they're polyester chenille) about whether any toxic chemicals are used in their products and was given this response:
"I can confirm that here are Ruggable, we do not chemically treat our rugs in any way.
We use water-based ink for printing that is nontoxic and considered wearable (like clothing). This also prevents the printing machines we use from creating harmful fumes.  We are incredibly vigilant when monitoring quality control and health safety. When it comes to the manufacturing process, we go the extra mile to ensure our rugs are healthy for humans, pets, and the environment."
So I mocked up my kitchen with each of the 12 options using interior design software and now I'm SUPER SCREWED because I LOVE THEM ALL!!
Drop me a comment down below and tell me which one YOU'D pick for my kitchen!
NO. 1 – HANDWOVEN NAVY
BLUE STRIPED JUTE RUG

NO. 2 – COTTON HANDWOVEN NAVY
BLUE & WHITE GEOMETRIC RUG


NO. 3 – HANDMADE JUTE & COTTON
NAVY BLUE BORDER RUG


NO. 4 – COTTON NAVY BLUE &
WHITE STRIPED CHINDI RUG


NO. 5 – STONE BLUE & CORAL WASHABLE
PERSIAN FARMHOUSE RUG


NO. 6 – GOLD & CREAM WASHABLE
PERSIAN FARMHOUSE RUG


NO. 7 – NAVY BLUE & BURGUNDY WASHABLE
PERSIAN FARMHOUSE RUG


NO. 8 – COTTON HANDWOVEN
NAVY BLUE & WHITE GEOMETRIC RUG

NO. 9 – HANDMADE FLATWEAVE
CREAM JUTE STRIPED RUG

NO. 10 – HANDMADE COTTON NAVY
BLUE & IVORY RUG WITH FRINGE


NO. 11 – HANDMADE FLATWEAVE
NAVY BLUE JUTE STRIPED RUG


NO. 12 – FLATWEAVE WOOL
NAVY BLUE & CREAM GEOMETRIC RUG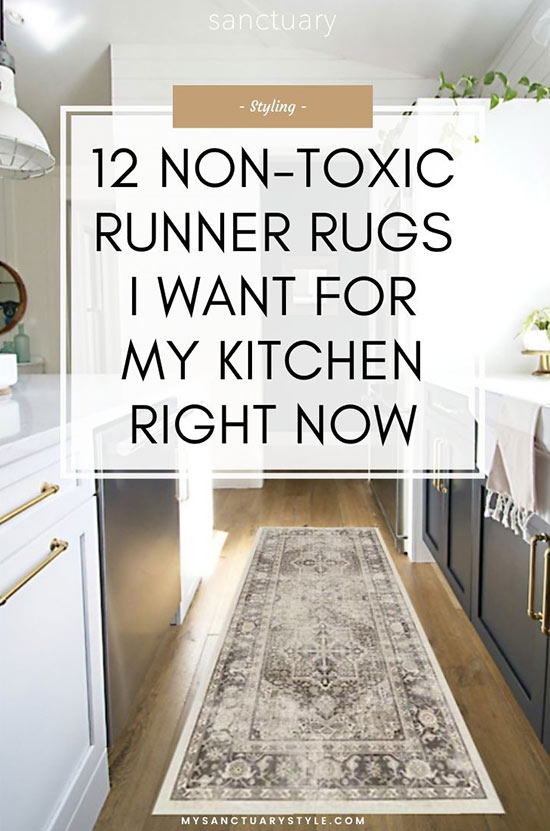 Make sure to drop a comment down below on which of these gorgeous runner rugs YOU'D pick for my kitchen!
Thank you so much for following my blog and for letting me help you create your own lived-in, loved-in spaces!