It's no secret that I've been a HUGE fan of Studio McGee's for over 4 years now.
Everything Shea and her talented group of designers touches turns into design gold – perfection in every way possible.  And the product lines their shop, McGee & Co., carries are equally as beautiful.
The products are expertly curated but MAN, some of them are pricey!  I've had my eyes on one of those items for a long time but I just couldn't get myself to buy it.
But I did figure out a way to "make" it for our kitchen for a small fraction of the cost.
THE INSPO:  MCGEE & CO.'S VILLERVILLE BEACH
FRAMED GALLERY CANVAS ART
I have literally been carrying a printout of this kitchen photo around in my handbag for well over a year now.
As soon as I saw the photo below on Farmhouse Pottery's Instagram feed in January 2019, I knew right away it had to be a Studio McGee kitchen because of their signature style.
Cute pottery aside, I was immediately drawn to the stunning artwork casually leaning on the countertop. It's a painting by artist Carlos de Haes (he died in 1898) titled "Villerville Beach, Normandy."
Honestly, I'd never thought to lean artwork on my kitchen counter and I instantly added that idea to my design Wish List.
SIDE NOTE:  Make sure to click here and here to see other Studio McGee projects I recreated and prepare to get inspired!
HIGH-END PRICE TAG FOR THIS HIGH-END
LOOK: OUCH, THAT HURTS!!

My version
Originally, I was using the Studio McGee photo as inspiration to find vintage artwork that looked similar so it would have that "lived-in" look and feel to it.
I searched through all kinds of antique shops, thrift stores, Goodwill.com, eBay, and Etsy and always came up empty-handed.
I figured I'd surrender and buy it from McGee & Co. but it's $268 for a 20×15 framed canvas print and that just wasn't in my budget.
I am in L-O-V-E with how it turned out!
Then I Googled "Villerville Beach painting" and came across this site which has a 20×13 framed canvas print for $142.  Not bad, but I still couldn't pull the trigger on paying that for a small piece of artwork.
I found an art print version on Amazon for $31 for a 24×16 but I didn't like the fact it's printed on poster paper.
Then I figured I'd just "make" the dang thing and turned to one of my favorite go-to sources:  Etsy!
HOW TO RECREATE THE LOOK:
THE PAINTING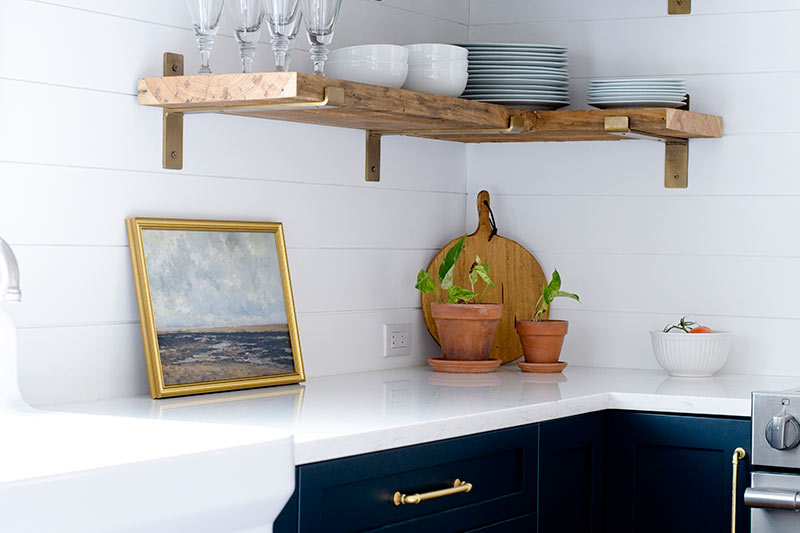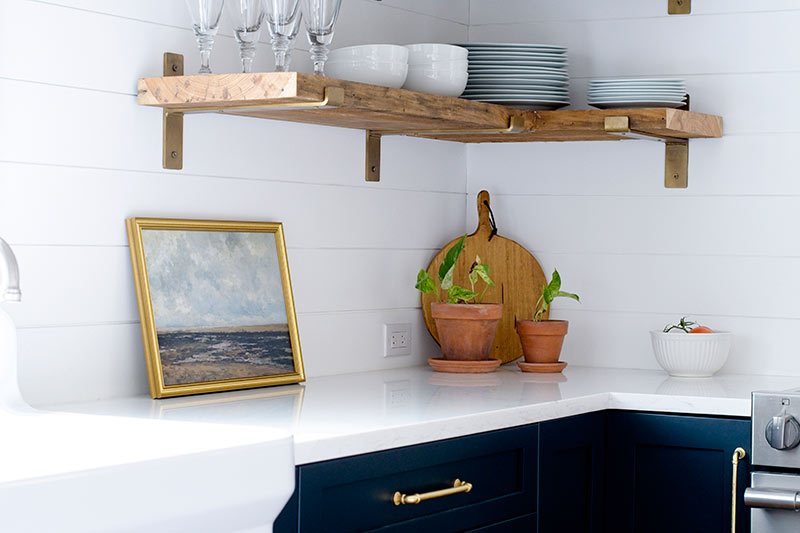 I gotta confess a little something before I go on …
I was THISCLOSE to throwing in the towel on finding a less expensive option of this Villerville Beach painting when I happened to find the solution purely by coincidence.
I was on Etsy browsing through digital art to see if any Etsy sellers offered anything similar or some other dark and moody beach scene.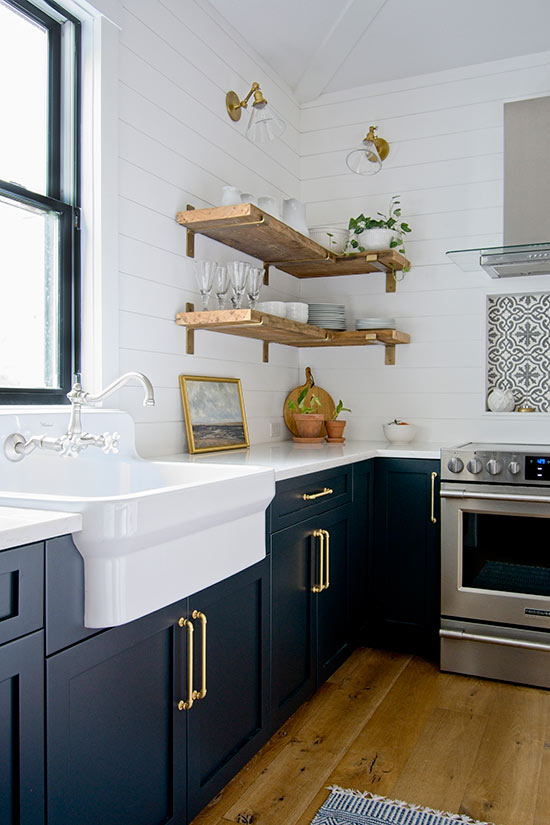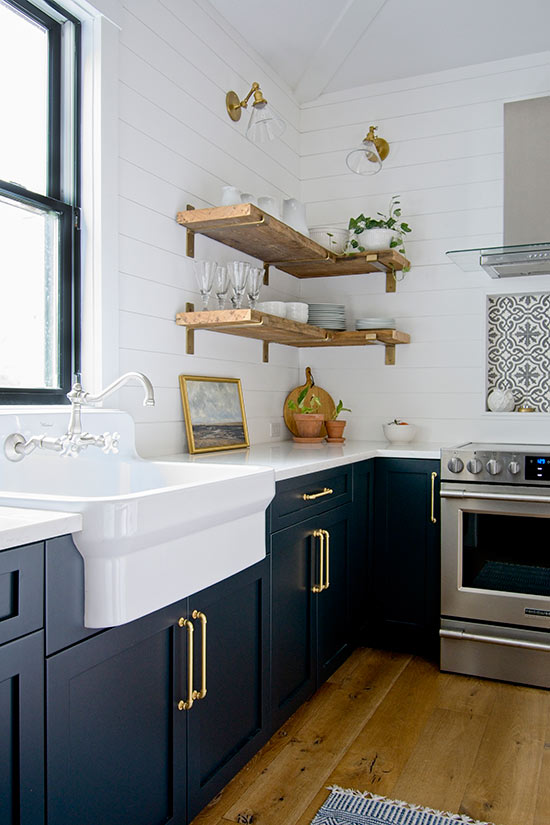 I actually almost bought this digital vintage landscape painting and I really loved this vintage landscape painting with some cute cows (as a nod to our modern farmhouse).
I had both of these products in my cart ready to go but I kept browsing and stumbled upon this image:
I couldn't believe it!  It was the digital image of the Villerville Beach painting and it was only $12 for the digital download file!
I bought that thing right away and had my pro print lab (I use for my photography businesses) print it on linen paper and DAAAANG! It turned out soooo pretty!
Since the print lab I use isn't open to the public, I highly recommend using Mpix.com and selecting their linen paper option.
And if you want an exclusive 20% Mpix.com photo printing discount, go to my home page, wait for the newsletter pop-up and become a subscriber.
HOW TO RECREATE THE LOOK:
THE FRAME
The next piece of the puzzle was to find a frame.  Now normally, I'd be hitting our local Homegoods, antique shops, and thrift stores to find something that has a vintage look.  But this was during the pandemic so off to the Internet I went!
I found this beautiful gold frame on Etsy as well and I instantly loved the beading detail around the inner edges.  The gold is not this bright in real life.  It's the perfect gold that looks a little antiquey.
If you really want to make it look like a vintage frame, just rub a little bit of this antiquing glaze on it, rub it right off and you're good to go.
I ended up buying an 11×17 for $30 which fit perfectly under the open shelving.  So it's actually a good thing I didn't buy the McGee and Co. version because it's much taller and wouldn't have fit!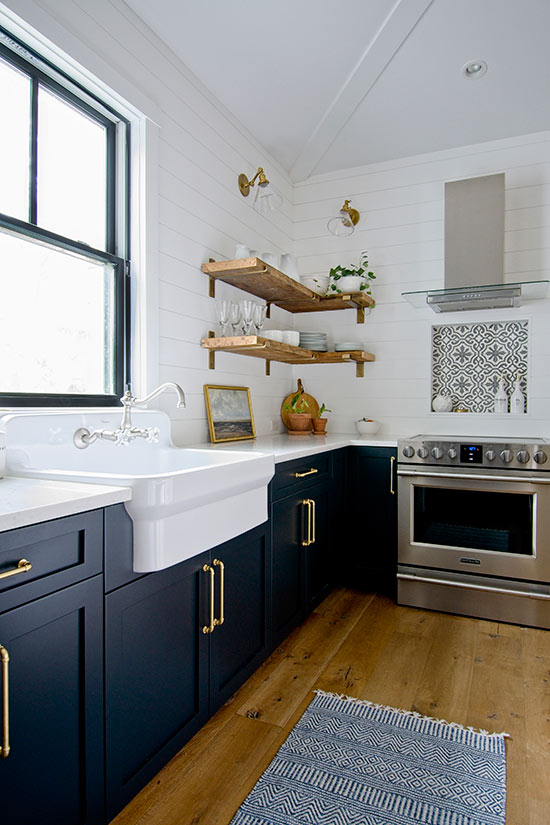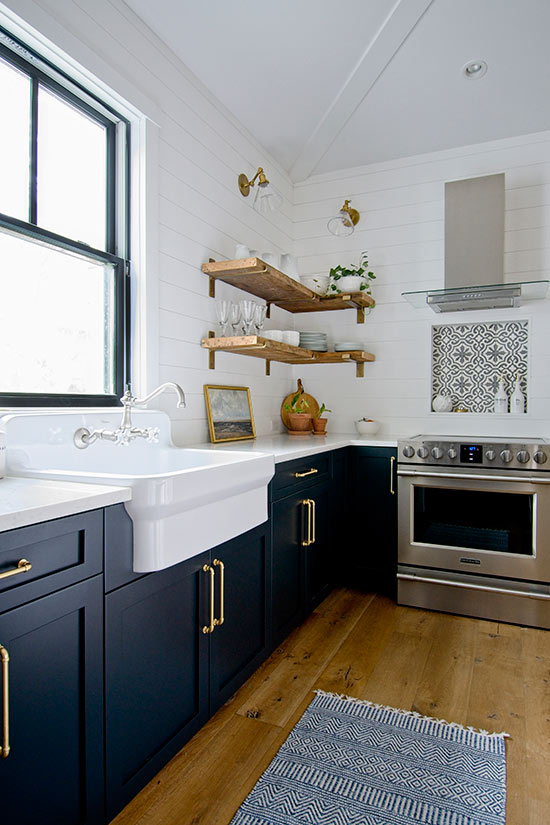 Even though it's not the McGee and Co. painting I originally wanted, this is the next best thing that fit my budgetary needs perfectly.
I absolutely LOVE the little moment of drama it brings to our kitchen and it brings a smile to my face whenever I walk past it, which I certainly could use more of during these stressful times.
And I have a feeling I'm still gonna buy that digital vintage cow painting in the near future. It's just so dang cute!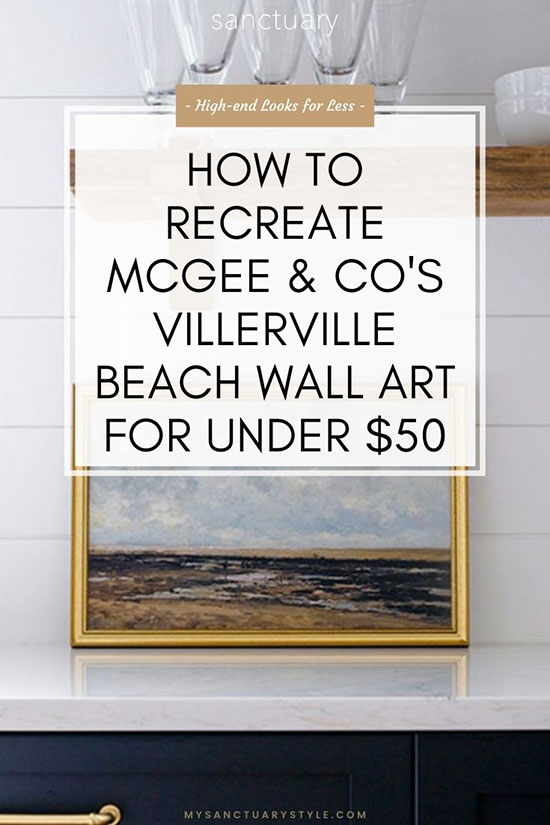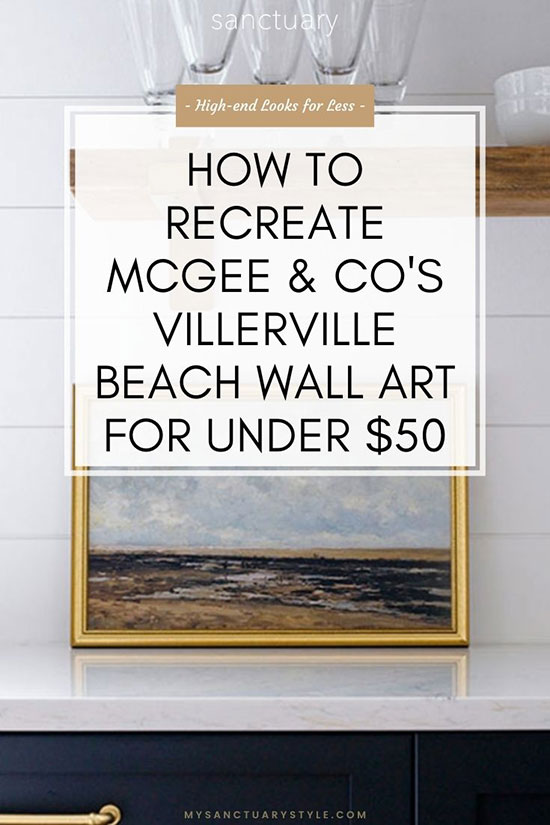 I hope this post inspired you to not be intimidated in trying to recreate a high-end interior design look you love due to the accompanying high-end price tag.  There are ways to achieve the look and feel of that inspiration piece you love without buying that exact item!
Thank you so much for following my blog and for letting me help you create your own lived-in, loved-in spaces!