I thought I outdid myself with my gluten-free/dairy-free/egg-free Chocolate-Cranberry Explosion Cupcakes and Magical Apple-Strawberry Pie recipes.  And then I made these little chocolate chunks of heaven.
I'm gonna go ahead and toot my chocolate-lovin' horn pretty damned hard here.  THESE. COOKIES. ARE. UH-MAY-ZING.
I made 3 different test batches this week and ate almost all of them by myself.  BY MYSELF, YOU GUYS.   I saved a few for some of my taste-tester friends, but I hoarded the rest for myself as if the apocalypse was right around the corner …
Once you make these cookies, you'll understand why I can't stop shoving them into my mouth!

It's been at least 9 years since I baked cookies from scratch (I was diagnosed with Celiac Disease in 2011) and I've been jonesin' to create a super tasty gluten-free/dairy-free/egg-free version.
So I started slapping some ingredients together to see what I could come up with.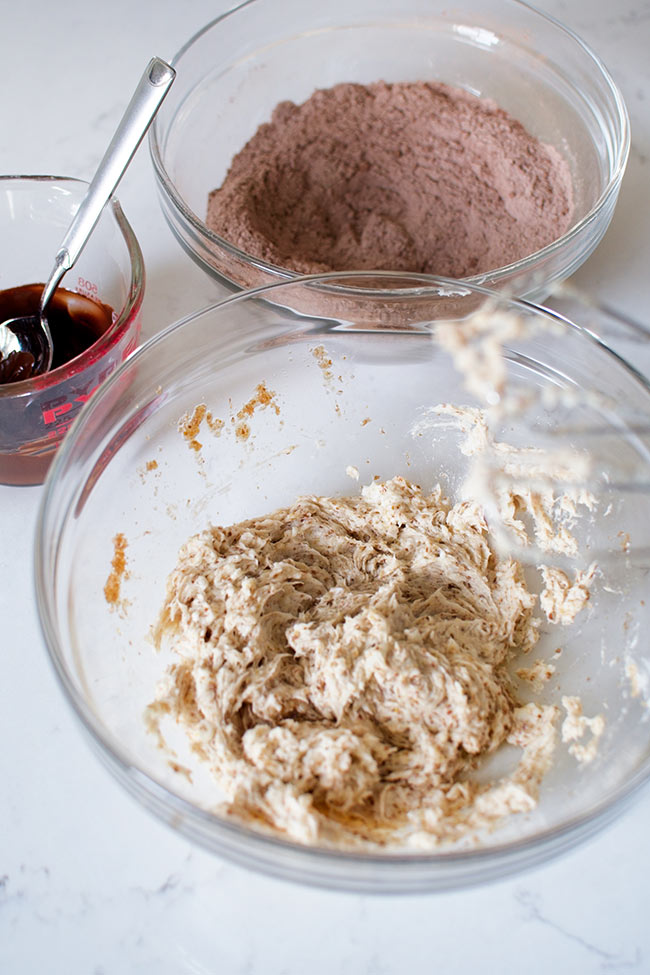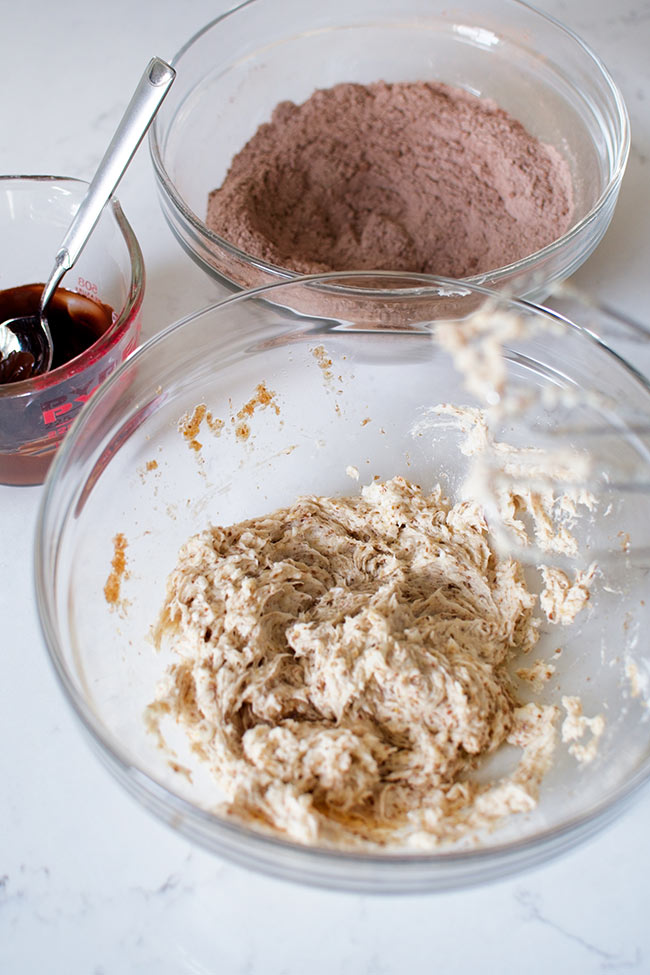 I made 3 different test batches:
Version 1:  Using all dairy-free butter
Version 2:  Using 1/2 dairy-free butter & 1/2 shortening
Version 3:  Using all shortening
Each test batch was pretty dang good – but the third version won – HANDS DOWN.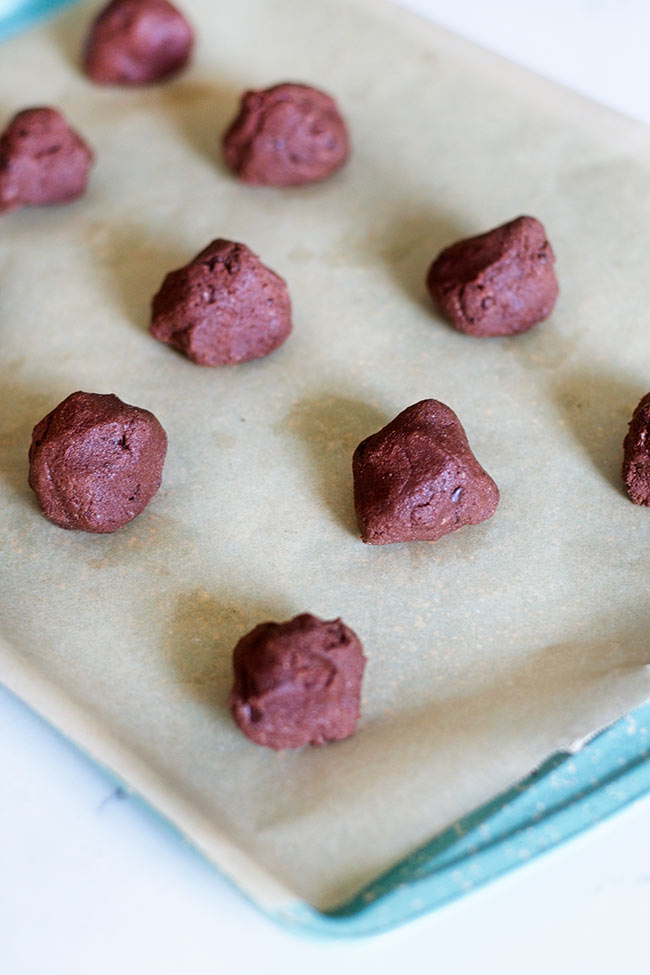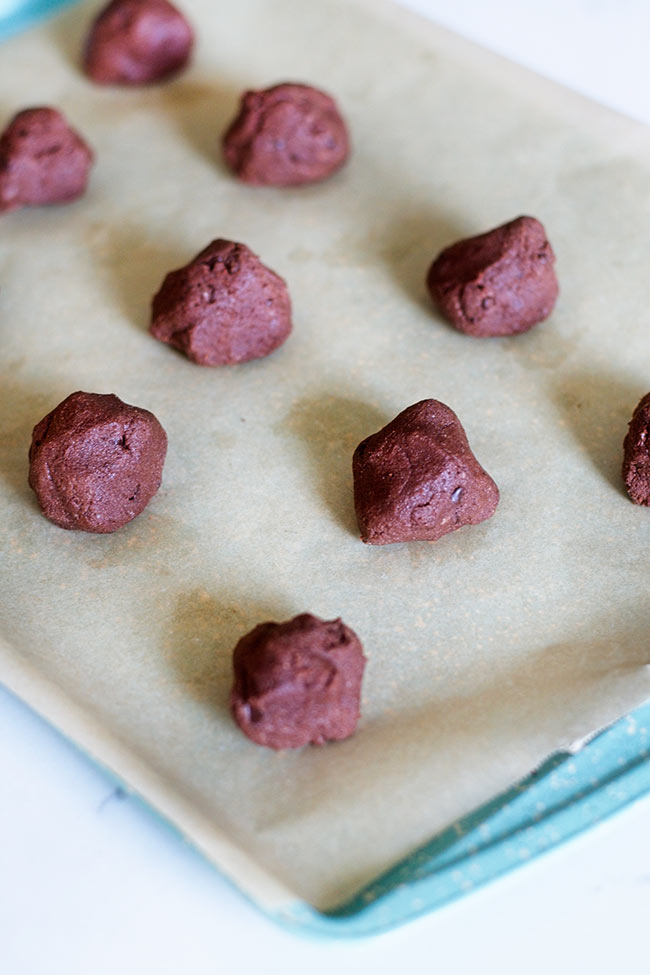 It had the perfect combination of taste and texture and The Hubs (he's a super tough critic!) and several of my objective, gluten-eating friends agreed.
If a gluten-free/dairy-free/egg-free cookie passes their stringent tests, you know it's gotta be good.
A FEW HELPFUL NOTES
BEFORE YOU GET STARTED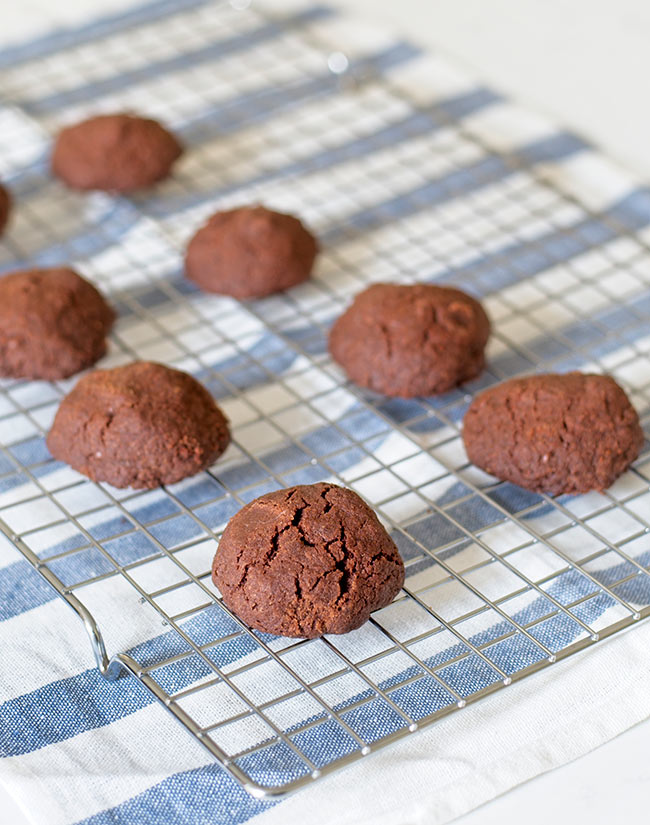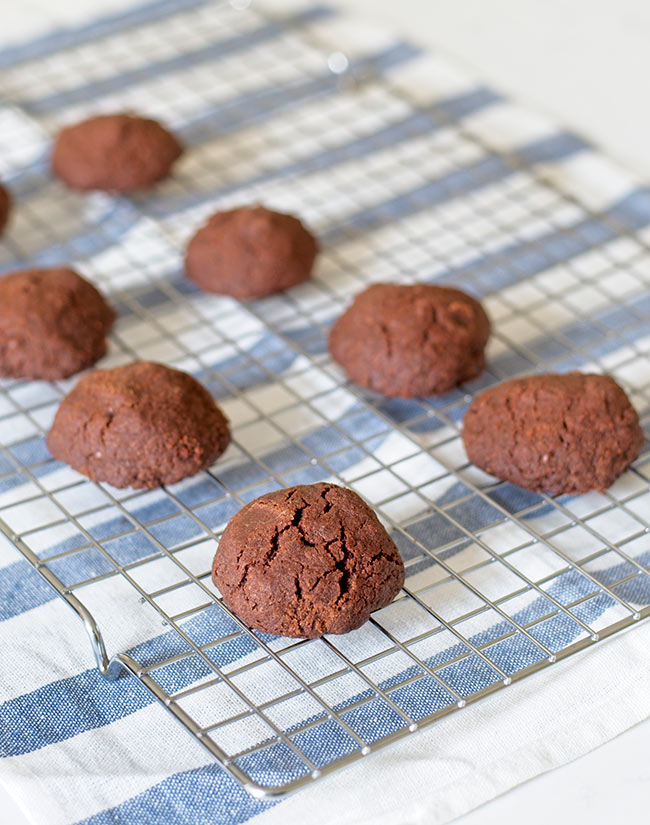 • If you like your cookies to be more on the thinner side, then use all dairy-free butter in the recipe.
• If you like your cookies a bit more on the moist-in-the-center side, then use 1/2 dairy-free butter (6 Tbsp) and 1/2 shortening (6 Tbsp).
For either of these two options, I recommend chilling the dough for about an hour to make it easier to work with.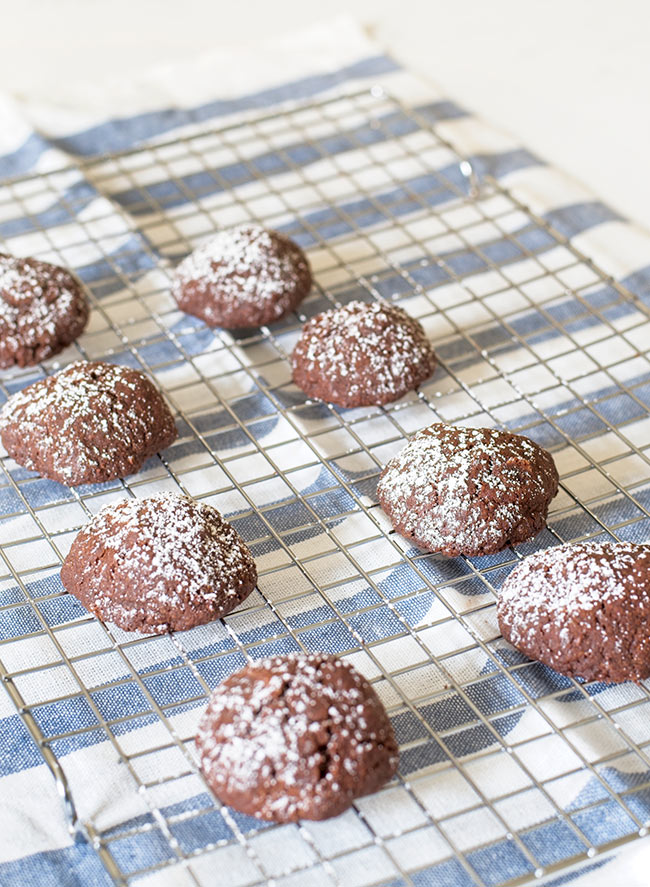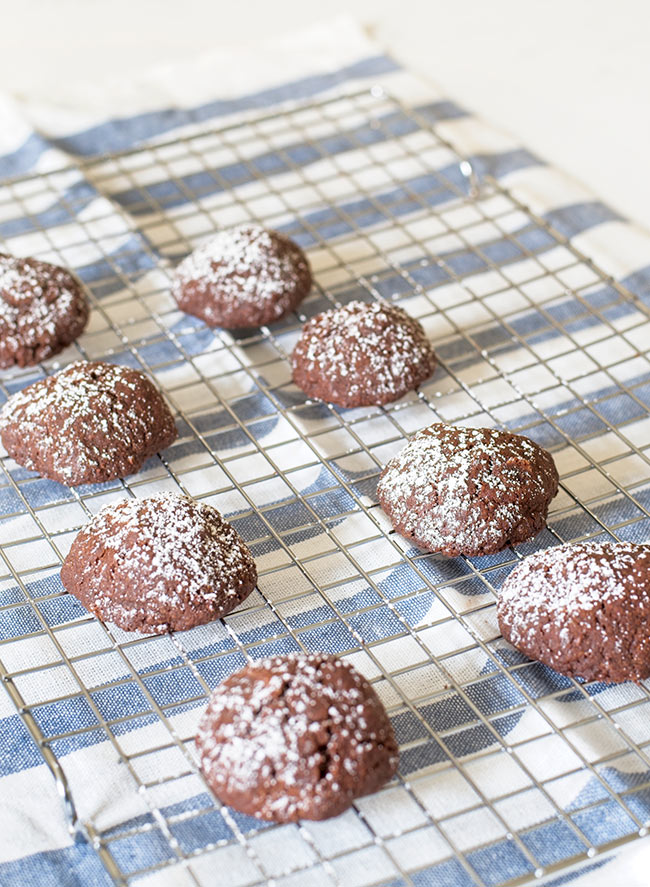 But if you like your cookies a bit more on the thicker but "flaky" side, go with the collective favorite of the 3 test versions: using all shortening.
And if you want to zhoosh them up a little bit, sprinkle some powdered sugar on top. Either way, be prepared for the craze-amazing chocolate party that's about to happen in your mouth!
THE ACTUAL PRODUCTS I USED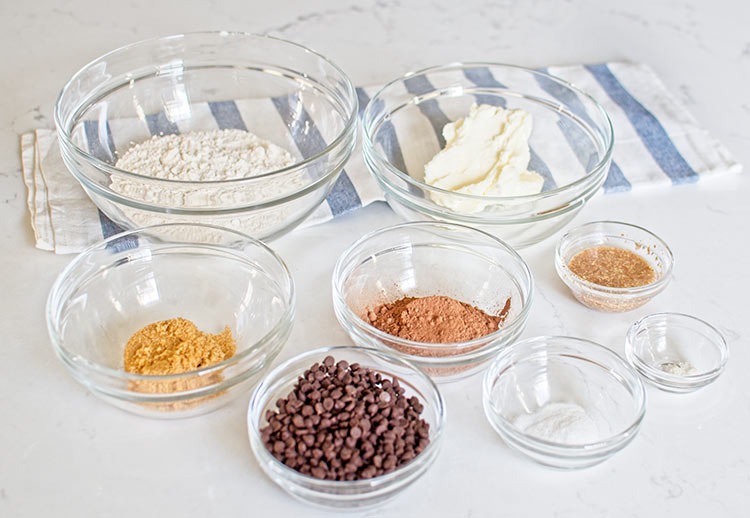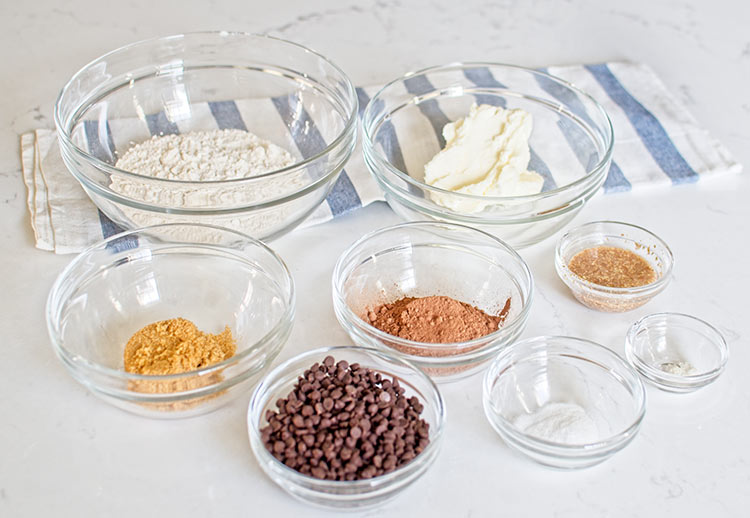 If you have gluten sensitivity, Celiac Disease, or other food sensitivities, you know what a pain in the ass it is to discover an awesome recipe only to find out that the actual products used aren't listed. If you're new to the gluten-free world, I know how frustrating it is to be left on your own to find products just to make a simple recipe.  It's a must to read every label every single time because you never know if the ingredients have changed.
So I am giving you links to the products I actually used to help alleviate some of that stress for you.  I am super crazy when it comes to making sure any food I purchase is safe to eat since I have to stay away from gluten, dairy, eggs, soy, and nuts. But as always, make sure to check the labels before using to make sure the ingredients are safe for you or your loved ones to consume.
DOUBLE CHOCOLATE CHIP INGREDIENTS:
3/4 cup      Bob's Red Mill 1 to 1 Gluten Free Flour
1/4 cup       unsweetened cocoa
1/4 cup       brown sugar (I use brown raw cane sugar)
1/2 tsp        baking soda
1/8 tsp        salt
1                  flax egg (1 flax egg = 1 Tbsp flax meal + 3 Tbsp warm water) or Bob's GF Egg Replacer
3/4 cup     dairy-free chocolate chips
3/4 cup     shortening
1/2 tsp      vanilla extract
optional   powdered sugar  (to sprinkle on top)
Make sure to print out the recipe in full below!
If you make this recipe, I'd LOVE to hear about how you liked it.  I'm always open to ways to make my recipes even better to share with others, especially with those that have Celiac Disease, gluten or food sensitivities.
Click here to check out some other super delicious gluten-free/dairy-free recipes.  You never know what goodies you might find.
From my kitchen to yours, enjoy!

GLUTEN-FREE • DAIRY-FREE • EGG-FREE DOUBLE CHOCOLATE CHIP COOKIES
These tasty, gluten-free double chocolate chips cookies are sure to become your next favorite cookie!
Ingredients
3/4

cup

Bob's Red Mill Gluten Free 1 to 1 Flour

1/4

cup

unsweetened cocoa

1/2

tsp

baking soda

1/8

tsp

salt (I use sea salt)

3/4

cup

dairy-free chocolate chips

divided in half (6 Tbsp each)

1

flax egg or Bob's Red Mill Egg Replacer

(1 egg = 1 Tbsp flax meal + 3 Tbsp warm water- let set to form a gel)

1/4

cup

brown sugar

packed

1/2

tsp

gluten-free vanilla extract

3/4

cup

shortening

NOTE: Read blog post for other 2 options

powdered sugar

optional
Instructions
Preheat oven to 350°F (180°C). Line 2 cookie sheets with parchment paper.

In a medium mixing bowl, combine: flour, cocoa, baking soda, and salt. Set aside.

In a small microwave-safe bowl, take 6 Tbsp of chocolate chips and melt in 30-second increments until melted (it usually takes me 90 seconds) and stir.

In a large mixing bowl, combine: flax egg or egg replacer, vanilla, brown sugar, and shortening. You can use a hand-mixer but don't overmix! Add the melted chocolate and stir until ingredients are combined.

Add the dry ingredients to the large mixing bowl and stir until combined.

Stir in the remaining 6 Tbsp of chocolate chips.

Form 1-inch dough balls and place them on lined cookie sheet, roughly 2 inches apart. Press down on them with a fork or finger if you want them to be a little flatter.

Bake for 10-12 minutes, or until a toothpick comes out clean from the middle of a cookie.

Remove from oven and let cool for about 5 minutes before transferring them to a wire rack to cool completely.

Optional: sprinkle with powdered sugar.
Notes
As always: NO gluten.  NO dairy.  NO soy.  NO nuts.  NO eggs.  NO bullshit.