We moved into our new modern farmhouse a few years ago – Thanksgiving Day 2017, to be exact.  And while we should have been beyond thrilled that we finally achieved our decade-long dream of building our own home, we were actually beyond STRESSED TO THE MAX.
Hurricane Irma pummeled Naples that September so that pushed the construction completion date back a couple of months.  Everything came to a standstill while the community dealt with the destruction and aftermath of that terrifying storm.
We'd been renting a home and the owners needed us out by Thanksgiving.  And with 5 rescue pets, our options of where we could stay were quite limited so we had no choice but to move into our unfinished farmhouse.  Not an optimal situation, but we were so grateful to finally be in our own home.
Since moving in, I have decorated – and love! – every space (indoors and out) except for what has become the bane of my existence-  our powder bath.
WHAT IT LOOKED LIKE WHEN WE MOVED IN

A blank, sterile canvas begging for some personality.
Our powder bath is pretty small – 5′ x 5′ – but it feels spacious because of this minimalist Alape bucket sink from Rejuvenation.
The adorably quirky steel sink combined with the vertical shiplap wainscoting instantly added tons of charm and character to this little space.
The original plans for this space included a solar tube to bring in some much-needed daylight since this interior room is nowhere near a window.  However, as with most construction projects, unexpected budgetary issues arose during the build so we had to nix the solar tube from the plans.
This was a huge design setback for me because I envisioned a really dramatic space that wouldn't feel cave-like and a space that would be able to house live plants. Oh well, such is life.
WHAT IT CURRENTLY LOOKS LIKE

This room has been like this for a year. A YEAR, you guys.
So THIS mess is what the powder bath has looked like for a couple of years and I rarely use this room, if ever.  Honestly, I sometimes forget it's there even though I walk past it at least 50 times a day.
Since my original design plan was kiboshed, I figured I'd just slap some Benjamin Moore Hale Navy paint and some artwork on the walls and call it a day.
While I love Hale Navy, I absolutely DESPISE it in this room.  As soon as I finished the second coat of paint, I instantly regretted it.  It turned this space into what I didn't want: a small, dark cave. Ugh.

Look at that adorable sink though!
I rarely get stumped on design projects, especially my own.  However, this room has left me completely confused – I'm not sure which way to go with it.
I know I want this little room to pack a big, fun visual punch but not quite sure yet exactly how I want to achieve that goal.
Do I want to stencil the walls?  Do I want to use removable wallpaper?  Do I want painted walls only?

The bucket sink in all its adorable glory. 
You can see some of my many ideas that have come and gone in the first photo – the doggy wallpaper and the neutral paint color chips.
I've never been a beige girl, so it pained me to place those neutral paint chips up on that ledge.
When The Hubs first saw those swatches sitting there, he made a comment that I better not be thinking about actually using any of those colors.  And for once, I actually agree with his design opinion.

To the left is the laundry room and garage. To the right is the main part of the house.
I've been gathering some design inspo lately and I'm ready to get back into creative mode to finally give this tiny room the love and attention it deserves.   The powder bath is where design risks are meant to be taken and I'm totally down for the challenge.
So how would YOU design this room?  I'd love to hear your thoughts and design ideas!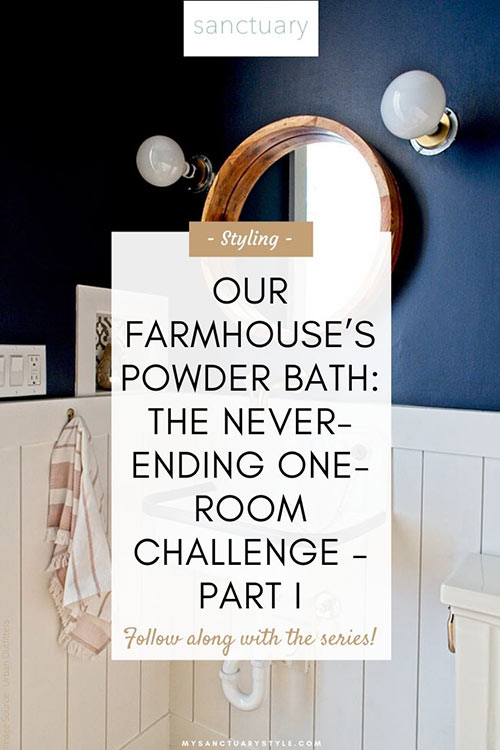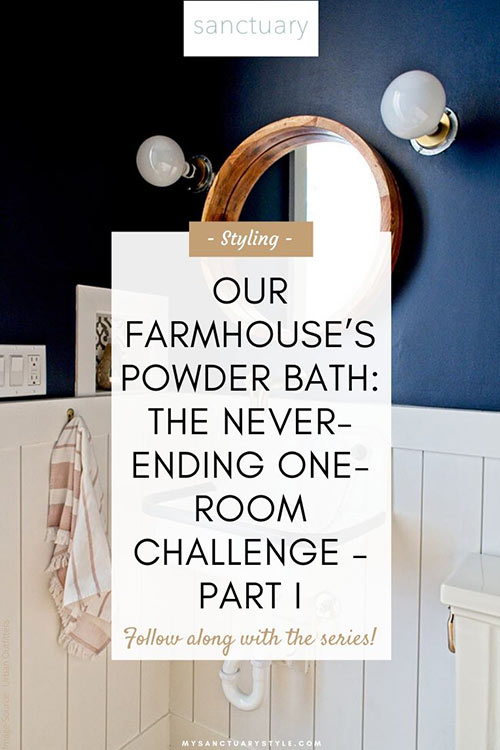 Thank you so much for following my blog and for letting me help you create your own lived-in, loved-in spaces!