Let me preface this post with a warning:  These tasty little buggers are highly addictive.
I ate a dozen –  ALL BY MYSELF – in just a couple of days.  After I took these photos, I crammed 3 of these bad boys in my mouth like my life depended on it.
If you're into eating desserts like it's your job (like me!), I also highly recommend making my Magical Apple-Strawberry Pie.  I made 3 pies (again – ALL FOR MYSELF) in just a couple of weeks.
Word to the wise:  You might want to invest in really loose pants before you make either of these recipes (spoken from experience …).
IT'S LIKE A RAVE PARTY IN YOUR MOUTH
(BUT WITHOUT THE GLOW STICKS)

I dressed them up for the holidays with some rosemary
I created this recipe after being inspired by 3 different dessert recipes (one of those inspirations was from Publix's Greenwise Holiday White Cake recipe).
Publix had the most beautiful little recipe flyer in its stores last year. I snagged one with the hopes that one day, I'd be able to convert the recipe into a gluten-free/dairy-free/egg-free version I could actually enjoy. And man, was it worth the wait!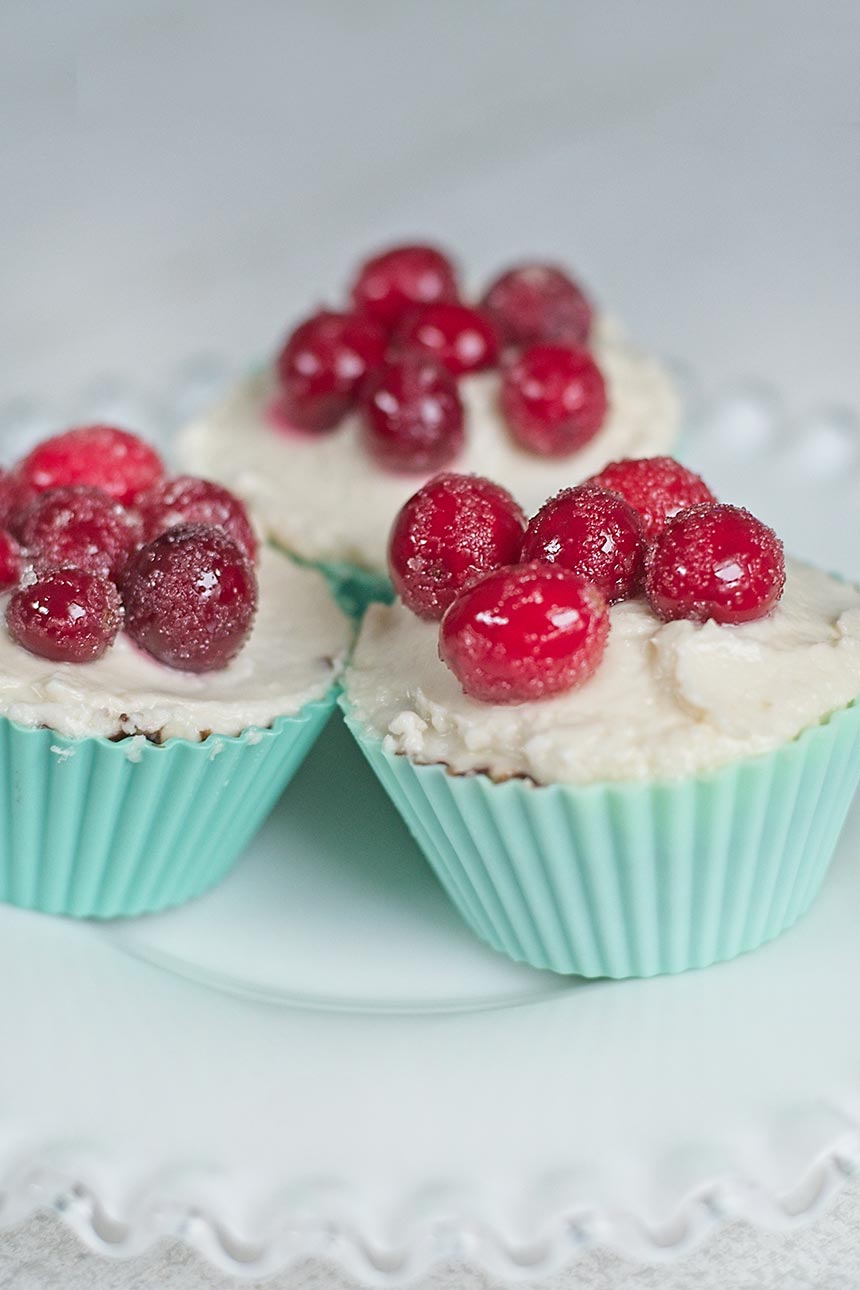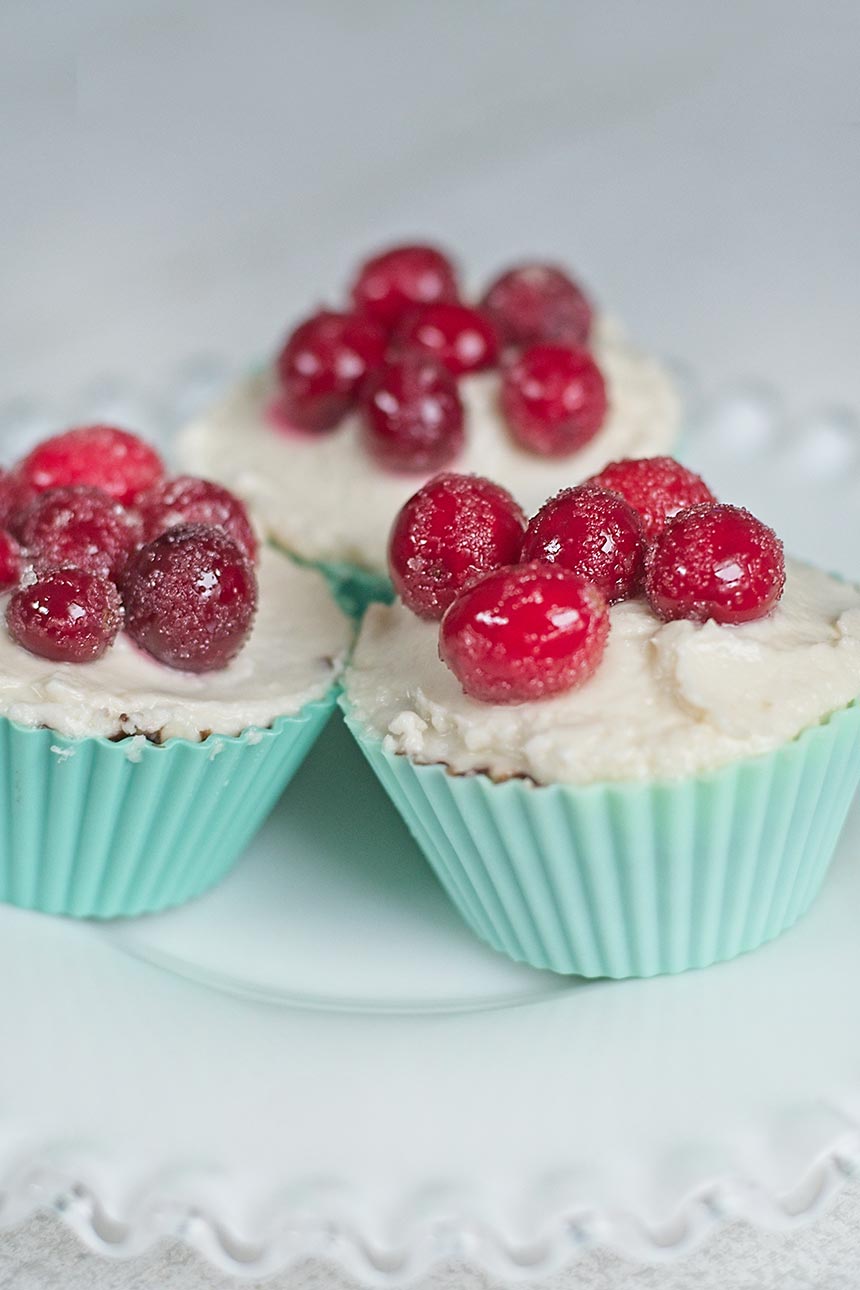 As I was starting to work on converting the recipe, I thought that it might be more interesting if the recipe was for:  A) chocolate instead of white cake, and B) cupcakes instead of a 3-layer cake.
The other recipes I found online (for the buttercream frosting and chocolate cupcakes) were gluten-free but I had to convert them to dairy-free and egg-free as well.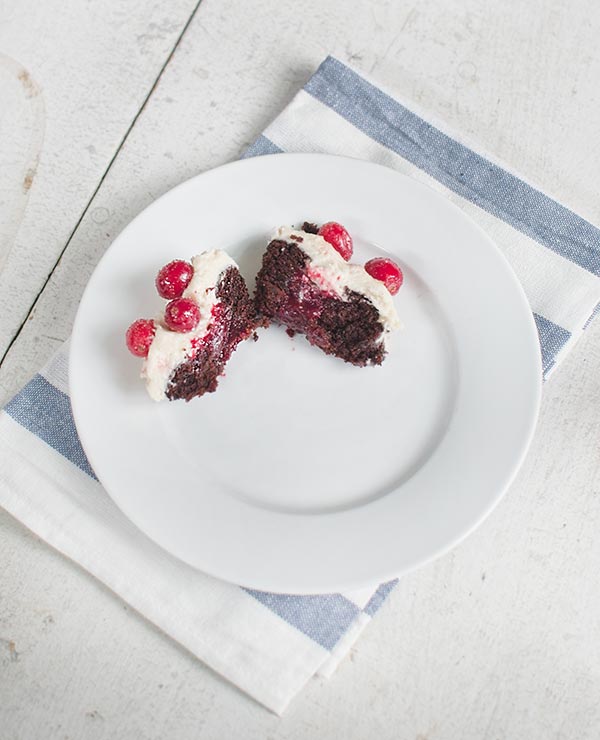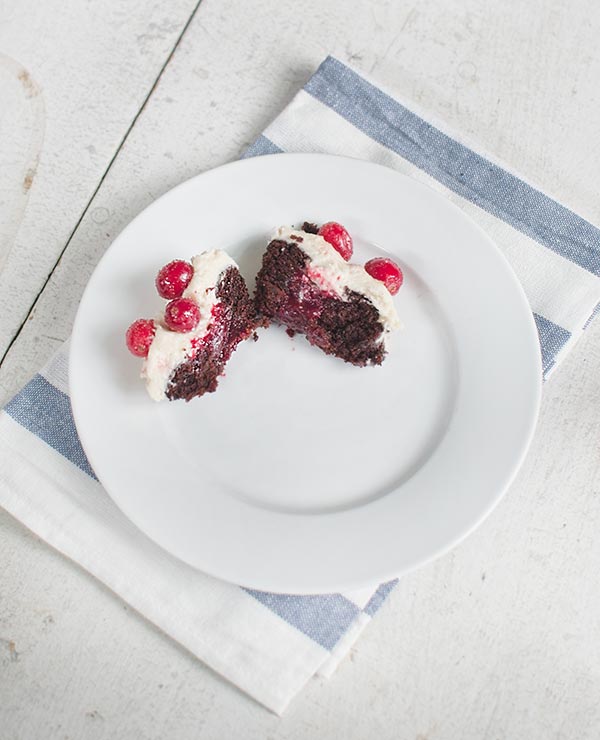 I'll be honest – I wasn't sure if these cupcakes were going to end up tasting like crap or would actually be edible, but I'm glad I took the gamble and made them. Because they're freaking amazing. And did I mention HIGHLY ADDICTIVE???
I brought a dozen of these cupcakes for my friends the other night since I needed a few more guinea pigs to taste test them.
I purposely didn't tell them that the cupcakes were GF/DF/EF before they ate them because I wanted their honest, unsolicited reactions after they took their first bites.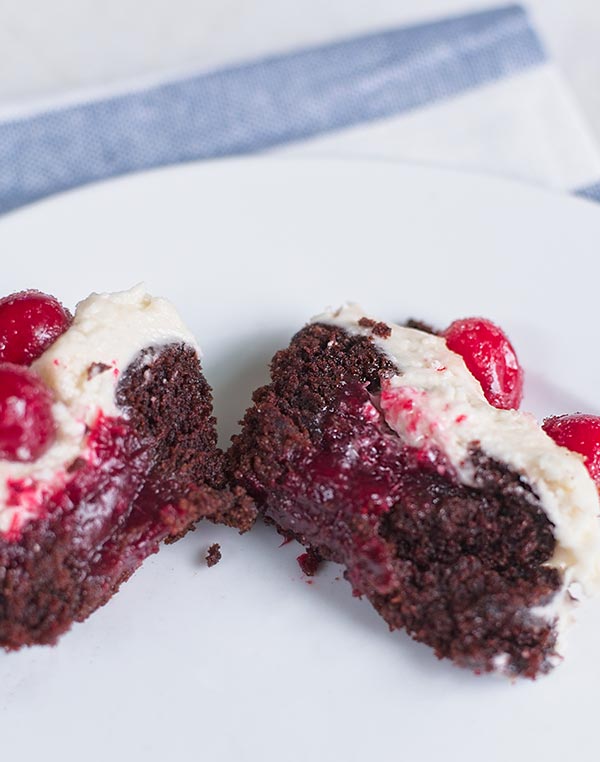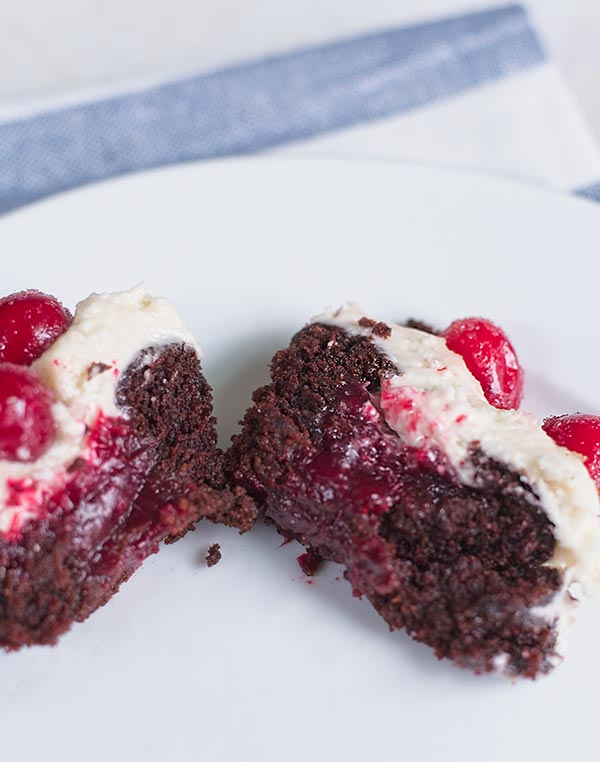 After they all wolfed them down in record time, they were raving how awesome they were and how they were THE best cupcakes they'd ever had (their words, not mine).
So when I told them that they were GF/DF/EF, they couldn't believe it!  Two of my friends said I should sell them.  OMG.  Like who the hell has time for that?!
Anyway, they're STILL talking about the cupcakes days later – THAT'S how good they are!  When you take a bite of the tart candied cranberries paired with the sweet chocolate and cranberry filling, it's like delightful little taste explosions going off in your mouth.
HELPFUL NOTES BEFORE YOU GET STARTED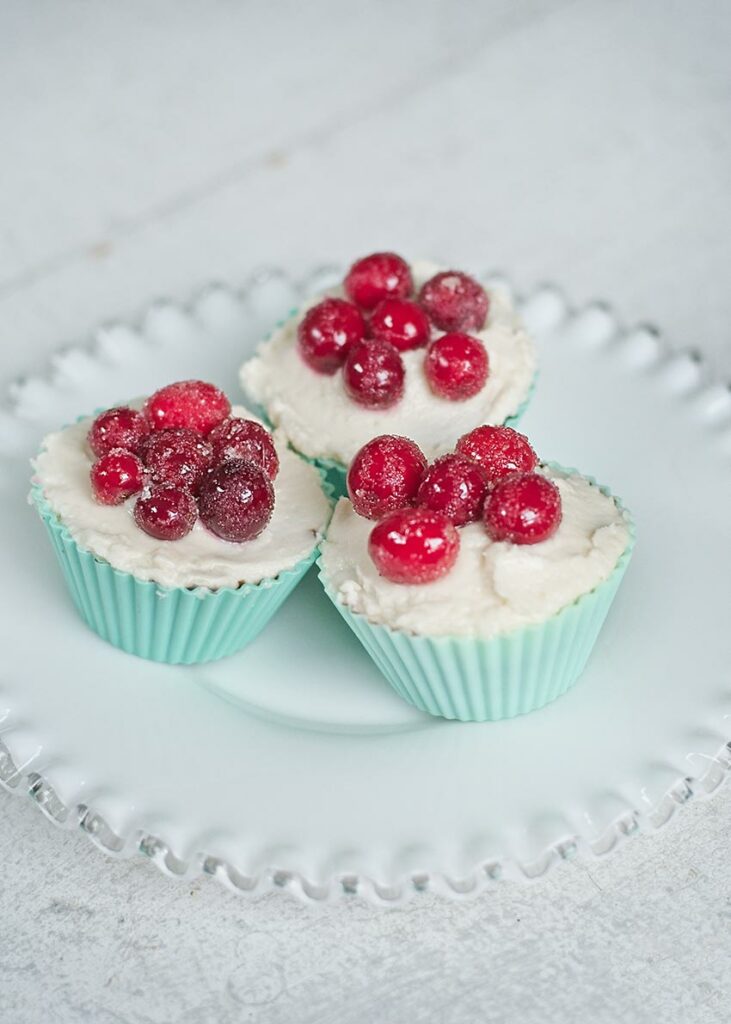 I would highly recommend making the candied cranberries the night before you plan on making the cupcakes since they need to chill in the fridge for 8 to 12 hours.
Also, if you need to stay away from eggs as well, I recommend making one flax egg at a time.  I haven't had good luck doubling up on the amounts in one bowl when needing multiple flax eggs.  Rather, I found that making one flax egg per prep bowl works best.  Or you could simply use Bob's Gluten Free Egg Replacer to make things easier.
One last thing I recommend is something that will make your life much easier when it's time to add the cranberry filling to the insides of the cupcakes. I used this apple corer to scoop the insides out of each cupcake, making perfect little wells for the cranberry filling.  I learned about this tip from watching this DC Cupcakes video. Genius!
THE ACTUAL PRODUCTS I USED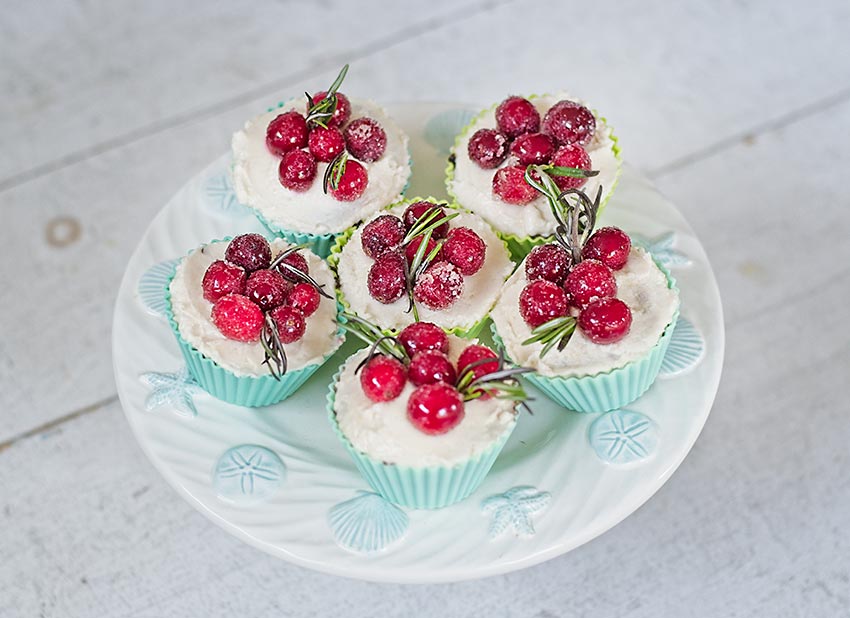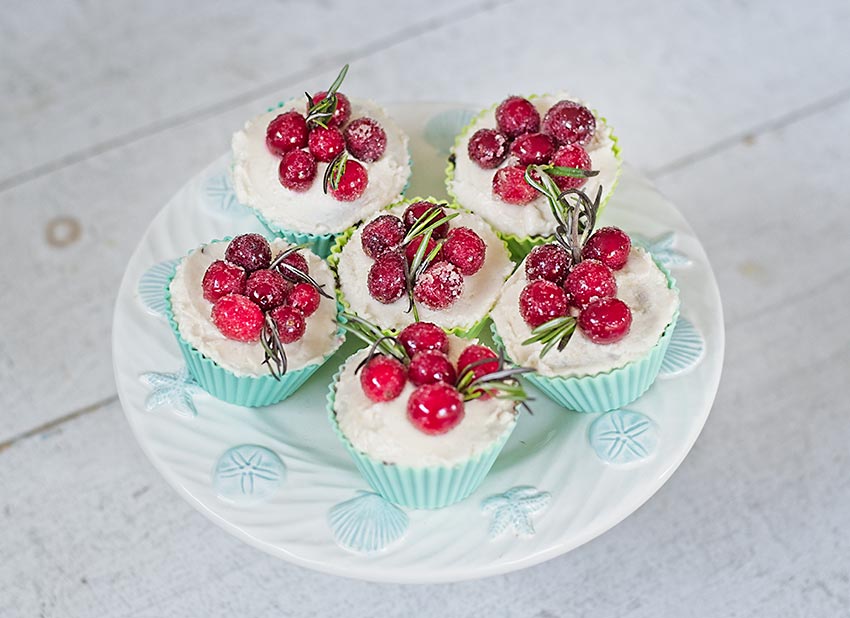 If you have gluten sensitivity, Celiac Disease, or other food sensitivities, you know what a pain in the ass it is to discover an awesome recipe only to find out that the actual products used aren't listed. If you're new to the gluten-free world, I know how frustrating it is to be left on your own to find products just to make a simple recipe.  It's a must to read every label every single time because you never know if the ingredients have changed.
So I am giving you links to the products I actually used to help alleviate some of that stress for you.  I am super crazy when it comes to making sure any food I purchase is safe to eat since I have to stay away from gluten, dairy, eggs, soy, and nuts. But as always, make sure to check the labels before using to make sure the ingredients are safe for you or your loved ones to consume.
CANDIED CRANBERRIES INGREDIENTS:
1 cup             maple syrup
2 cups          fresh or frozen cranberries
1 cup             cane sugar
CRANBERRY FILLING INGREDIENTS:
1 1/2 cup      frozen or fresh cranberries
1/4 cup         cane sugar
2 tsp             fresh orange zest
2 Tbsp         fresh orange juice (I just squeeze the orange I zested)
BUTTERCREAM FROSTING INGREDIENTS:
1/2 cup        your favorite dairy-free butter substitute
1/2 cup        shortening
2 tsp             vanilla extract
4 cups          powdered sugar
4 Tbsp         coconut milk
CHOCOLATE CUPCAKE INGREDIENTS:
1 1/2 cup    cane sugar
2 cups         Bob's Red Mill Gluten Free 1 to 1 Baking Flour
3/4 cup       unsweetened cocoa
1 1/2 tsp     baking powder
1 1/2 tsp     baking soda
1 tsp            salt
2                  flax eggs (1 flax egg = 1 Tbsp flax meal + 3 Tbsp warm water) or Bob's GF Egg Replacer
1 cup          coconut milk or other dairy-free milk
1/2 cup      vegetable oil
1 1/2 tsp    vanilla extract
3/4 cup      boiling water (for activating the cocoa)

Make sure to print out the recipe in full below!
If you make this recipe, I'd LOVE to hear how you liked it.  I'm always open to ways to make my recipes even better to share with others, especially with those that have Celiac Disease, gluten or food sensitivities.
Click here to check out some other super delicious gluten-free/dairy-free recipes.  You never know what goodies you might find.
Thank you so much for following my blog and for letting me help you create your own lived-in, loved-in spaces!

Gluten-Free • Dairy-Free • Egg-Free Chocolate-Cranberry Explosion Cupcakes
A chocolate cranberry explosion that's sure to delight your gluten-free tastebuds!
Ingredients
CANDIED CRANBERRY INGREDIENTS
1

cup

maple syrup

2

cups

fresh or frozen cranberries

1

cup

cane sugar
CRANBERRY FILLING INGREDIENTS
1 1/2

cup

frozen or fresh cranberries

1/4

cup

cane sugar

2

tsp

fresh orange zest

2

Tbsp

fresh orange juice

(I just squeeze the orange I zested)
BUTTERCREAM FROSTING INGREDIENTS:
1/2

cup

of your favorite butter substitute

1/2

cup

shortening

2

tsp

vanilla extract

4

cups

powdered sugar

4

Tbsp

coconut milk or other dairy-free milk
CHOCOLATE CUPCAKE INGREDIENTS:
1 1/2

cup

cane sugar

2

cups

Bob's Red Mill Gluten Free 1 to 1 Baking Flour

3/4

cup

unsweetened cocoa

1 1/2

tsp

baking powder

1 1/2

tsp

baking soda

1

tsp

salt

2

flax eggs or Bob's Gluten Free Egg Replacer

(1 flax egg = 1 Tbsp flax meal + 3 Tbsp warm water. Let it sit about 10 min. to form a gel).

1

cup

coconut milk or other dairy-free milk

1/2

cup

vegetable oil

1 1/2

tsp

vanilla extract

3/4

cup

boiling water

(for activating the cocoa)
Instructions
CANDIED CRANBERRIES INSTRUCTIONS
Heat maple syrup in a saucepan over medium-low heat for about 1-2 minutes (just until warm). Remove from heat and stir in the cranberries. Cover and chill in fridge for 8 hours.

Put cranberry mixture into a colander over a bowl and let it drain for about 15-20 minutes. Make sure to save the maple syrup for another use - it'll have a nice, subtle cranberry flavor!

Put sugar into a plastic storage container (that has a lid). Add a small bunch of cranberries at a time, put the lid on and gently shake so the sugar coats the cranberries. Remove the cranberries with a slotted spoon and place on a parchment-lined cookie sheets. Repeat with the remainder of the cranberries. Let the cranberries sit out until completely dry, about 2 hours.
CRANBERRY FILLING INSTRUCTIONS
Place all filling ingredients into a saucepan over medium-high heat and bring to a boil.

Reduce heat and simmer over medium-low heat until cranberries break down and mixture thickens - roughly 10 minutes.

Pour the cranberry mixture into a blender. Place the lid on the blender, but remove the center piece of the lid, using a clean kitchen towel to cover the hole (this is to let the heat escape). Be careful so you don't burn your hand! Process the mixture until it's smooth, about 1 minute. Transfer mixture to a bowl and let it cool for about 2 hours on the kitchen counter.
CHOCOLATE CUPCAKE INSTRUCTIONS
Preheat over to 350°F (180°C) and position rack to the center of the oven (you don't want the cupcakes too close to the heating elements).

Line two 12-serving cupcake pans with liners.

In a large mixing bowl, stir sugar, flour, cocoa, baking powder, baking soda, and salt until there aren't any clumps in the mixture.

Add flax eggs or Bob's GF Egg Replacer, coconut milk, oil, and vanilla to the mixture. Beat with a mixer on medium speed for about 2 minutes.

Stir in the boiling water. At first, the mixture will look a bit watery, but just keep stirring. It will start to thicken nicely.

Spoon the batter evenly into all of the cupcake liners. Bake for 20 minutes or until a toothpick inserted into the center comes out clean.

Remove from oven and let cool in the cupcake pan for about 5 minutes. Then remove each cupcake from the pan and let them all completely cool on a rack.

After the cupcakes are completely cooled, use an apple corer to easily scoop out the middle of each cupcake. Try not to go all the way to the bottom of the cupcake (so the cranberry filling won't seep out of the bottom). Make sure to pop those tasty cupcake middles right into your mouth!

Using either a pastry bag or a sandwich bag with a corner cut off, squeeze the cranberry filling into the middle of each cupcake.
BUTTERCREAM FROSTING INSTRUCTIONS
In a medium mixing bowl, beat the butter substitute and vanilla extract until the mixture is smooth and creamy. Add the shortening and beat until well combined.

Gradually add the powdered sugar, one cup at a time. Between each cup of powdered sugar, add a Tbsp of coconut milk and beat it in. Beat in additional coconut milk if necessary in order to obtain your desired consistency.

Frost your cupcakes to your heart's content!

You can store the frosting in an airtight container at room temperature for up to 3 days or in the fridge for up to a week.
Notes
As always: NO gluten.  NO dairy.  NO soy.  NO nuts.  NO eggs.  NO bullshit.