Hey yo!  My last recipe – Gluten-Free|Dairy-Free Cilantro Mint Lime Frickin' Chicken  – turned out to be pretty popular on my Pinterest profile and that makes me so frickin' happy!
I've been eating it SO much that honestly, I need to take a little vacation from making it for a while.  You know, "absence makes the heart grow fonder" and all that jazz.
So THIS time, I have an awesome gluten-free/dairy-free side dish that will probably become one of your new faves.  It's SUPER easy to make and really tasty.  Of course, feel free to zhoosh it up however you want to make it even better.
A HEALTHY COMFORT FOOD SIDE DISH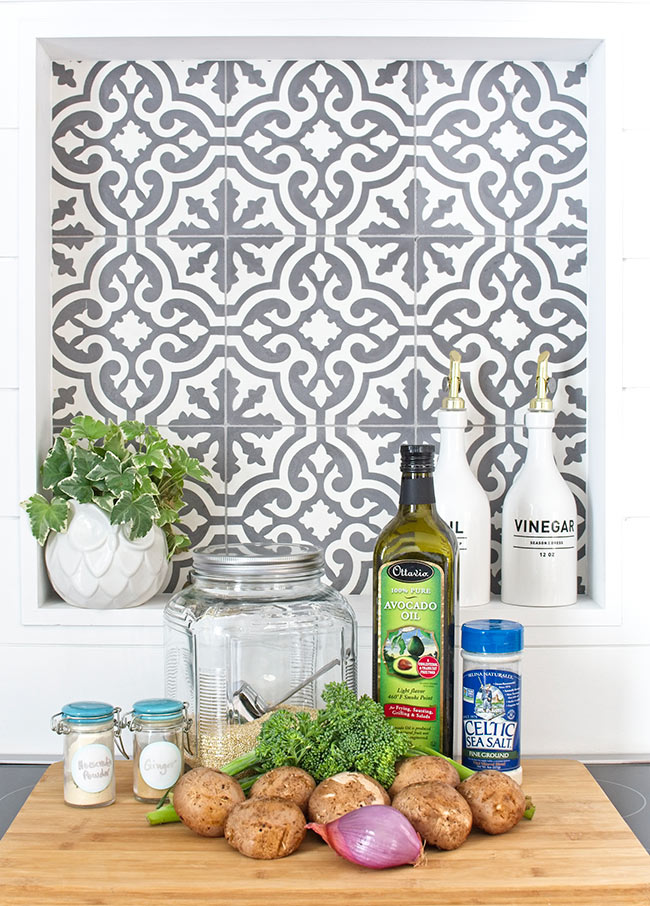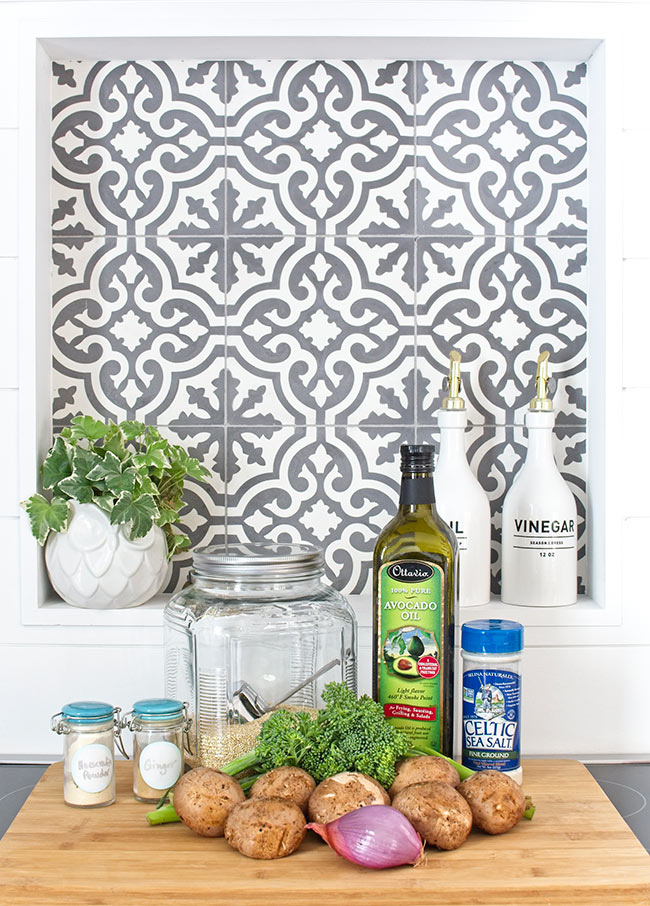 I've made this side dish quite a few times when we've hosted dinner parties and it was a big hit, especially with guests that had never eaten anything gluten-free before!
They assumed that "gluten-free" equated to "taste-free" and that wasn't the case at all as witnessed by the empty serving bowl that was left behind after our guests devoured their dinners.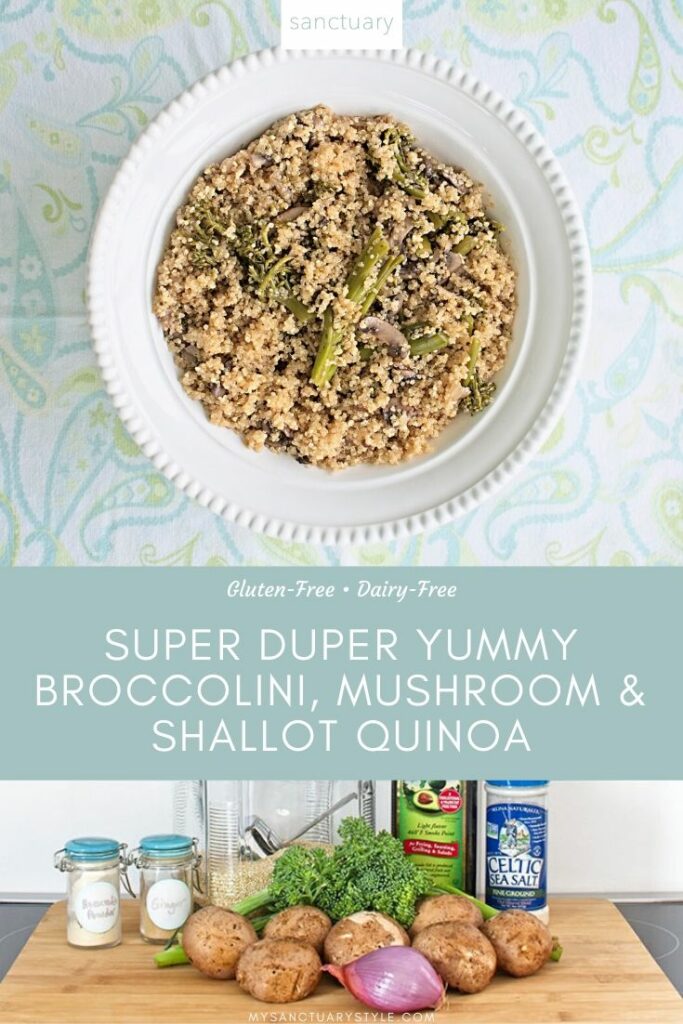 If you make this recipe, I'd LOVE to hear if you liked it.  I'm always open to ways to make my recipes even better to share with others, especially with those that have Celiac Disease or food allergies like me.
As always: NO gluten.  NO dairy.  NO soy.  NO nuts.  NO eggs.  NO bullshit.
From my kitchen to yours, enjoy!

GLUTEN FREE • DAIRY FREE SUPER DUPER YUMMY BROCCOLINI, MUSHROOM & SHALLOT QUINOA
Quinoa side dish with broccolini, mushroom & shallots.
Cost:
$10- $15 (if you don't have quinoa already)
Ingredients
1

cup

quinoa

2

cups

water

(for quinoa)

1/4

cup

olive oil

1

bunch

broccolini

Cleaned & cut into smaller pieces

1

container

baby bella mushrooms

Cleaned & sliced

1

large shallot

Chopped

1/4

tsp

ginger spice

(powdered form)

1/4

tsp

horseradish powder

1/8

tsp

sea salt
Instructions
Combine the quinoa and 2 cups of water in a pot and bring to a slow boil. Once it comes to a boil, cover and reduce to low heat and simmer for 20 minutes. Remove from heat.

While the quinoa is cooking, steam the broccolini (whatever is your favorite method of doing so) until the stems are crisp-tender (usually about 5 minutes). You don't want the broccolini to be all mushy.

In a large pan, sauté the shallots and mushrooms (about 5 minutes) in some of the olive oil and then push to the sides of the pan so they don't burn.

After the broccolini is steamed, add the pieces to the center of the large pan and sauté them (add a little more olive oil) for about 5 minutes and then keep the heat on the lowest setting.

Add the cooked quinoa to the pan, adding a little more olive oil. Toss to coat all ingredients.

Add the ginger spice, horseradish powder and sea salt to the pan and then thoroughly combine with the other ingredients.

Immediately put the quinoa side dish into a large serving bowl and then cover with foil to keep warm (if necessary).