I am beyond excited to share this recipe with you today because it created a LIFE-CHANGING moment for me when I first made it a couple of weeks ago.  No joke. It honestly made me teary-eyed after I took my first bite.
After suffering weird health issues for almost 20 years, I was finally diagnosed with Celiac Disease eight years ago by two doctors that I consider to be my guardian angels.  Celiac Disease is an auto-immune disease that is triggered by a protein found in wheat, barley, and rye, and it can severely damage the intestines.  While I was relieved to have a diagnosis, I was also overwhelmed with how to navigate my new gluten-free life.
In 2011, there weren't as many gluten-free choices available as there are today. There also wasn't as much awareness so I had to constantly tell people why I needed to bring my own food to dinner parties (total buzzkill, guys).
I didn't know anyone else with Celiac Disease that I could lean on for support so I felt very isolated.  My whole life instantly turned upside down, but it turned out for the best.  It took over a year to heal my badly-damaged body, but I've been healthy ever since and I'm so grateful.
YOU WON'T BELIEVE THIS PIE IS
GLUTEN, DAIRY & EGG FREE!!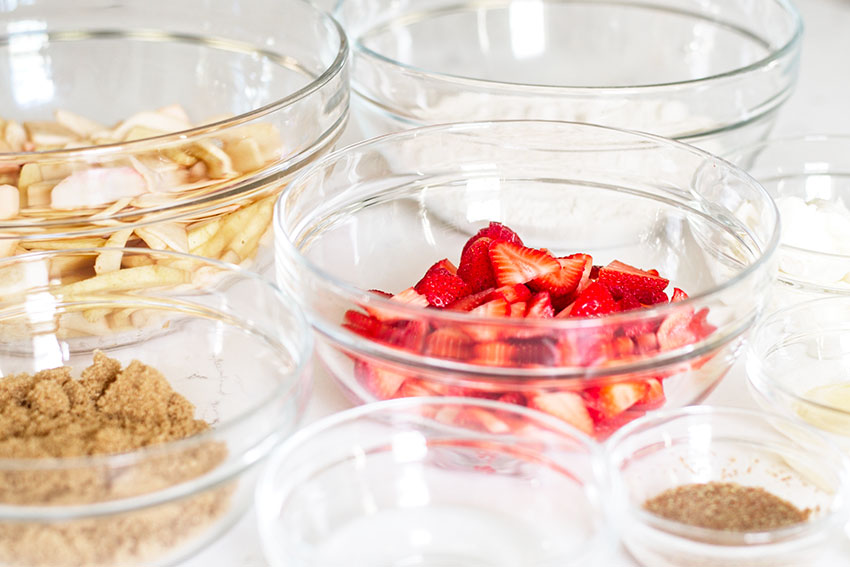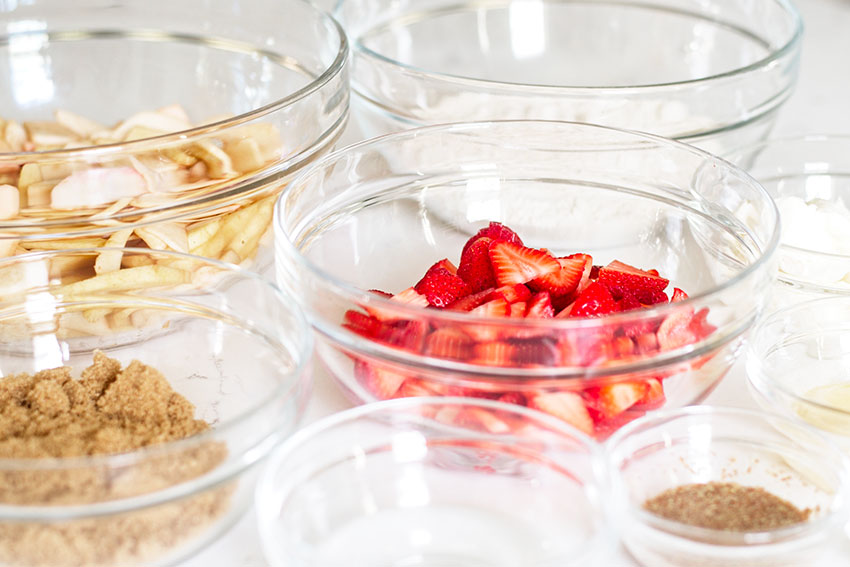 Before my Celiac diagnosis in 2011, I used to LOVE baking – sweets were my jam.   I really enjoyed whipping up desserts from scratch so I was beyond devastated when I realized I wouldn't be able to bake freely the way I used to.
I tried using all the different flours, the starches, the gums – all the crap used to take place of gluten – it just didn't taste the same anymore so I quit baking from scratch for many years.  But since then, there have been some great 1 to 1 gluten free flours to hit the market and my baking passion was recently reignited.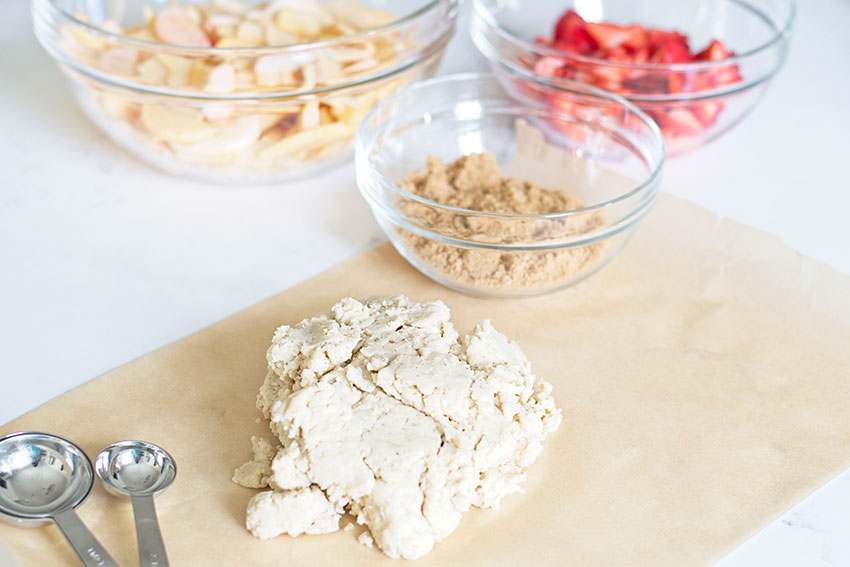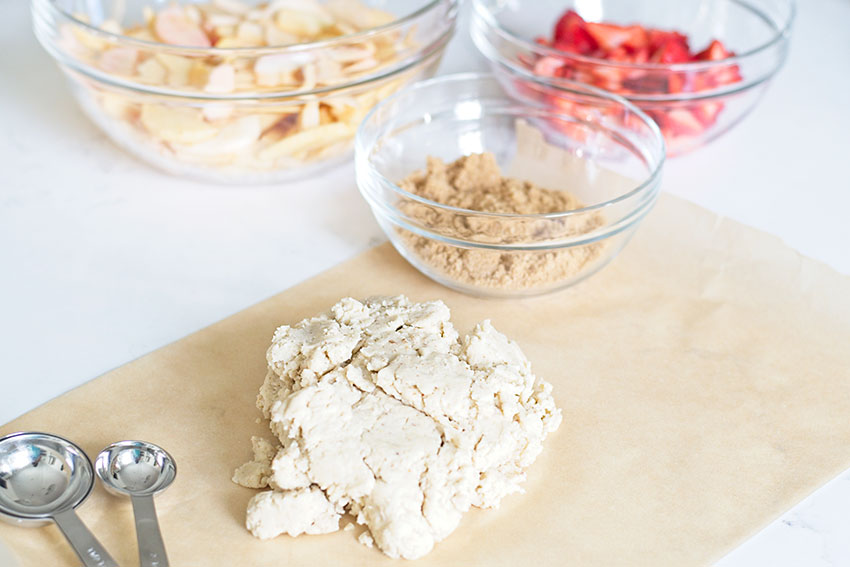 In addition to following a strict gluten-free diet, I also eliminated dairy since many people with Celiac Disease also have issues with the casein protein found in dairy.
I also have sensitivities to soy, eggs, and nuts so I stay away from those as well.  Imagine all the "fun" I have shopping for food that is free of these ubiquitous ingredients. Ha!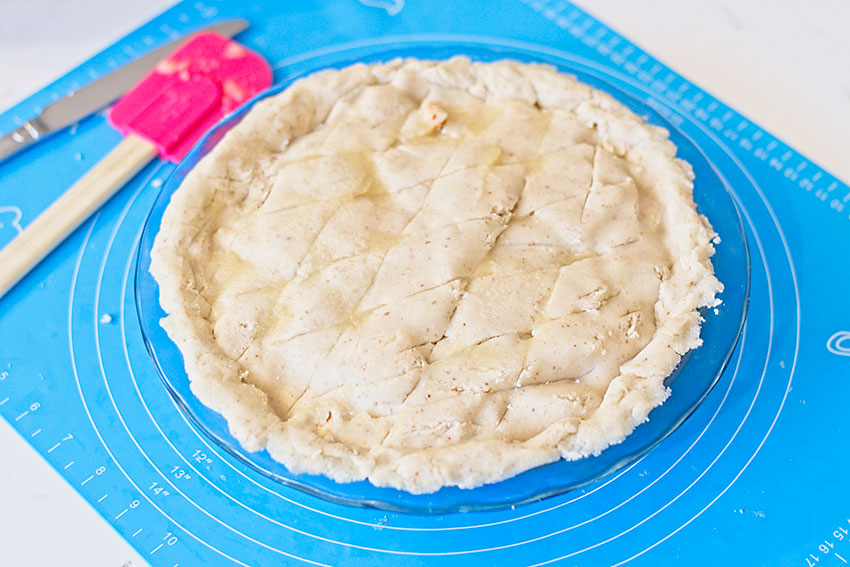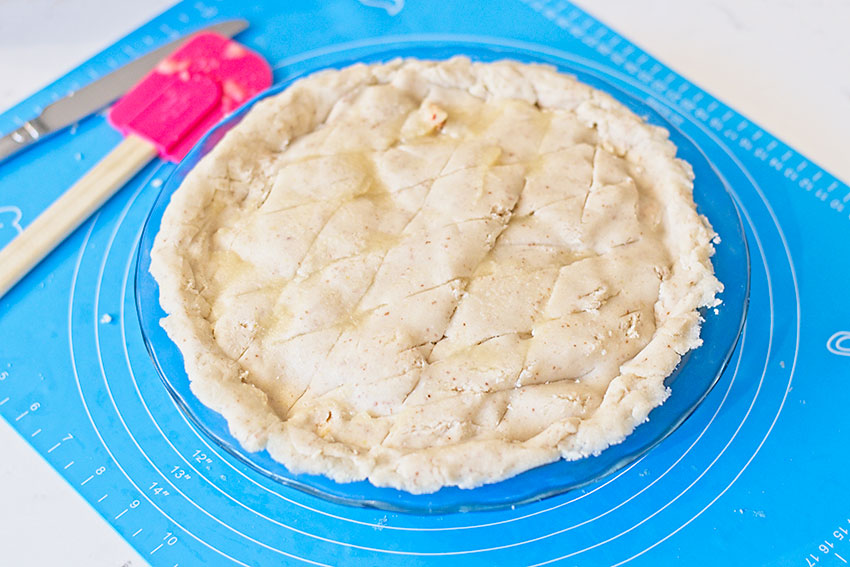 Side note:  I didn't have flax meal on hand when I made my first apple pie a couple of weeks ago so I substituted it with 2/3 cup of applesauce.
It made the dough a little trickier to handle, but the end result was delicious!
So if you don't have flax meal stocked in your pantry, don't let that hold you back from making this pie.
THE ACTUAL PRODUCTS I USED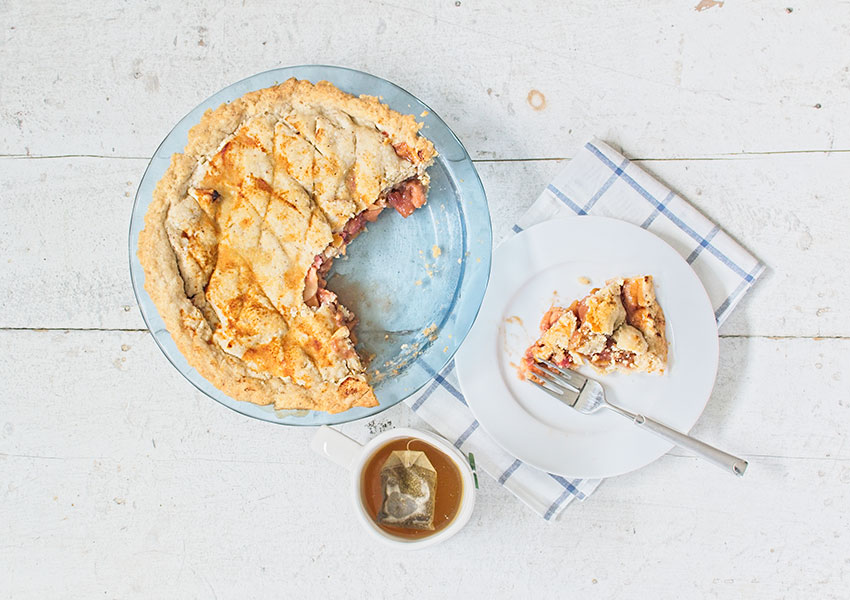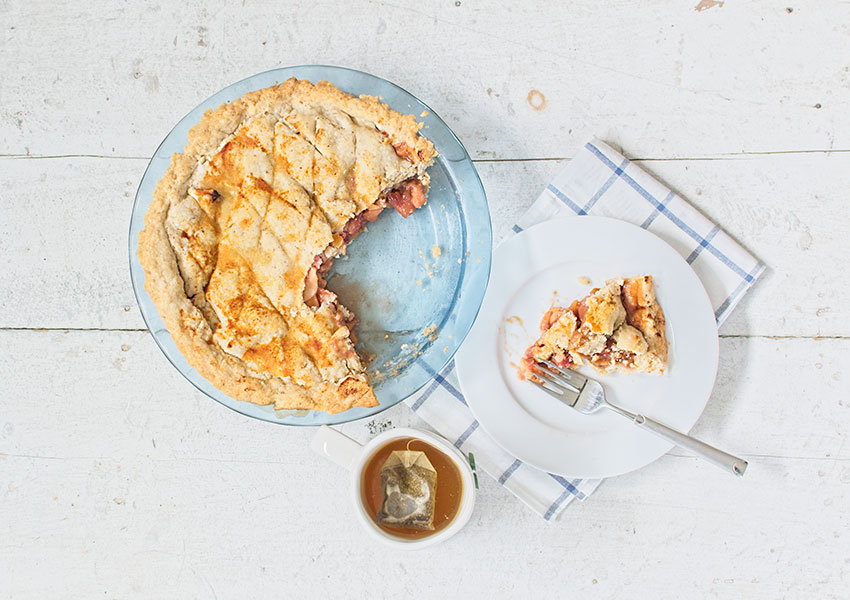 If you have gluten sensitivity, Celiac Disease, or other food sensitivities, you know what a pain in the ass it is to discover an awesome recipe only to find out that the actual products used aren't listed. If you're new to the gluten-free world, I know how frustrating it is to be left on your own to find products just to make a simple recipe.  It's a must to read every label every single time because you never know if the ingredients have changed.
So I am giving you links to every product I actually used to make this pie to alleviate some of that stress for you.  I am super crazy when it comes to making sure any food I purchase is safe to eat since I have to stay away from gluten, dairy, eggs, soy, and nuts. But as always, make sure to check the labels before using to make sure the ingredients are safe for you or your loved ones to consume.
PIE INGREDIENTS:
2 cups           Bob's Red Mill Gluten Free 1 to 1 Baking Flour
1 tsp               salt
12 tbsp          shortening
2 tbsp           unsalted dairy-free butter substitute – softened
6 tbsp           cold water
1 tbsp           cider vinegar
2 tsp             flax meal
2 tbsp           applesauce
PIE FILLING INGREDIENTS:
5                     large apples (I used 3 Granny Smith and 2 McIntosh but use whatever you prefer)
1 pint             strawberries
1 1/2 tbsp    fresh lemon juice (I squeezed a fresh lemon)
1 cup             granulated sugar (I also made it with only 1/2 cup and it was just as good)
2 tbsp          Bob's Red Mill Gluten Free 1 to 1 Baking Flour
1 tsp             ground cinnamon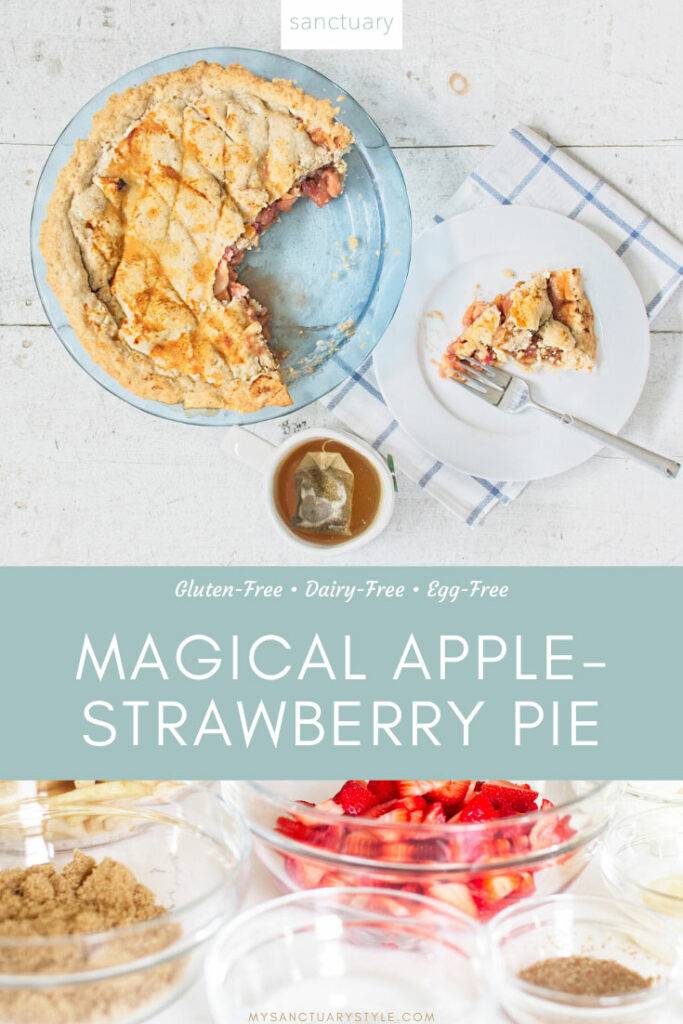 Print out the full recipe below and get your tastebuds ready because they're about to embark on a magically delicious pie-eating ride!
If you make this recipe, I'd LOVE to hear how you liked it.  I'm always open to ways to make my recipes even better to share with others, especially with those that have Celiac Disease, gluten, or food sensitivities.
Click here to check out some other super delicious gluten-free/dairy-free recipes.  You never know what goodies you might find.
From my kitchen to yours, enjoy!

GLUTEN-FREE • DAIRY-FREE • EGG-FREE MAGICAL APPLE-STRAWBERRY PIE
A magically delicious apple-strawberry pie that's sure to delight your gluten-free tastebuds.
Ingredients
CRUST INGREDIENTS
2

cups

Bob's Red Mill Gluten Free 1 to 1 Baking Flour

1

tsp

salt

12

tbsp

shortening

2

tbsp

dairy-free butter substitute

softened

6

tbsp

cold water

1

tbsp

apple cider vinegar

2

tsp

flax meal with 1 Tbsp plus 1 tsp warm water

let it sit for 10 minutes to form a gel

2

tbsp

applesauce

used to brush surfaces of crust
PIE FILLING INGREDIENTS
5

large apples

mix of Granny Smith + McIntosh

1

pint

fresh strawberries

1 1/2

tbsp

fresh lemon juice

1

cup

granulated sugar

I've also made it with only 1/2 cup and it came out just as good!

2

tbsp

Bob's Red Mill Gluten Free 1 to 1 Baking Flour

1

tsp

ground cinnamon
Instructions
INSTRUCTIONS FOR PIE CRUST DOUGH
Mix together flour + salt. With pastry cutter (or 2 knives), cut in shortening and butter until mixture resembles coarse crumbs.

Add water, vinegar and flax meal mixture to the dough mixture.

Mix everything with a fork until the dough starts forming.

Transfer dough to a sheet of parchment paper and pat the dough until it's shaped into a smooth disc.

Then divide the dough disc into 2 equal dough balls. Transfer each piece to its own piece of parchment paper and then flatten and form each into a disc.

Chill the dough for at least one hour.

Prepare pie filling while you're waiting for dough to chill. See below for instructions.

Preheat oven to 400° F and lightly oil a 9-inch pie baking pan.

Remove the chilled dough from fridge and set on counter.

Using 2 sheets of parchment paper, roll each dough disc into a circle about 1/8" thick and just slightly larger in diameter than the pie baking pan.

Remove the top piece of parchment paper and then slide your hand under the bottom sheet (with the dough disc) and quickly flip it to cover the bottom of the pie baking pan.

Press the dough into the bottom of the pan as well as the sides of the pan. Then take a fork and prick the bottom of the crust dough.

Brush the bottom of the crust dough with the applesauce.

Add pie filling mixture and then dot with a little bit of butter and cover the mixture with the second dough disc.

Press the edges of the two crusts together.

Set the pie baking pan on a cookie sheet to catch any fruit drippings.

Cut slits on the top crust and then brush with applesauce.

Bake for 50 minutes or until the filling is bubbling.
INSTRUCTIONS FOR PIE FILLING
Peel apples and remove the tops of the strawberries and slice each one thinly.

Toss the fruit mixture with the lemon juice.

Combine the sugar, flour, and cinnamon and mix together with the fruit mixture.