In the last couple of weeks, I picked up a new local client and I'm BEYOND excited to start the project for this sweet family of 5.
Their builder-grade faux-Mediterranean house was built in 2008 and it needs some refreshing along with a personality injection. I'll be touching almost every room in the house with the major area to tackle being the kitchen.
I'm going to start this project by designing the kitchen first and then letting that space influence the feel and mood of the rest of the home. And boy, do I have some ideas a-brewin' already, y'all! I mean, I'm seriously ready to rip my little brain OUTTA MY HEAD this week because it's been working non-stop like a sweaty little hamster on his trusty squeaky wheel.
The builder created a very inefficient kitchen/dining area starting with a 25-foot-long wall that connects the 2 areas. About 10-15 feet of that wall area is not being properly utilized so I'm thinking of ways of adding some much-needed functionality to that area. The dining space is also relatively small for how long the entire kitchen/dining area is. The other issue is the ceilings are VERY HIGH and this space really needs to feel cozy and welcoming.
The dining nook does have one redeeming feature though – a beautiful set of windows that look out onto the pool area. So you know that space is just BEGGING to have a comfy and functional built-in banquette for this active family. I want one end of the banquette to die into either a new pantry cabinet or something similar to give it some visual separation from the kitchen and not get lost on that super long wall.
I'll be sharing photos of the space in upcoming posts but for now, please let the 12 gorgeous banquettes below be your inspirational guide to some of my preliminary design ideas.
I'd love to hear if YOUR kitchen space has a built-in banquette and if so, how it's been working for your family so feel free to share your thoughts down below!
---
---
---
---
---
---
---
---
---
---
---
---
---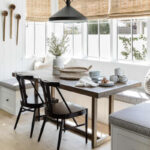 If you enjoyed reading this article, make sure to sign up for the weekly newsletter below so you never miss a post.
Thank you so much for following my blog and allowing me to inspire you in creating your own lived-in, loved-in spaces!