According to my calendar, Sunday, March 20th is the official first day of spring but for most of you, I'm sure it doesn't feel like it and I feel for you. It's why I left Chicago and moved to Florida almost 25 years ago!
And I know from past experience that when the weather is the crappiest, your mind shifts into overdrive just dreaming away about carefree summertime living.
So why not start planning out your backyard patio makeover project now? It's the perfect time to start putting those daydreams into a plan of action!
Now personally, our backyard patio needs new furniture because we had to throw our 10-year-old Home Depot outdoor wicker sectional away a couple of weeks ago which was a total bummer.
I ended up painting it white a couple of summers ago (it was brown) and made some new cushion covers for it with painters' tarps and it looked cute. But the weather is brutal in southwest Florida, y'all. EVERYTHING outdoors rusts, especially the closer you live to the Gulf of Mexico, because of the salty air. The legs rusted out and became a safety issue so sadly, it had to go. Boo!
While I'd love to get some new furniture to replace it, I don't really want to spend the money since we're going to move to Mount Dora probably by the end of this year. I don't want to buy something specifically for this house that won't work at the next house.
So I decided I'd just live vicariously through these 10 stylishly-cozy patio living ideas instead!
---
---
---
---
---
---
---
---
---
---
---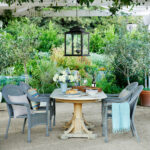 If you enjoyed reading this article, make sure to sign up for the weekly newsletter below so you never miss a post.
Thank you so much for following my blog and allowing me to inspire you in creating your own lived-in, loved-in spaces!