Well, we closed on a fixer-upper house near Orlando last week! We closed on a fixer-upper house near Orlando last week …
I'm still trying to get these words to sink in because this recent purchase wasn't entirely expected.
You see, The Hubs and I always planned on moving out of Naples in the future. But like 5-10 years in the future.
We've both lived down here a LONG time (he's been here since he was 8 and I moved from Chicago in 1997) and we've been ready for a change. We've watched Naples grow and evolve by leaps and bounds over the years, but it's lost its original small-town charm and magic.
Don't get me wrong – Naples has been very good to us and it's an absolutely gorgeous town and wonderful place to live and vacation, but it doesn't feel like that special, quaint town to us anymore. Somewhere along the way, Naples morphed from a well-kept secret into a supercharged "Keeping Up With the Joneses" kind of place and The Hubs and I are not interested in that lifestyle.
So for the last 3 years, we've been keeping eagle eyes on the real estate market for a small lakeside town 40 minutes Northwest of Orlando called Mount Dora.
When we first visited Mount Dora over 15 years ago, I instantly fell in L-O-V-E. It's hard to explain but for the first time in my life, I immediately felt like I was finally home.
Image sources (clockwise): Lakeside Inn | Hotels.com | City of Mount Dora
This idyllic, charming small town spoke my love language:
• Vintage & antique homes EVERYWHERE (the oldest house was built in 1893!)
• Majestic Live Oaks dripping with Spanish moss EVERYWHERE
• Hilly terrain EVERYWHERE
• Friendly, down-to-earth people EVERYWHERE
• An artsy-fartsy historic downtown that's chock full of character
• Known for its frequent festivals and amazing antiques
• A huge, breathtaking lake that showcases spectacular, fiery sunsets
• Close to Orlando so there's a plethora of things to do and experience
If it weren't for the heat and palm trees serving as reminders, you'd never know you were in Florida when you're in Mount Dora – you feel like you're in some small New England town. It really is such a special, magical place.
HOW WE ENDED UP BUYING THIS HOUSE
Like I mentioned earlier, we've been on a serious house hunt in Mount Dora for about 3 years now. We always had a fixer-upper in mind so we could eventually put our own "stank" on it and build some instant equity.
I preferred an antique home – which is hard to come by because they sell so quickly – and The Hubs wanted something that wasn't quite as old. But whatever we ended up purchasing, we planned on renting it out until we were ready to finally move out of Naples.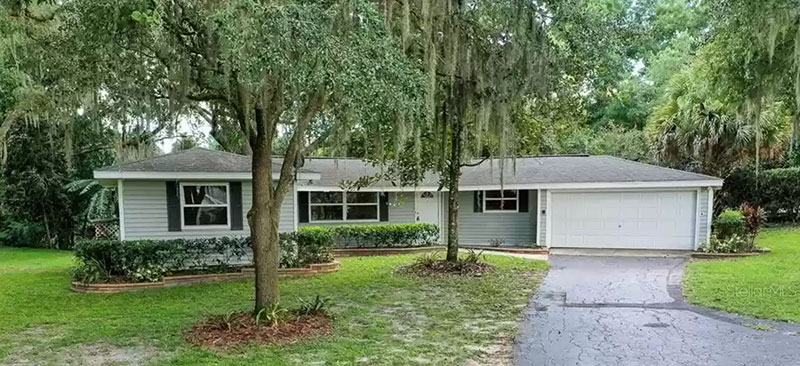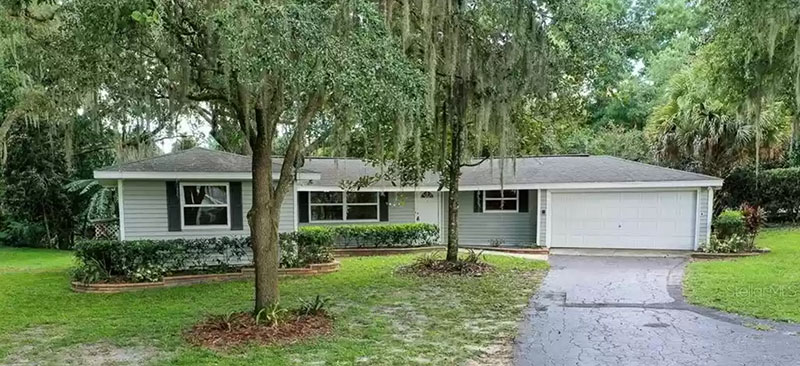 Fast forward to last year's pandemic-spurred real estate market where any type of home in the Orlando suburbs would be snatched up in less than a day. It's slowed down a little bit up there this year, but homes still go pending in less than 3 days. It's unreal – I've never experienced anything like it and probably never will again.
Earlier this year, in February, we found a fixer-upper in Mount Dora that had some potential so The Hubs drove up there the next day to meet at the house with our Realtor and our contractor. The contractor told us to basically run away from that house – it would end up being a money pit. You gotta appreciate the honesty coming from someone that stood to profit the most!
So while The Hubs was up there, he drove around the areas that we love with one, in particular, that's near 2 lakes and has an enjoyable 1-mile walk to downtown. There wasn't much for sale in our price range, but he came across a small vacant lot that had a For Sale by Owner sign.
He took a photo of the sign but didn't think too much of it at the time because he figured it was out of our price range (we'd need to find a lot under $80,000 to be able to build a new house).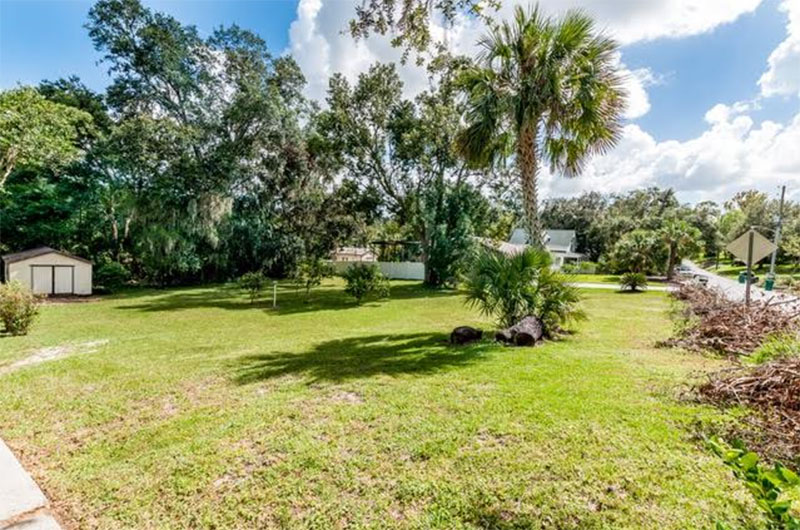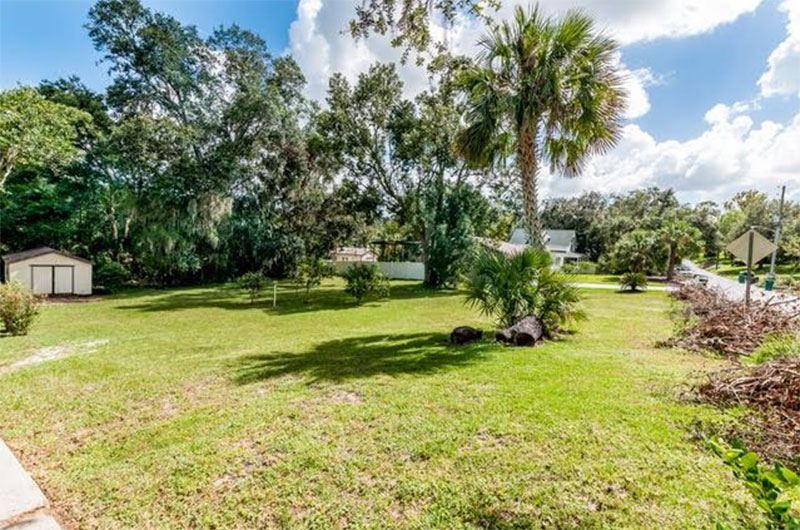 For shits & giggles, I called the owner the following week to find out what crazy price he was asking for the lot. To my surprise, it was crazy but for a different reason – he was asking $55,000 for it. My jaw dropped to the floor!
You wanna know how much something similar (size, and proximity to water and downtown) would cost in Naples? $3,000,000! Yes, you read that right – 3 MILLION DOLLARS.
Even though we didn't have plans to build a new home, we jumped on it right away and a month later, we closed on the lot and I dove right into drafting a floor plan from scratch.
I wanted the new build to fit into the neighborhood that is full of small antique homes, many of them built in the 1920s. It took me 4 months, but I had a clear vision and a draft of the cottage's plan ready for our contractor to review.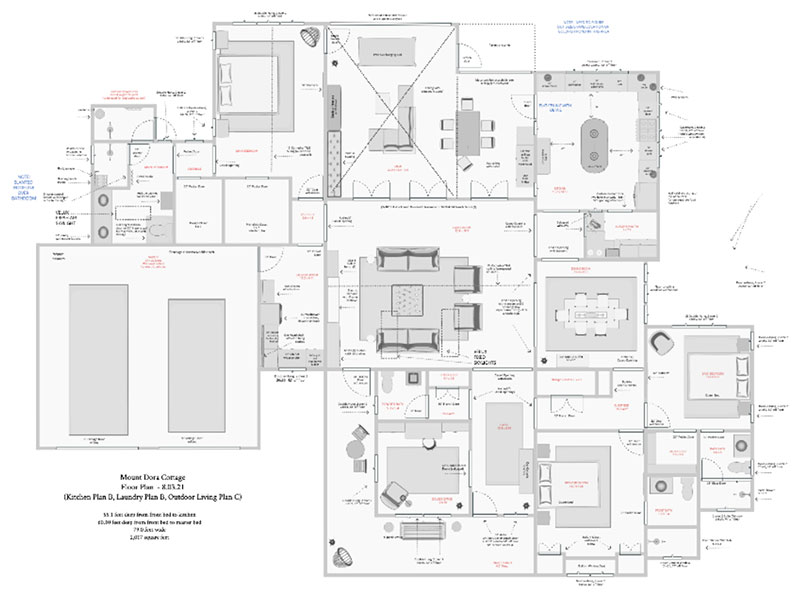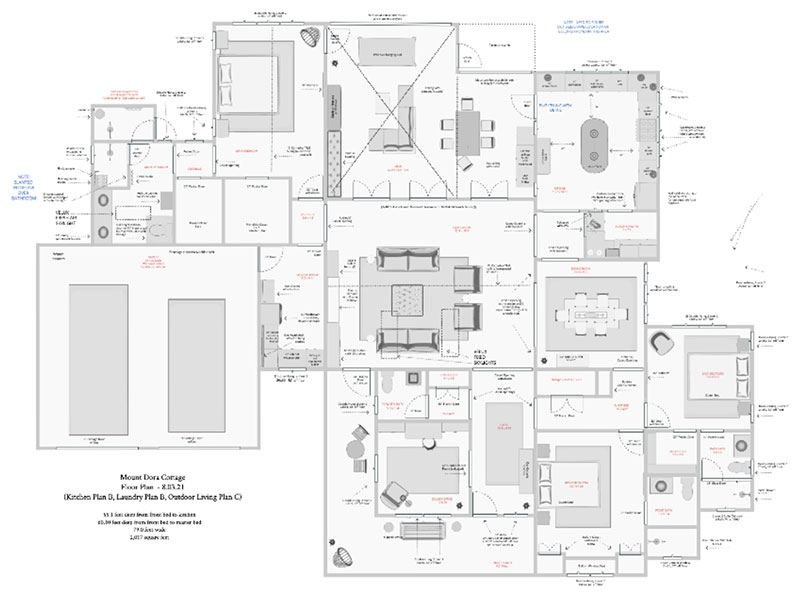 We thought we were set. We'd sell our farmhouse and move up to Mount Dora sometime in the next 2 years, built the little cottage, and start making a new life up there.
What we didn't know was that the universe had a different plan for us instead …
THE UNEXPECTED TWIST!!
We went up to Mount Dora for a few days in the middle of August to meet with our builder to discuss the plans, costs, timeline, and budget, and any potential issues with building the new house.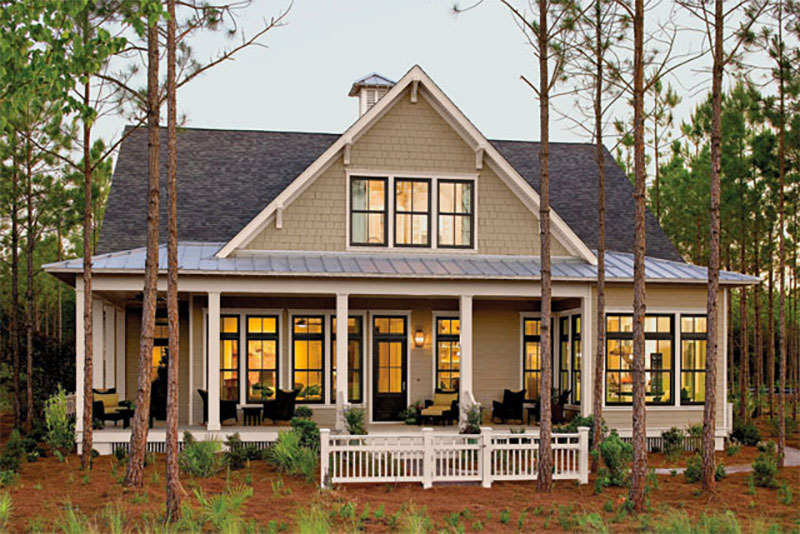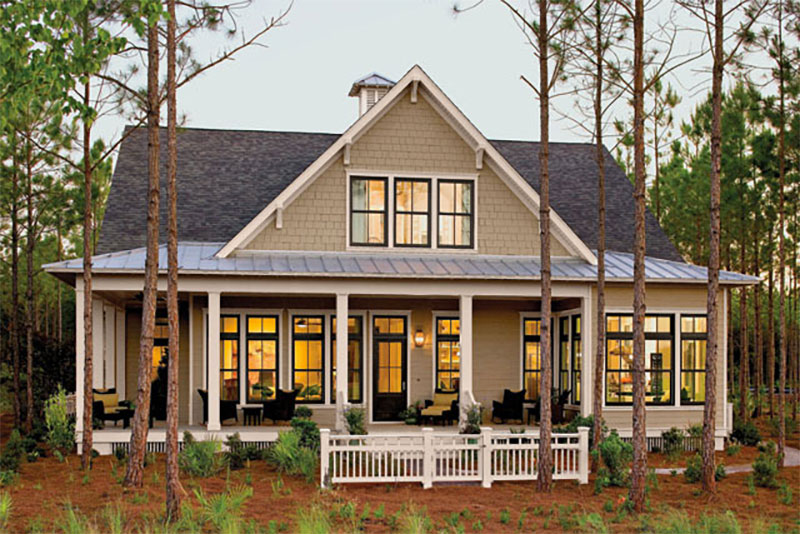 One of the biggest issues for me was the fact that we were going from living on 2.3 acres to a lot just over .25 acres. I've been used to having wide open spaces for almost 4 years now and this is going to be a HUGE adjustment for not only me but for our dogs that love to run like their lives depend on it.
But once I visited the lot (for the first time!), I wasn't as worried about it. It's wide and it backs up to a "dry" lake (fills up with the summer rains) so it makes the lot appear deeper than it actually is. We'd have to cut down a few invasive trees but I felt much better about eventually living there.
So we get home back to Naples that Friday night and overnight, the listing for the fixer-upper popped up. The kicker? It's 3 houses down from the lot we purchased, is on the same dry lake, has a nature trail next to it, AND it's on almost a 1/2 acre loaded with lush vegetation and oak trees. All that for under our original purchase budget of $300,000!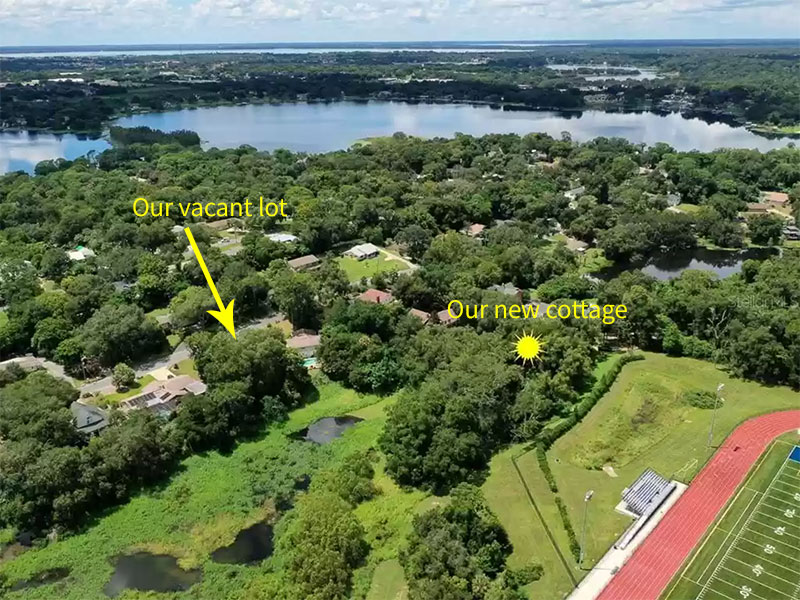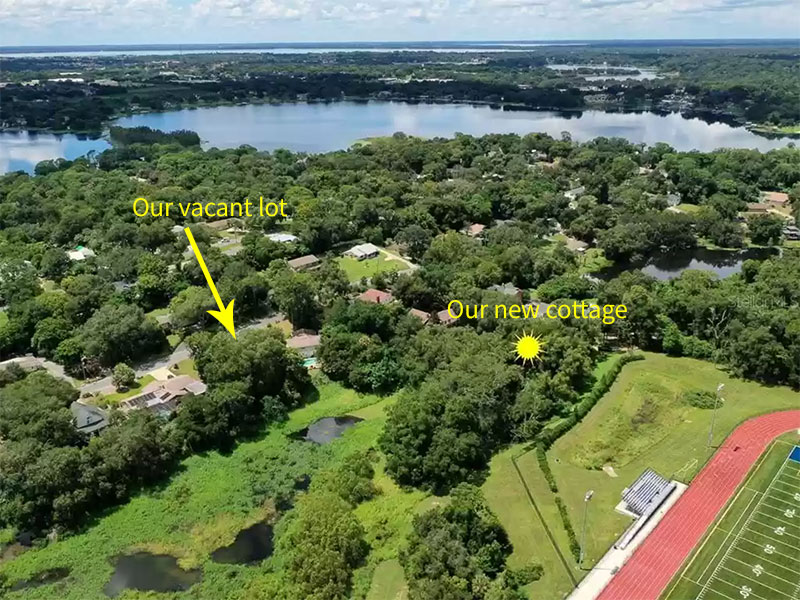 We called our Realtor first thing Saturday morning and did a FaceTime walk-thru that afternoon. The house was built in 1972 and was a rental for awhile but it's in relatively good condition. We knew it would go fast so we put in a full-price offer with a Sunday afternoon deadline to accept or decline it and kept our fingers crossed.
However, we found out on Monday afternoon that the sellers went with other buyers but they let us put in a backup contract in case the buyers backed out.
We figured it would be a long shot and didn't think much about it after that and kept planning the new build for the next couple of weeks … until we got the news from our Realtor: the buyers backed out after their due diligence period and we were now in contract to buy the house. HOLY CRAP!
We had a super short due diligence period so I made the 4-hour drive to the house a few days later to meet with our builder and discuss renovation options. Unfortunately, it was raining HARD while we were there so we couldn't spend much time outside. But THIS … this magical backyard literally took my breath away. It was even better than the listing's photos.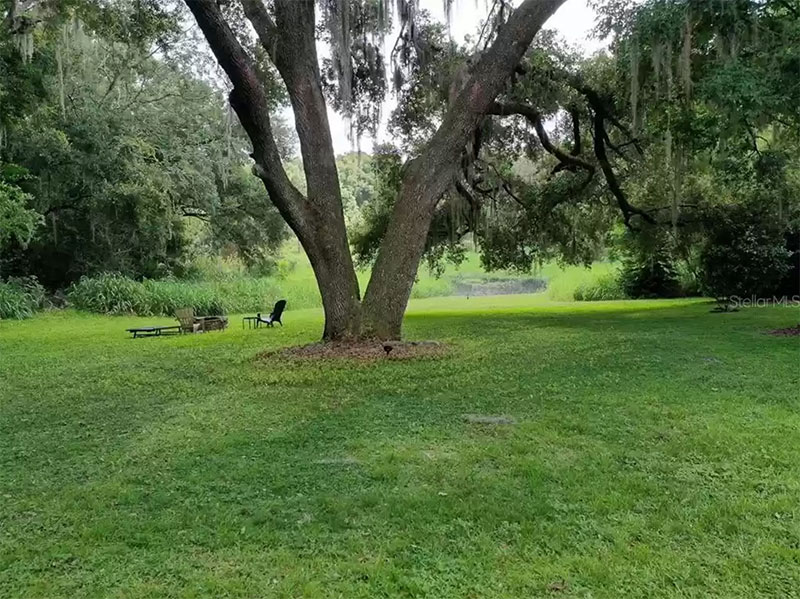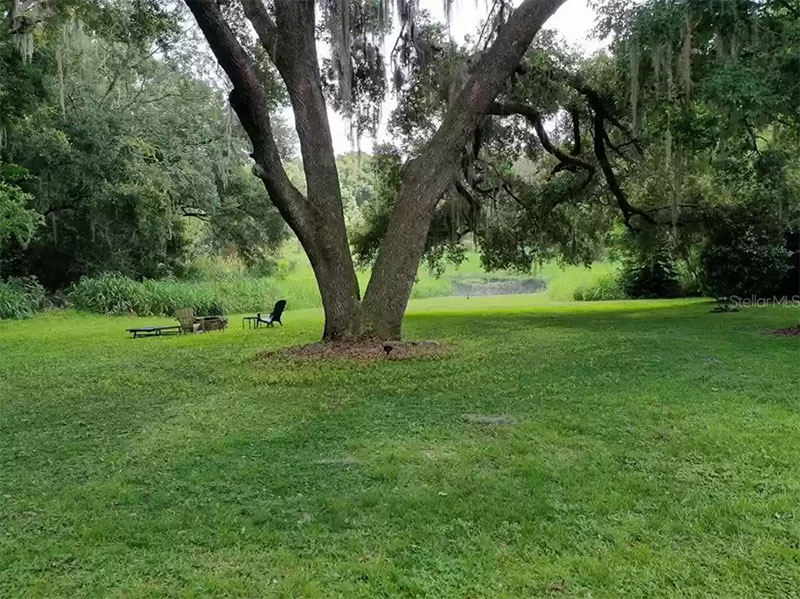 There were a few things that popped up on the inspection like sagging floors in a couple of spots, some mold in the bathroom floors, and damaged footers in the crawlspace but since we planned on gutting the house, those issues didn't scare us away.
The sellers agreed to a credit for those issues and we closed on Monday, September 27th. Pop a virtual bubbly with me – I'm buyin'!
We're currently in the process of listing the vacant lot with our Realtor and the crazy thing is since vacant land is very hard to come by up there (they don't tear down old homes to build new ones like they do in Naples), the value of our lot has almost doubled since February. CRAY-ZEE.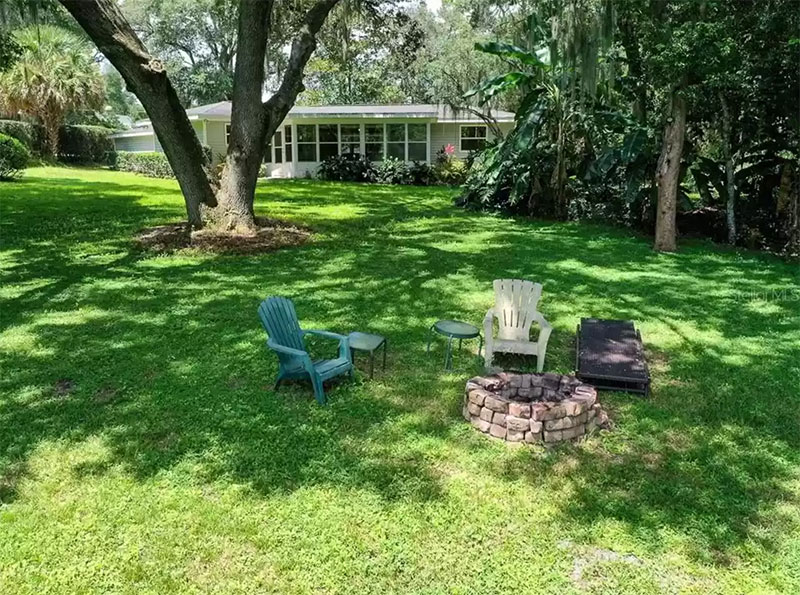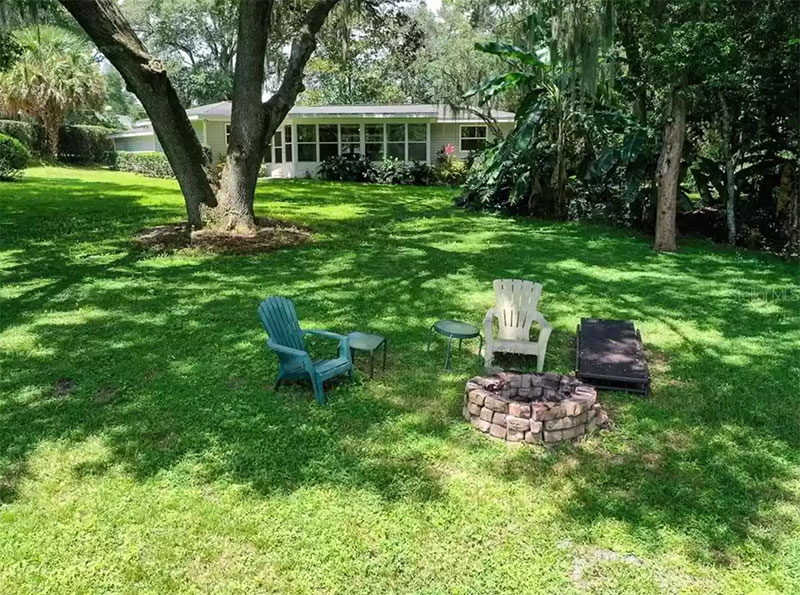 PHEW – what a wild ride it's been! But when situations like this arise, I truly believe the universe has specific plans in mind and wants us to follow the winding path laid out before us.
We weren't originally planning on moving out of Naples this soon but if we don't take advantage of this insane seller's market, we'll end up regretting it. We have an opportunity to make a ridiculous amount of money on our house – something we never anticipated – and we can use some of the proceeds to have a mortgage-free home and stash away the rest for future retirement.
I've been dealing with a range of emotions lately about moving since we're not simply moving across town. We're uprooting our comfortable routines, saying goodbye to our cherished friends and the breathtaking Gulf of Mexico only a few miles away, and leaving our sweet "Fuzzybutt Farm" farmhouse, which I love so dearly.
But I'm also super stoked to be able to design a really special "Forever-For-Now" cottage for our little family, make new comfortable routines, make new cherished friends, and embrace new adventures. I'm learning to just "embrace the mess" and trust that something good is on the horizon for our family.
After all, aren't new adventures and experiences what makes life worth living? ?
MEET OUR FUTURE "FUZZYBUTT COTTAGE"
I hope you stick around to see me transform this house from "Meh …" to "Whoa, is that even the same house?" in the upcoming months.
In the meantime, come see what it currently looks like inside. She has a super wonky layout but also has SO much potential!
You can also check out my design ideas on Pinterest on my "Our Future Cottage" board.
North Elevation

North Elevation

West Elevation

West Elevation

East Elevation

Florida Room

Florida Room

View from Florida Room

View from Dry Lake

Rear Bedroom

Rear Bedroom

Second Bath

Front Bedroom

Front Bedroom

Primary Bath

Primary Bedroom

Primary Bedroom

Laundry Room

Kitchen

Kitchen

Living Room

Living Room

Overhead View

Overhead View
QUICK FACTS: Built in 1972, crawlspace foundation, wood frame construction, .46 acre, around 1,300 square feet (not including the Florida room which is around 200 square feet)
---
If you enjoyed reading this article, make sure to sign up for the weekly newsletter below so you never miss a post.
Thank you so much for following my blog and allowing me to inspire you to create your own lived-in, loved-in spaces!