Well, here we are, my friend. The last post from The Great Post Purge of February '22. And WOW – my back feels so much lighter from unloading all the guilt I had from not posting these right after the projects were done. Huzzah!
One of my most-read and commented-on posts is "To Coffee Table, or Not to Coffee Table, That is the Question:" from May 2019 (gosh that seems like forever ago, doesn't it?).
At the time, I wasn't sure if I should keep our coffee table that was custom-made by an Etsy seller years ago or if I should sell it and get a cushy ottoman instead.
On the one hand, I love how unique and substantial the piece is. But on the other hand, it's not super comfy to prop our feet on.
It turns out that it took a pandemic and a new vintage Turkish rug to help me come to a conclusion but I finally figured it out in early 2021 and I couldn't be happier with my decision.
I've mentioned in my other rug posts how I've wanted to bring rugs into our prior homes but due to having two wily cats that believed a rug was their common enemy which needed to be destroyed, I had to shelf that desire for awhile.
Sadly, they both passed away in 2019 from old age (RIP, little dudes) but that opened up the possibility of finally being able to incorporate rugs into our home (thank you, little dudes).
After searching through hundreds of vintage Turkish rugs on Etsy for THE perfect one for our living room, I narrowed it down to these 4: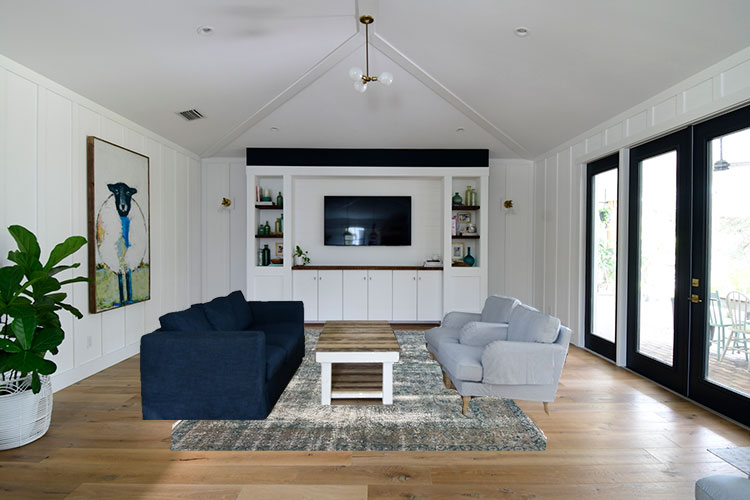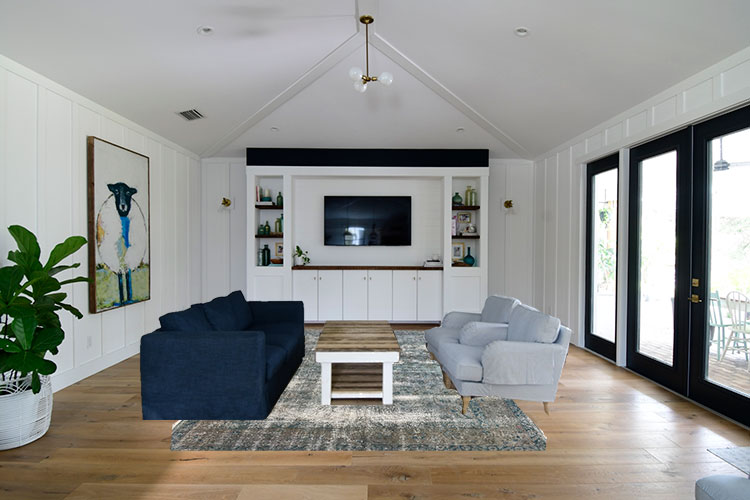 I had a hard time deciding which one would be the winner because they were all so beautiful and unique. So I got to work using some Photoshop magic to see which one would look best in that space.
I decided on the top left rug and it seriously couldn't be a prettier rug! It has the most gorgeous blue and muted sage green colors and it has some distressing on it which looks really cool.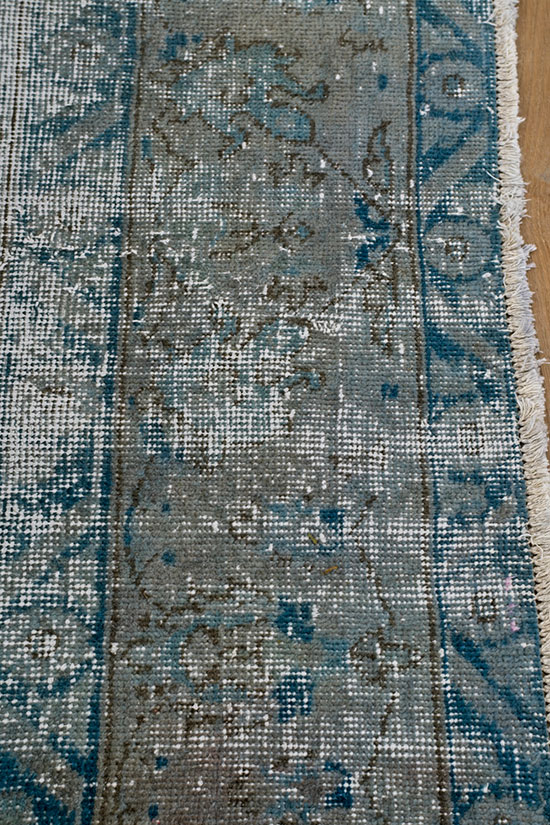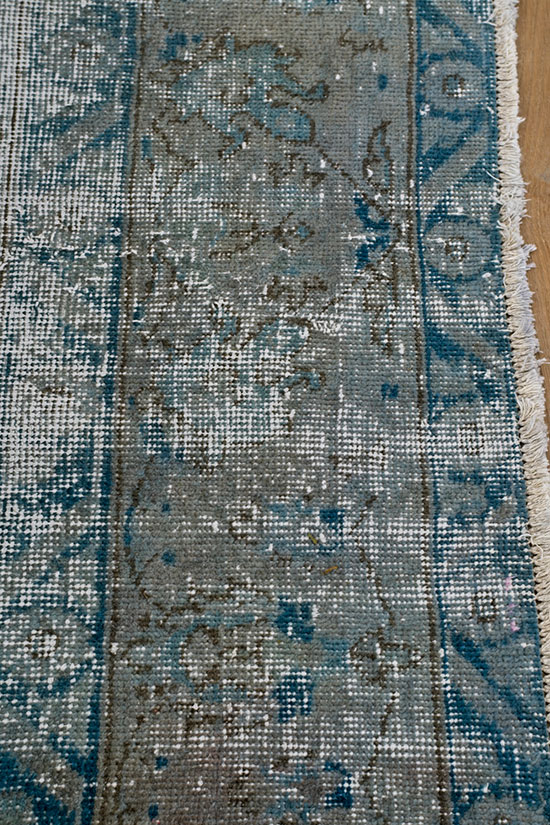 I also ended up buying a second IKEA Stocksund armchair (I bought it "naked" which saves money) and got SUPER lucky finding another blue & white striped slipcover to match our other Stocksund chair (they were discontinued and I got the last one on eBay!).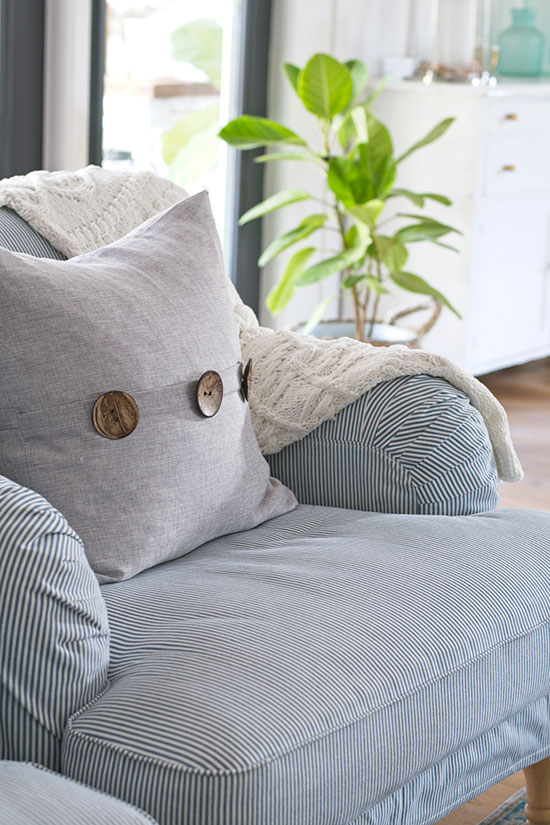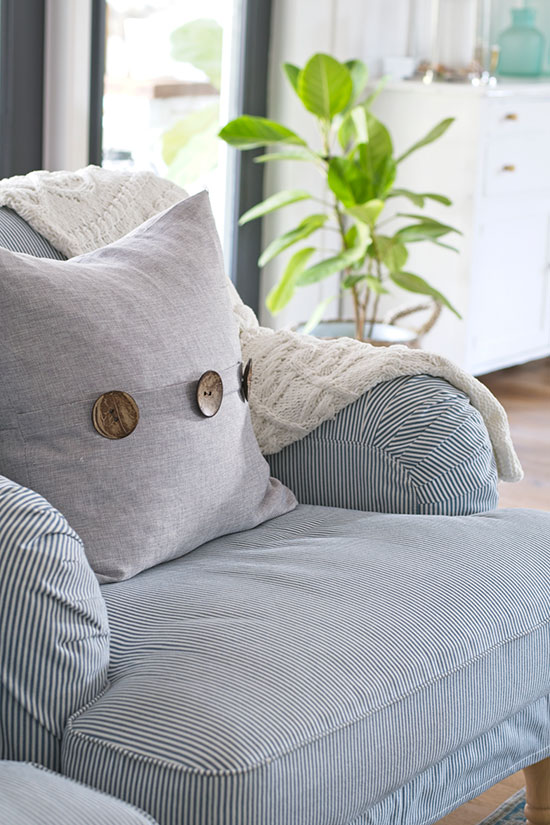 I also bought a few new throw pillow covers from Etsy and throw blankets from Target to finish "de-pinkifying" the living room (no more blush pink for me for awhile …).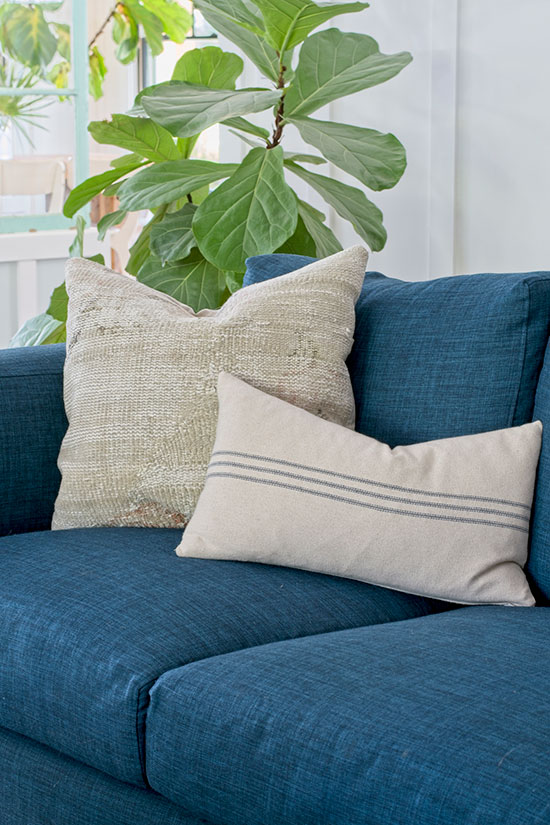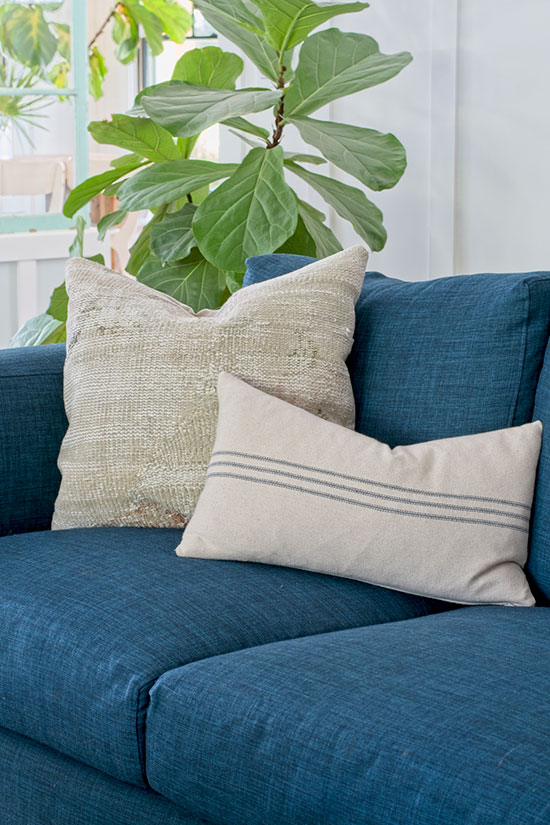 And I figured out a solution to being able to comfortably prop our feet up as well. I bought 2 of these cushioned ottoman benches from Target in the oatmeal/gray color to flank our entertainment center. So now when we want to prop up our feet, we can easily grab one of these to put in front of the sofa or armchairs. Voila!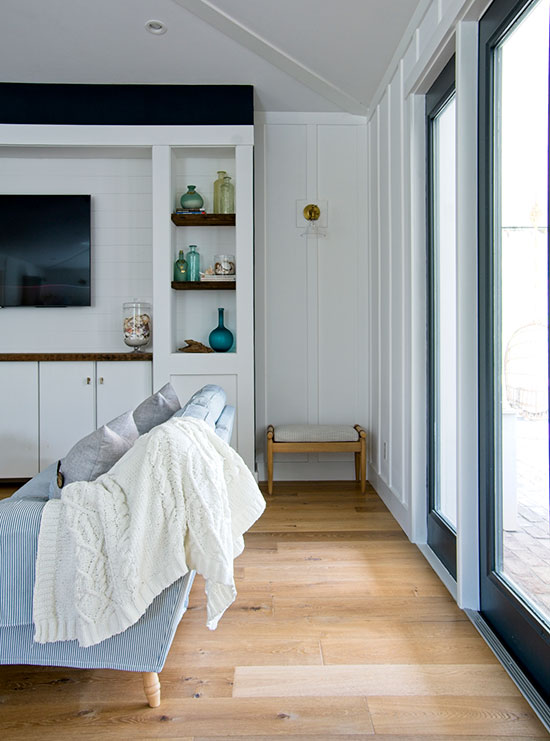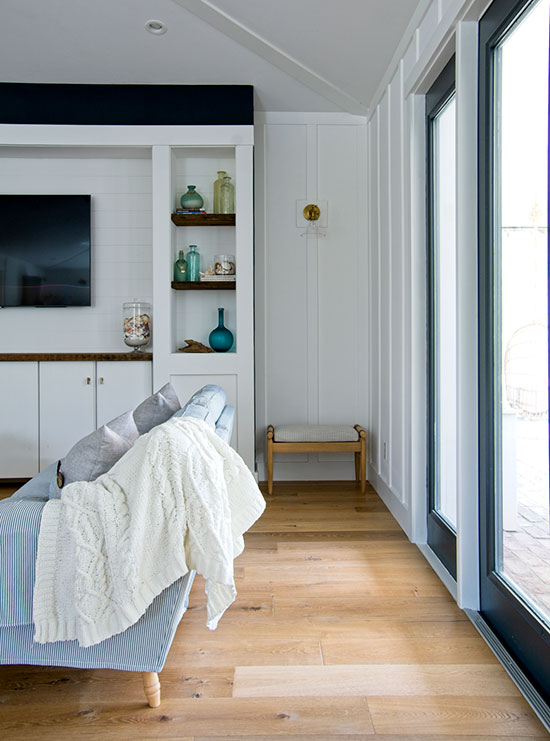 Once I laid down the new rug, rearranged the furniture, and added the new accessories, I knew I made the right decision of keeping our coffee table.
Now I find myself looking forward to relaxing in our living room either watching TV or curled up with a good book or magazine. Whereas before, I really didn't like spending much time in there at all. Mission accomplished!
And there ya have it. I finally had my answer to the age-old "To Coffee Table, or Not to Coffee Table:" question, and I'm thrilled I decided to keep our quirky coffee table. No regrets!
---
If you enjoyed reading this article, make sure to sign up for the weekly newsletter below so you never miss a post.
Thank you so much for following my blog and allowing me to inspire you in creating your own lived-in, loved-in spaces!