I'm beyond obsessed with all things design and one of my favorite pastimes is searching the web for unique furniture and decor.
When I stumbled upon Urban Outfitters' Graham Velvet Sofa a few weeks ago, it was FULL-ON lust at first sight.  I may have even drooled on my laptop a little bit, but a lady never tells …
This sofa comes in 6 stunning colors however, the mossy green option is the one that immediately revved my brain into overdrive thinking of different ways to style it.
Even though it's green, I consider this particular sofa to act more like a neutral color because the color is more of a goldy-green and not a jewel-toned green.  And because of the warmer tone, it can fit into all kinds of different decorating styles.
Come check out the 3 totally different ways I styled this beauty!
NO. 1 – GLAM STYLE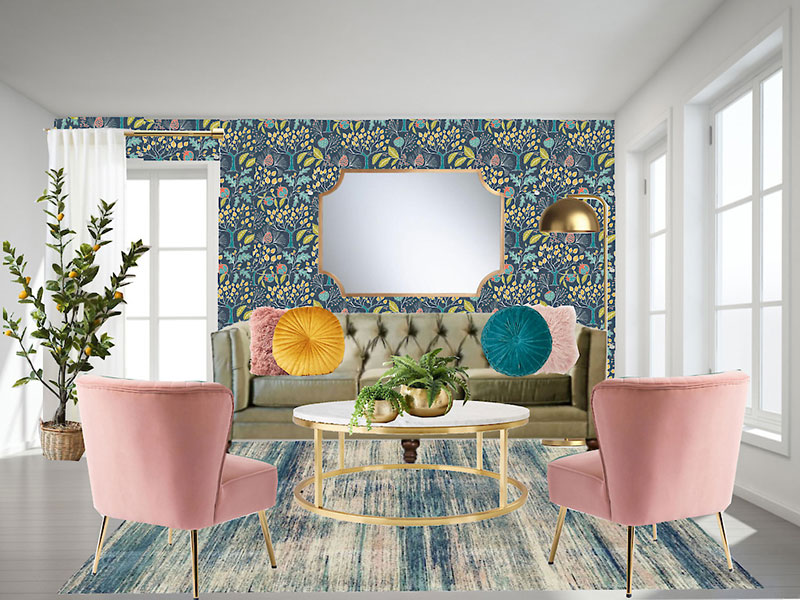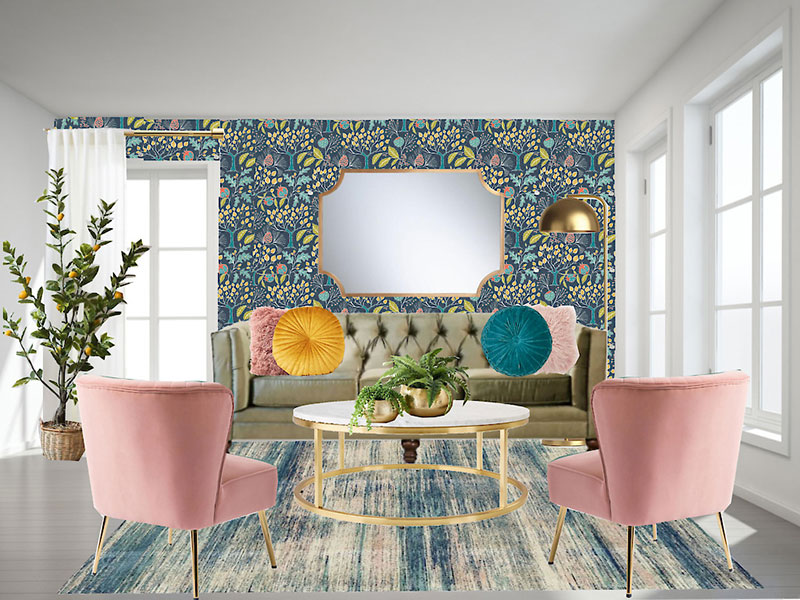 I was scrolling through Home Depot's website last week looking for wallpaper for my never-ending powder bath project, and this whimsical print caught my attention.  It's a SHOW STOP-PER.
As soon as I saw it, I knew I needed to use it as my inspiration for a Glam Style mood board.
I only put it on one wall because I didn't want it to overwhelm the room's overall design.  Plus, I didn't want it to lose its "specialness" if it was plastered on all of the walls.
Notice how the sofa acts as a neutral and compliments the blush pink, peacock blue, and golden yellows perfectly!
NO. 2 – FARMHOUSE STYLE

Now, when contemplating farmhouse style, most people probably wouldn't automatically think "green velvet couch."  Rather, they'd be thinking of some kind of slipcovered or beige linen sofa instead.
Well, I think this mood board proves that theory wrong!  I absolutely LOVE the way the green looks so "earthy" and again, acts as a neutral for all the other decor because of its golden-hued tone.
I used vertical shiplap to give a fresh and unexpected take on a shiplap accent wall and it makes such a simple – yet statement-making – backdrop for this room.
The gorgeous Lulu & Georgia rug was the inspiration I started with and pulled colors from it to create the overall color palette. If you look closely, it has the same golden-hued green as the sofa!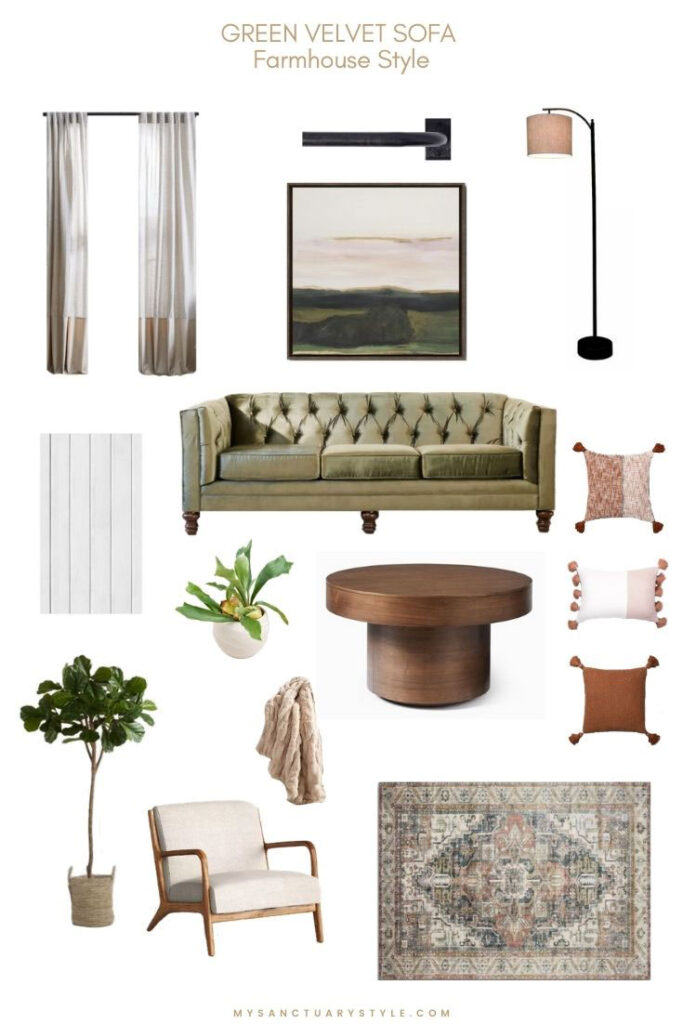 NO. 3 – CALIFORNIA CASUAL STYLE
SPRINKLED WITH A LITTLE BOHO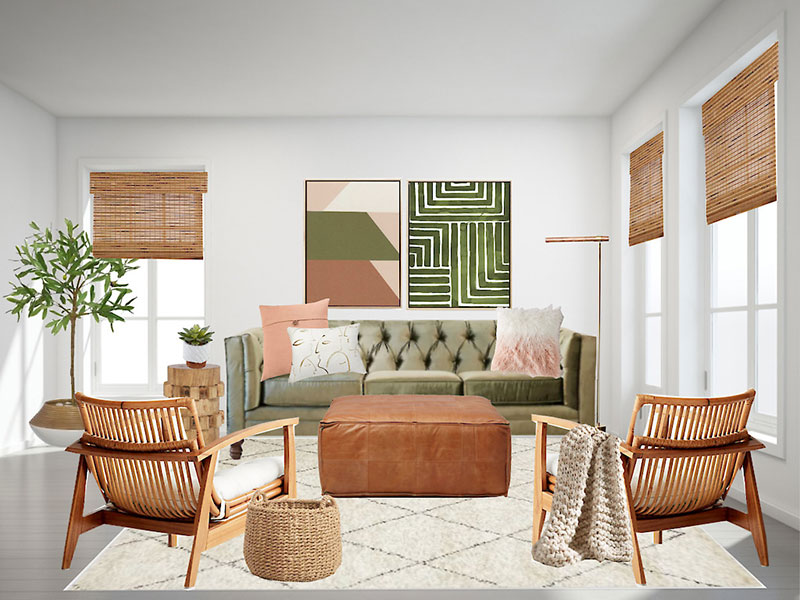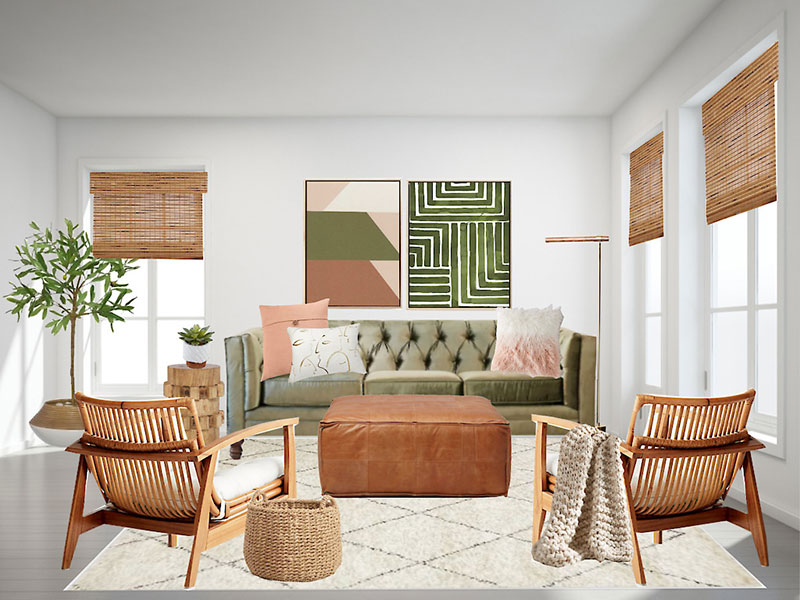 I think this one might be my favorite because  I LOVE the relaxing feel of this space.  I feel like the homeowners would be super chill, "whatevs," Birkenstock-wearing kinda people, don't you?
You can probably guess what my inspiration was for this room – THE ARTWORK.   They stopped me in my virtual tracks!
These framed canvas prints are from Minted.com and you'd never think they are from two completely different artists because they complement each other perfectly.
And check out that clever little wooden side table that looks like gears – so much character in such a small piece.  This is a perfect example of the pieces I keep for years because they're so unusual.
And again – that superstar sofa is acting as a neutral and lends itself really well to this relaxed, earthy vibe that I'm totally diggin'.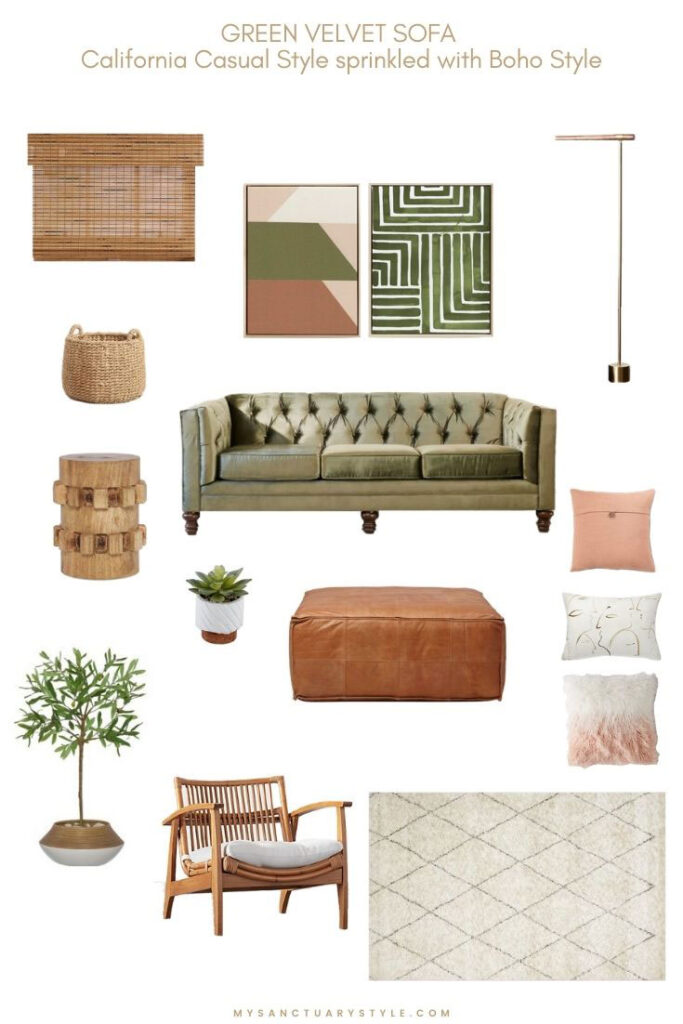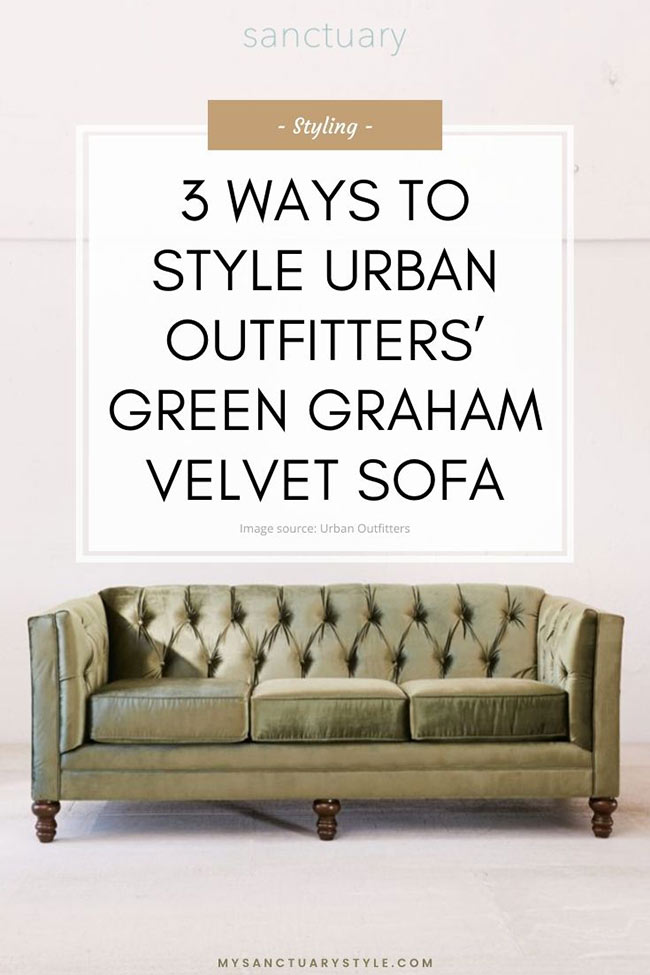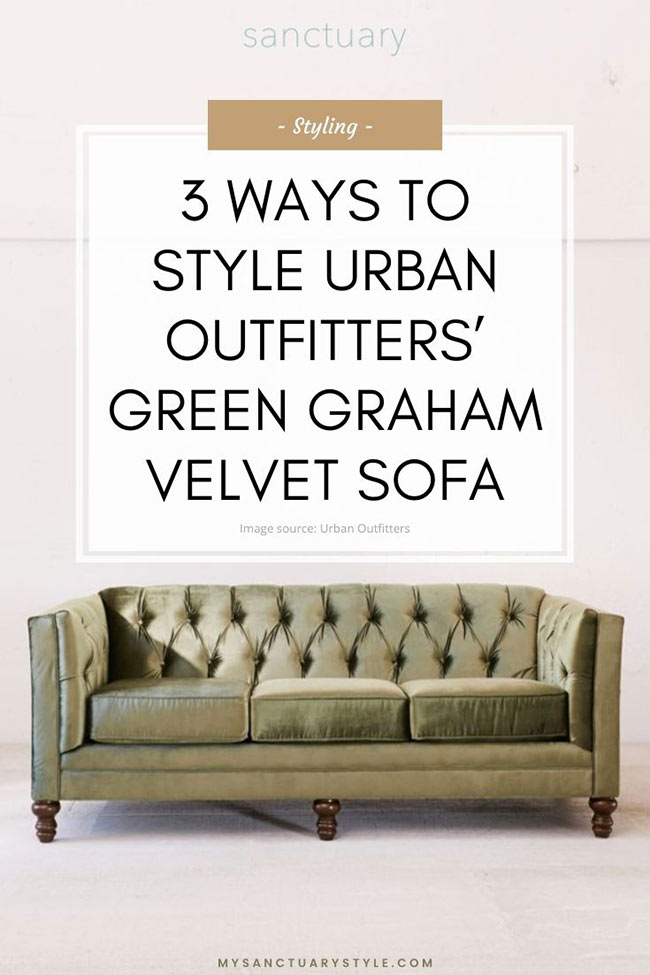 So which of these 3 mood boards is YOUR favorite?  Drop me a comment down below – I wanna hear all about it!
Also, I'd love to hear your thoughts about this Styling 3-Ways post and whether you'd like to see more posts like these in the near future.
Thank you so much for following my blog and for letting me help you create your own lived-in, loved-in spaces!