Welcome to "High End Looks for Less," where I scour the web to find interior design projects that inspire the hell out of me, but not my itty bitty bank account.
Click here to read the popular Studio McGee edition – the soothing bedroom they designed is beyond gorgeous.
The majority of people (such as myself) can't afford to replicate these high-end spaces, but we still desire to achieve the same look and those feel-good vibes these perfectly-designed rooms give us.
So my goal is to show you that with a little bit of imaginative interpretation and a LOT of product sourcing, these high-end looks can be achieved for a fraction of the inspiration room's estimated budget!
AMBER LEWIS:  A DESIGN SORCERESS
When I first started planning the entire interior design and build of our current modern farmhouse in 2016, I started an Instagram account and started saving any interior design images that inspired me.
I was scrolling through TONS of interior design images, nothing really floatin' ma boat, until THIS.  This MAGICAL, absofreakinglutely STUNNING kitchen designed by Amber Lewis and it was love at first sight for me.  I was instantly smitten as a kitten, y'all, and I've been a loyal follower ever since.
I'm so inspired by how much thought and consideration she obviously puts into every one of her clients' projects, making them so personalized AND functional.  I can only aspire to be half as talented as she is one day.  #igotbiggoalsandicannotlie
Her style is such an enchanting combination of traditional, California casual, a touch of farmhouse and/or cottage, with dashes of Glam & Boho for good measure.
Every client project she tackles is even better than her last.  She is a true artist and that's why I chose one of her projects to use as inspiration for this edition.
THE HIGH-END INSPIRATION:
CLIENT DOUBLE THUMBS UP LIVING ROOM
This image of the living room from her Client Double Thumbs Up project is our inspiration for today's post.
I just love everything about this thoughtfully-designed space.  It's a big space, yet it feels so comfy and cozy because of the scale of the furniture and rug and the overall casual, lived-in feel of the space.
I love how bright and airy this living room is, and while this room has a lot of personality sprinkled throughout, it isn't overdone.  It's just PERFECT.
I knew this definitely was the room I wanted to recreate on a realistic budget for "regular" people like me!
HIGH-END PRICE TAG FOR THIS HIGH-END
LOOK: OUCH, THAT HURTS!!
This kind of high-end interior design perfection typically comes with a super painful price tag.
I'm not sure of the exact cost of this room but based upon a few similar items I sourced, I would estimate this room cost at least $30,000 (just the furnishings, home decor, and light fixture) to design and furnish.
And then throw in the cost for flooring, paint, custom cabinetry, and any custom woodwork and you're probably looking at double what I figured.  Yowza.
I found the exact long black bench she used, but I'm not sure of the exact sofas she used so I'm using Restoration Hardware's Belgian Track Arm Slipcovered Sofa's price point for my estimate.
I don't know about you, but I could never spend $30,000 furnishing just one room (or a whole house for that matter!).  That would definitely mean the express lane to divorce court for this gal.
If you're like me and also don't have an endless bank account, the next best thing to do is to create your own interpretation of the inspiration room to fit YOUR own needs, design aesthetic, and budget.
So here's how I would recreate the feel of this room at a more reasonable budget.  And since Amber designed so many interesting components in this room, I included two little vignettes as well.
GET THIS HIGH-END INSPIRATION
LOOK FOR MUCH LESS!
The total cost of the items above (excluding the paint and wood flooring since those are variable costs) comes to $7,222.
Of course, this total cost becomes a variable as well because you could easily substitute any of these items for a similar, less expensive/more expensive version.   That all depends on your taste, needs, and budget.
I personally chose these items because to me, they captured the essence of the products she used as well as the overall feeling of the objects used together.
Again – it's all up to you to interpret it in a way that fits YOU and YOUR personality. That's the fun of it!
The total cost of the items in the vignette above (excluding the faux cactus because that was figured into the previous cost) comes to $239.  The skull (priced at $169) could definitely be substituted for a less-expensive version.
I picked this skull because it closely resembled the one Amber used as far as looks AND finish.
I found this really cool brass version – that's what I would personally use to add a little warmth to the area and to play off of the brass in the modern chandelier.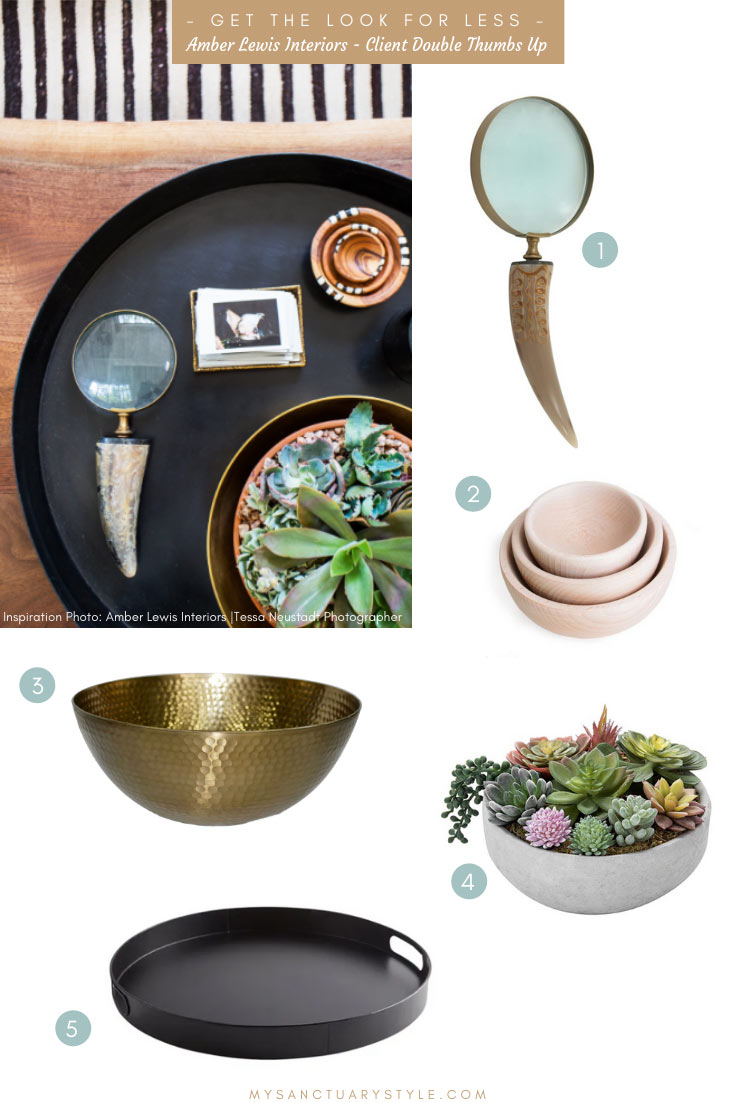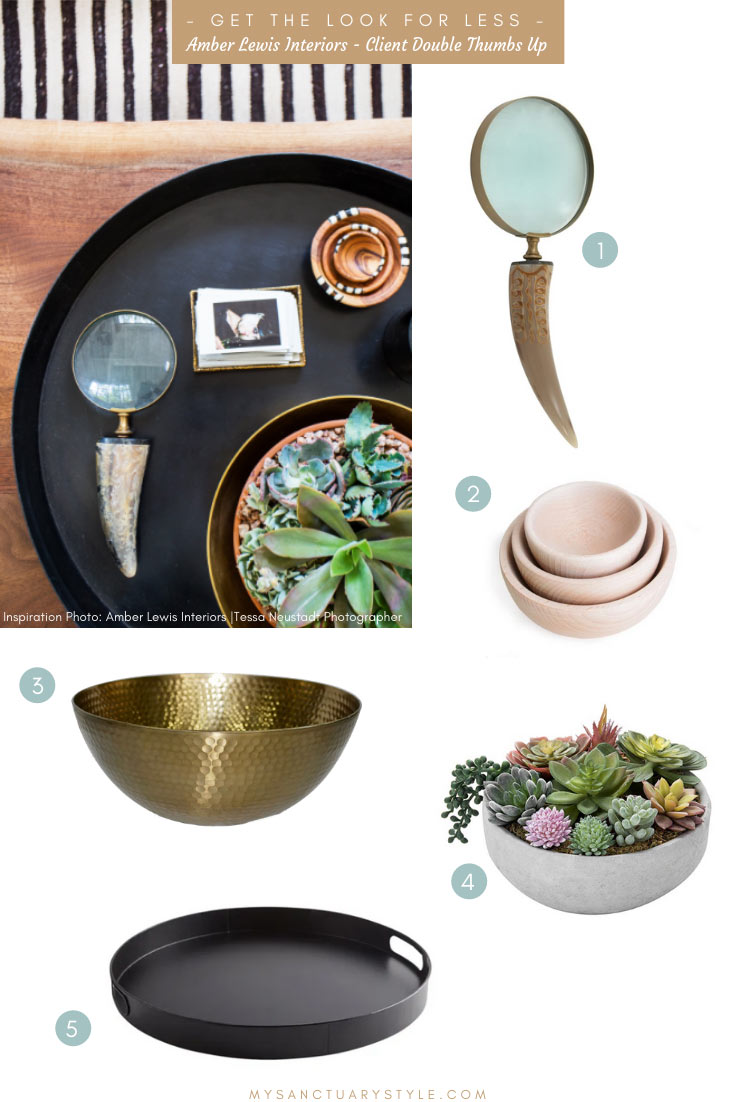 The total cost of the items in the vignette above comes to $106.
I couldn't find mini wood nesting bowls that looked anything like the amazing bowls Amber used, but you could certainly get these unfinished bowls from Etsy for $12 and do a little DIY by staining them and then painting some black & white stripes on them.  Could be a fun little project!
AND THE GRAND TOTAL IS …
So the grand total of all these items I sourced (again, excluding the paint and wood flooring since those are variable costs) comes to $7,567.  FOR. THE. WHOLE. ROOM.  That's more my jam.
I hope this post inspired you to not be intimidated in trying to recreate a high-end interior design look you love due to the accompanying high-end price tag.  There are ways to achieve the look and feel of that inspiration room you love without buying the exact items the interior designer used.
And always try to interpret an inspiration room for YOU because we're all individuals and have such different personalities!  Just use these rooms as design guides and then put your own personal stank on them.
Thank you so much for following my blog and for letting me help you create your own lived-in, loved-in spaces!