We moved into our custom-built modern farmhouse on Thanksgiving 2017.  I did the bare minimum of decorating in our laundry room simply because inspiration hadn't struck me in the head yet.
Well, that changed over the last couple of months when I was starting to envision how I wanted it to look and I'm going to share some of the results with you today.
It's still a work in progress, but I think it's helpful to show the process of making over a room in order to inspire others instead of waiting until everything is "perfect" to show it off.
THE CUTE BUT "MEH" LAUNDRY ROOM
On my personal Fuzzybutt Farm Instagram account, I've mainly only shown one side of the laundry room because that was the "finished" side.
The photo below has been the most popular photo of the laundry room on both my Instagram and Pinterest accounts.
I haven't made any changes other than adding a couple of plants on the reclaimed wood countertop and removing that metal storage container from the bottom shelf.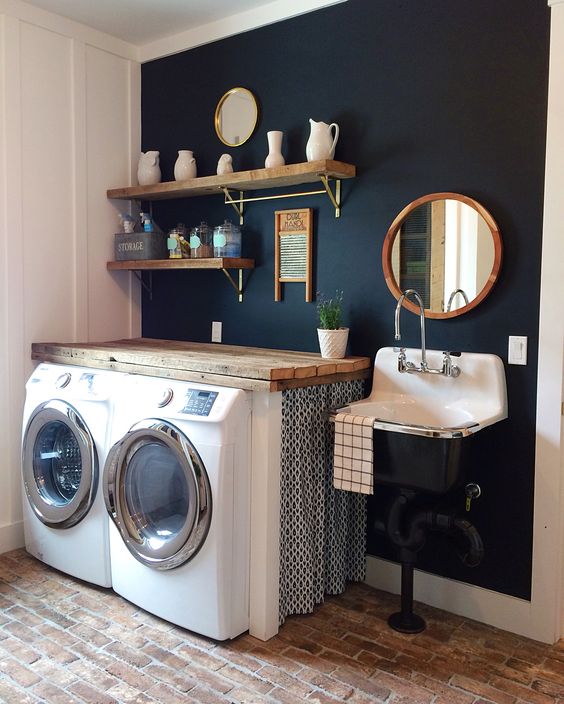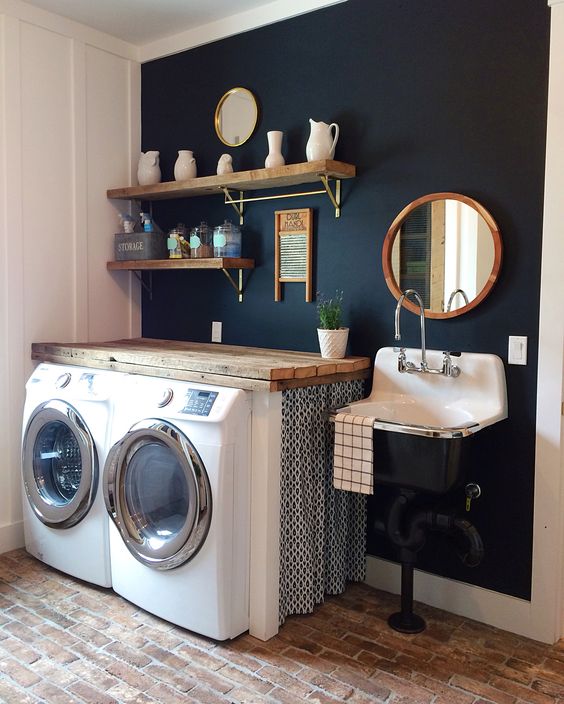 In comparison, below is the BEFORE of the "meh" side that remained unchanged until recently.
I originally had a floor planter with a money tree in that corner for a couple of months but wasn't really feelin' it in this space so out it went.
Our laundry room isn't a big space, but it is quite charming due to the board and batten walls, the brick floors, and the custom reclaimed heart pine wood door.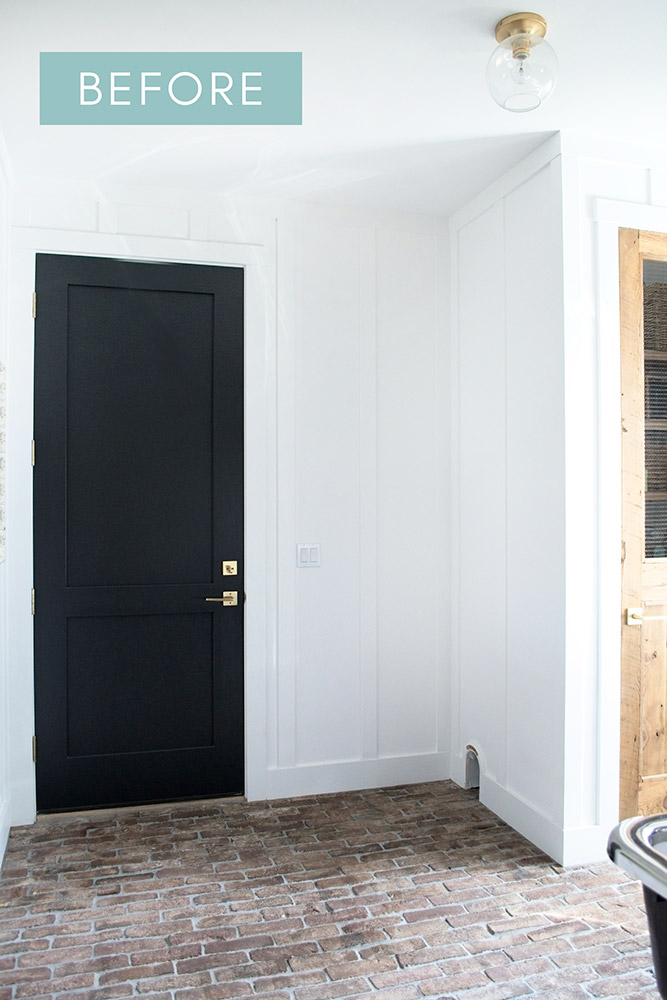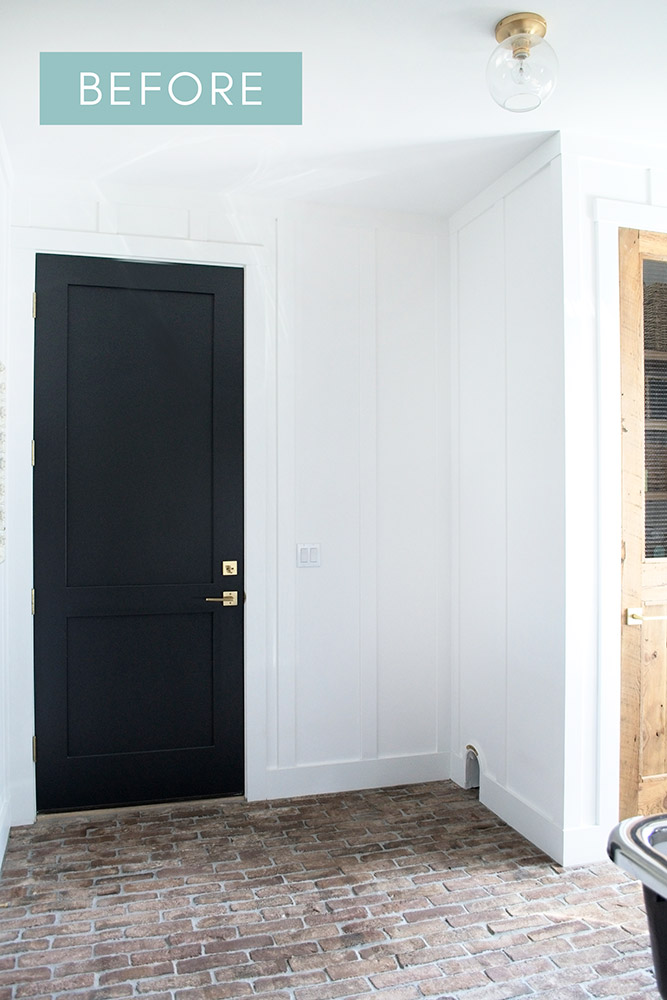 That giant cartoon-like mouse hole in the corner was for our cats to get into their litter boxes which were in the closet behind the reclaimed wood door.  We installed one of these cat holes in our last home and I swear it's one of THE most amazing little inventions EVER!
The cat hole is only $40 or something like that and the company will also personalize a little decal to display over the hole.  Ours reads, "The Loo 2.0," since our first cat hole was known simply as "The Loo."
It's a brilliant way to hide litter boxes and keep any dumpster-diving dogs away from the goods.  Dogs can be super gross sometimes and mine are certainly no exception.
THE "WORK IN PROGRESS" REVEAL
Here are some progress photos of my mini-makeover project.
I still want to add a couple more decorative items in that corner area, but I love how it's been coming along so far!
Simple, yet functional.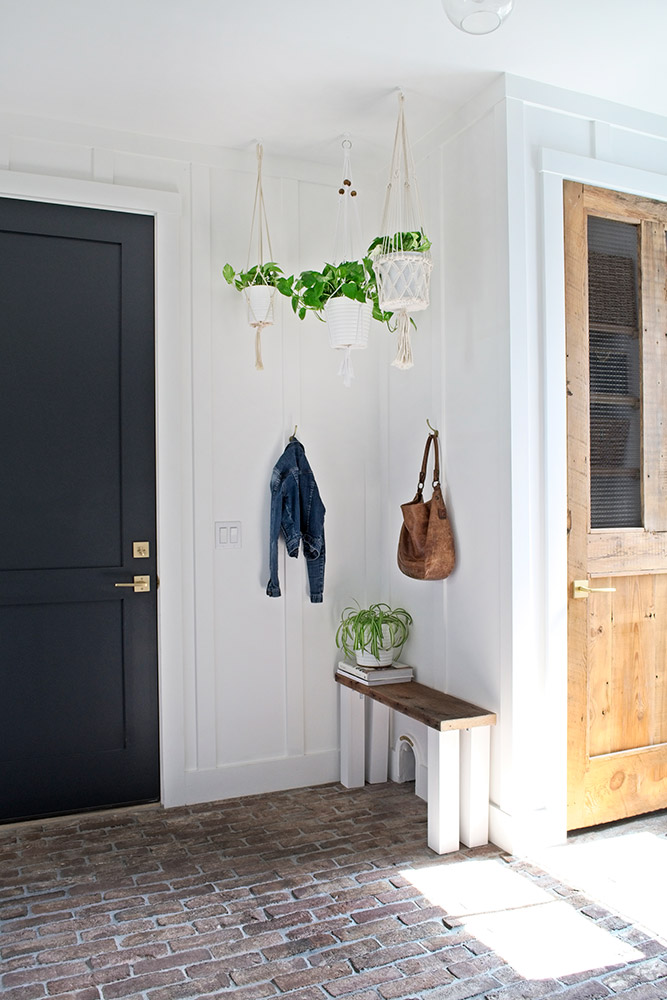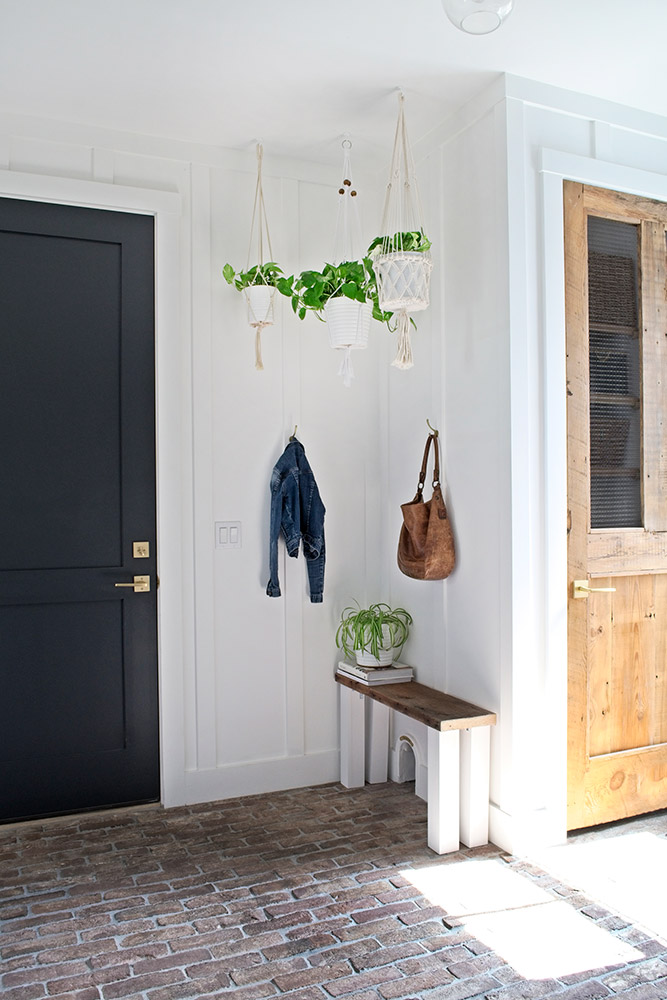 I knew I wanted a bench in this room, but there isn't a lot of width to work within that corner area so I had to get a little creative (I LIVE for design challenges!).
I decided to go ahead with the bench idea, but it needed to be more of a shelf-width and it would function as more of a catch-all area instead of an actual bench for us to sit on.
I saved that piece of reclaimed heart pine from a shelf we had at our previous house, and the carpenter made the legs from leftover wood from another construction project in our farmhouse.
I painted the legs to match the walls (Chantilly Lace by Benjamin Moore), and used some L brackets to attach the legs to the reclaimed wood shelf and VOILA!  A mini shelf-bench!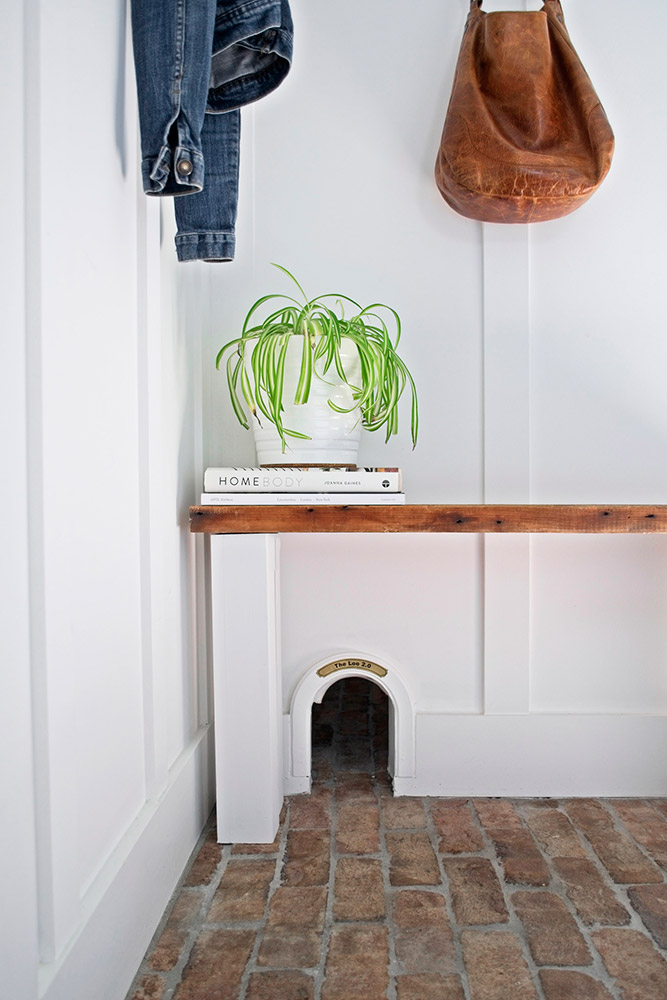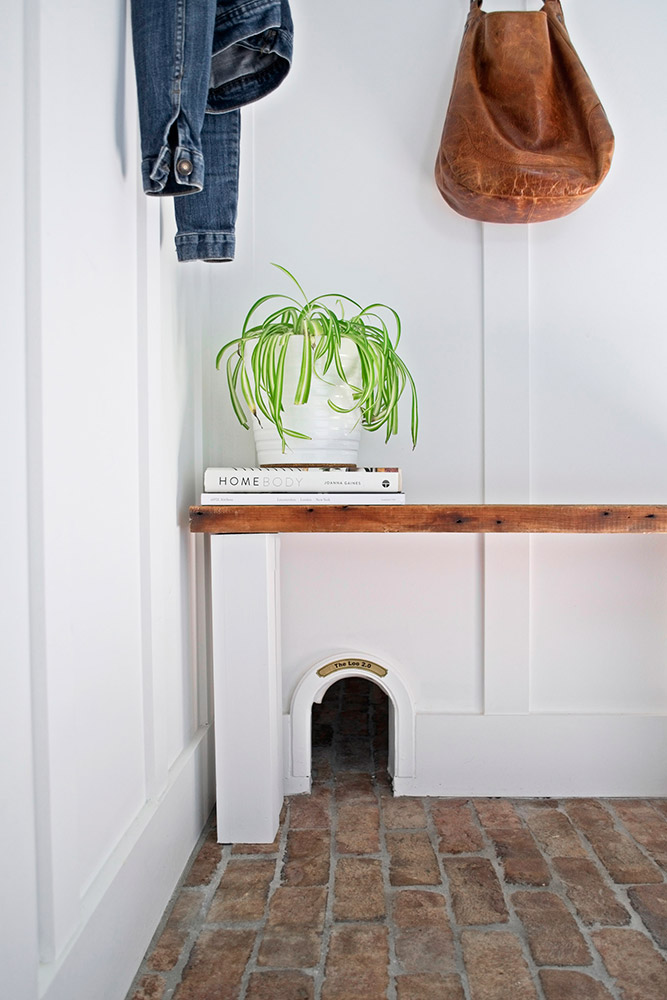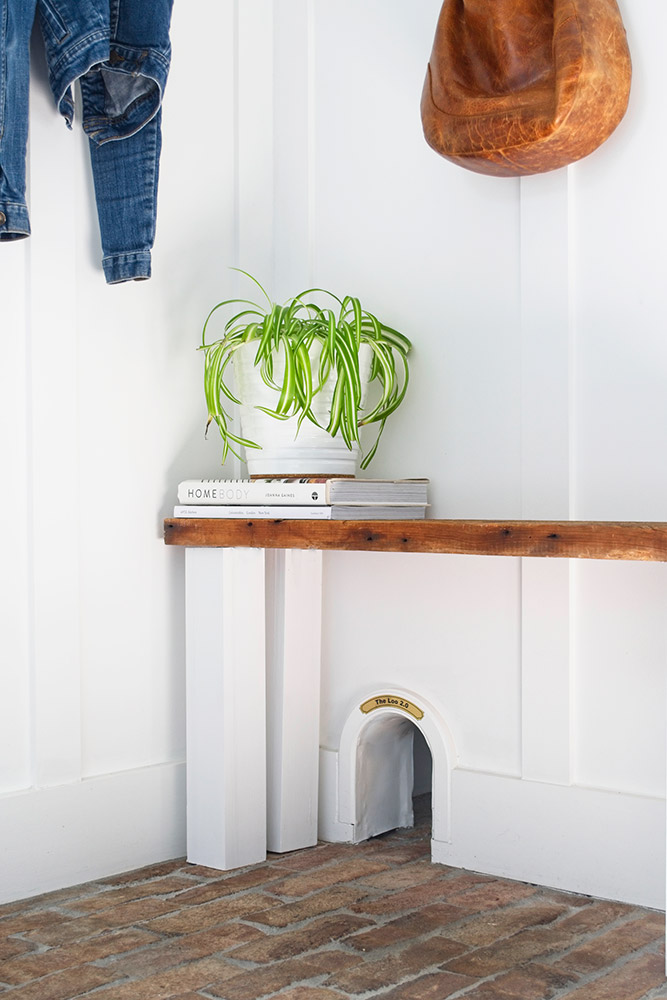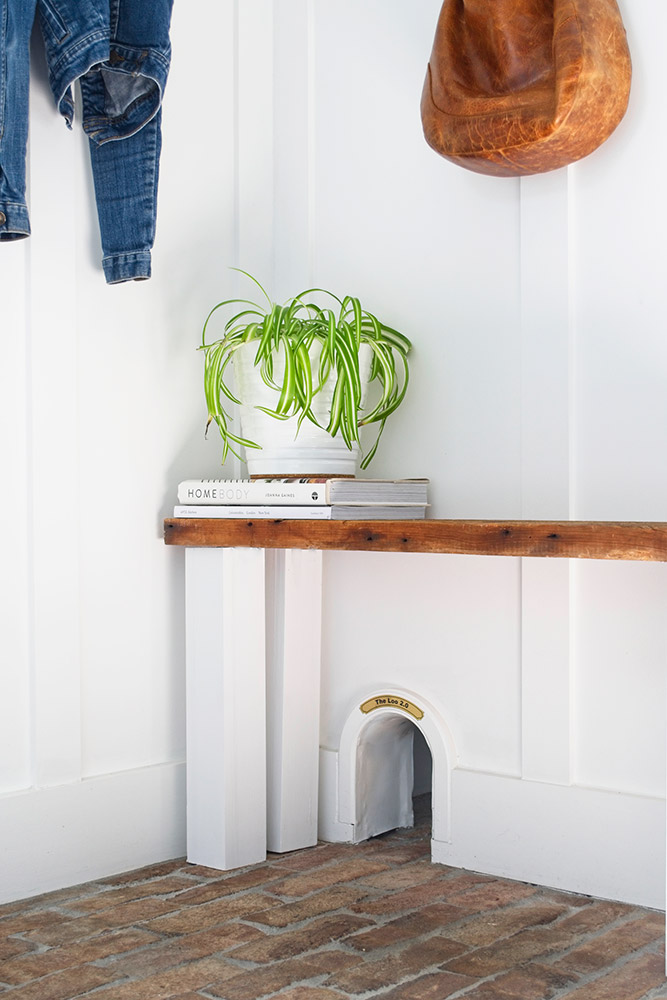 I wanted brass coat hooks in this corner but I looked online for months and couldn't find anything I really loved.  So I went the semi-DIY route and took a trip up to Hobby Lobby since they have so much unique hardware decor.
I found the cutest little coat hook for $2.99 that didn't protrude from the wall very far at all and bought two.  Since it can be kinda tight in that corner, coupled with the fact that I'm super clumsy, I didn't want the hooks to stick out too far making it all too easy for me to get caught by one as I'm walking by.
I broke out my favorite gold spray paint and gave the hooks a quick makeover, sprayed a few protective coats of matte clear enamel paint, and let them cure for a couple of days before I installed them. I freaking LOVE how they turned out and it's been so convenient to be able to hang my handbag from one of them.
I used to hang my bag over one of our dining chairs and it was a pain in the ass to go grab it whenever I was leaving the house.  Now, it's right here next to the garage door making it super easy to grab as I'm heading out.  BOOM!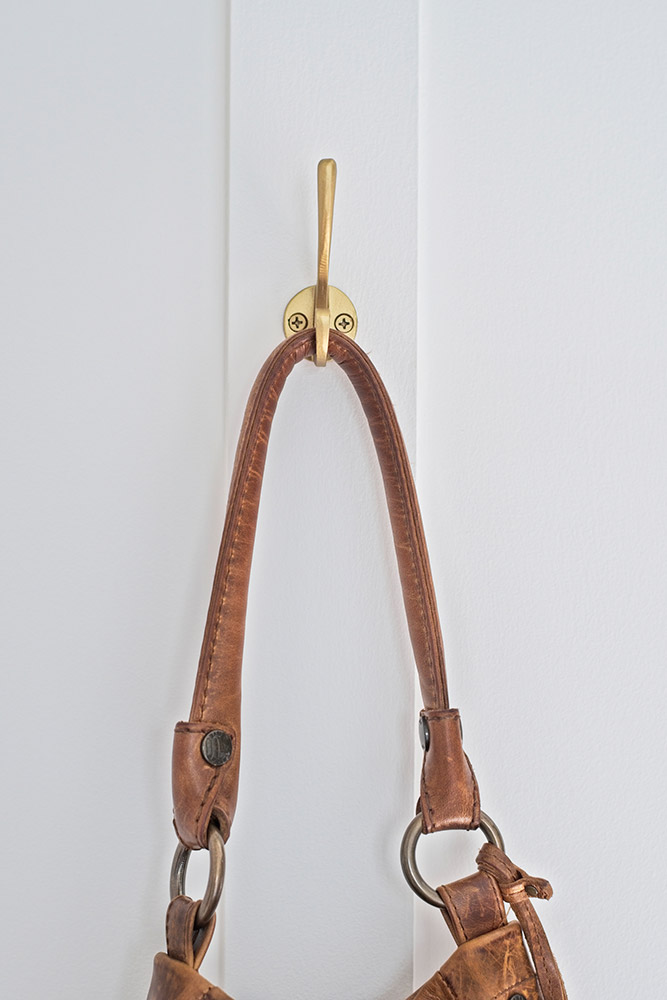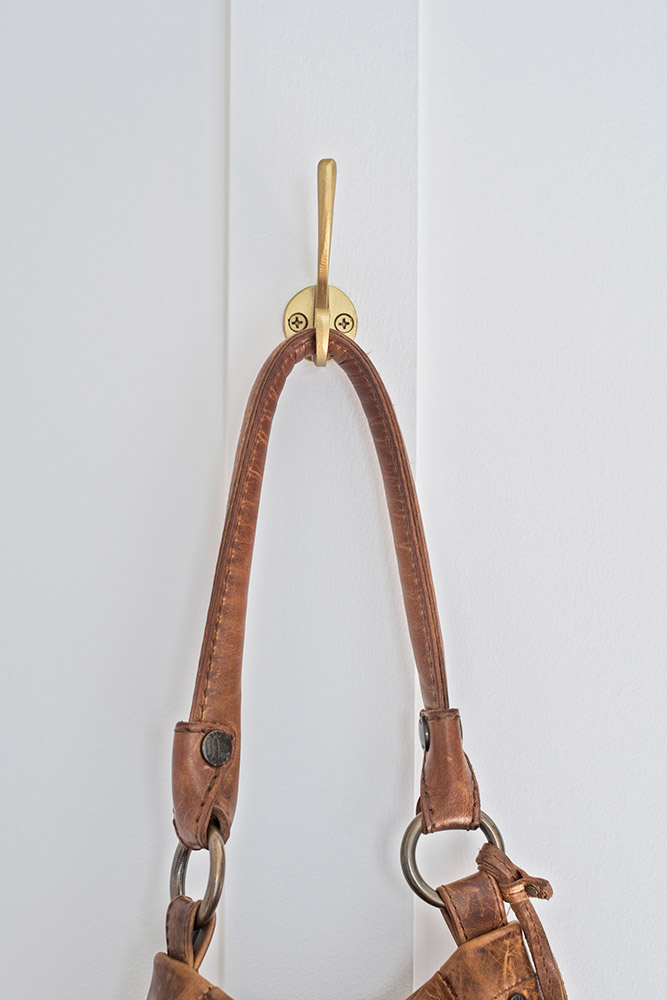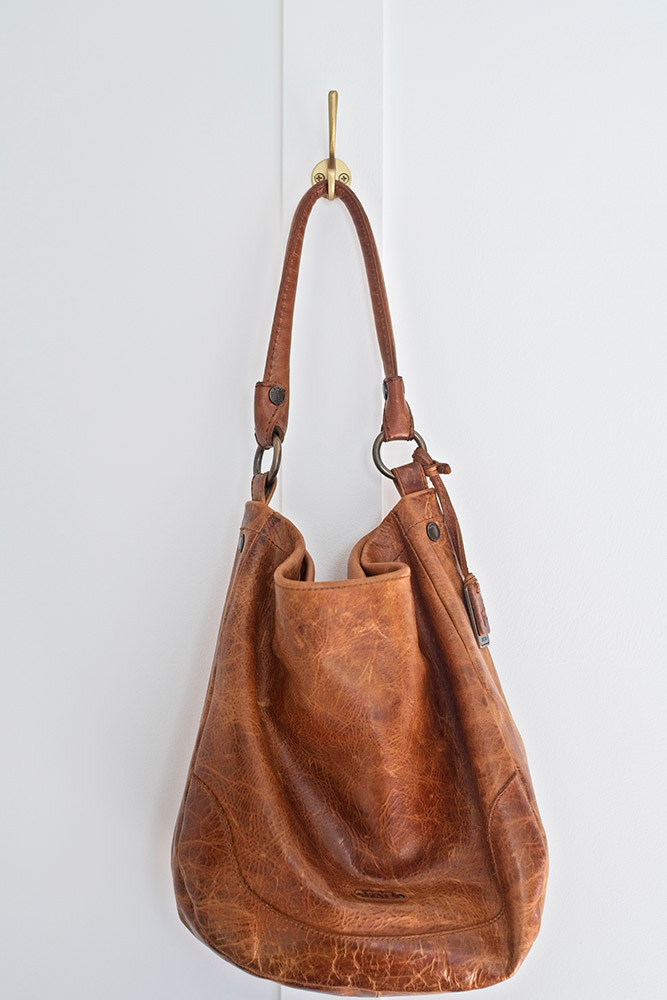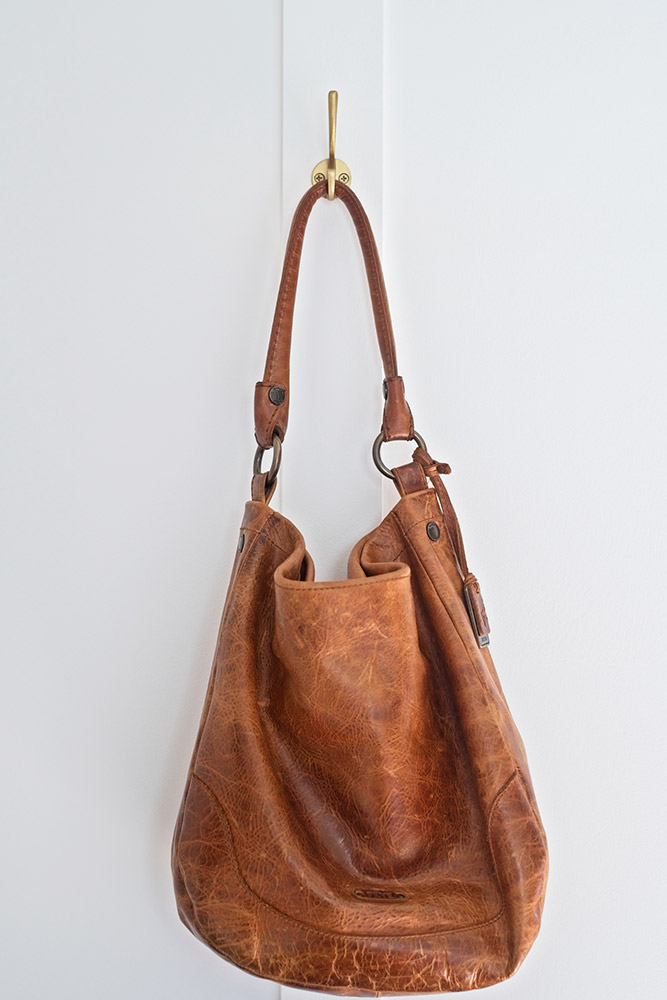 Visit my Shop My Farmhouse page to view the design sources for this room.
The next thing on my Wish List for this room is to hang some petite artwork on the wall to the right of the black door.
I have an idea of the artwork I'm going to make, I just need to find the perfect little frame for it.  But that's always my favorite part of decorating – the hunt. What a freaking rush it is when you find something that fits in seamlessly with what you envisioned!
Thank you so much for following my blog and for letting me help you create your own lived-in, loved-in spaces!