I usually don't purchase many things for our home (or myself, for that matter) other than the typical necessities to run a household, pet necessities, and the occasional houseplant.
However, when I do want/need to buy something for our home, I do put some thought into it in order to avoid making any mindless purchases.
Most of the things (decor, furniture, etc.) we have in our home, we've had for well over 10 years because I try to repurpose things as much as possible.  But sometimes, it's kinda nice to make a few guilt-free splurges especially if they can bring a little more joy to you and your family.
So today, I'm going to share 3 recent purchases I made for our master bedroom that made life more simple and serene for us.  And by "us," I really mean "me."
PURCHASE No. 1 :
A PRETTY & PRACTICAL DUVET COVER

BEFORE: Nice but "meh" duvet cover situation
A couple of years ago, I bought our dark linen duvet cover (shown above) because we have a black rescue dog, Faith, and I wanted her fur to be camouflaged whenever she snuggled on the bed.  I wash the bed linens once a week but I didn't want to be obsessed about seeing her fur all over it in the meantime.
The duvet cover worked wonders for just over a year until we adopted our latest rescue nugget, Kismet Mei, from China in September 2018. Her white fur would stick out like a sore thumb against that deep indigo blue and it would make me beyond CRAY-ZAY.
I'd drag out the vacuum and suck up her fur just to see it all over the bed again 30 minutes later.  Our dogs are not allowed on any furniture in the house other than our bed because – SNUGGLE TIME.  Snuggle time is seriously THE best part of my day so I never once thought of training them to stay off of our bed.

AFTER:  The magical new duvet cover
So a few months ago, I decided I had to find a better solution that would camouflage both Faith's and Kismet's fur in order to keep whatever sanity I had left intact.
I looked at tons of duvet covers online and I really didn't want to spend around $300 on what I liked.

Baby Faith enjoying her new linens.
I ended up finding and buying this melange washen linen duvet from H&M for $150 and I freaking LOVE it!  It hides both Faith's AND Kismet's fur and it makes our bedroom feel so light, bright, and airy now.
We already had the striped linen pillowcases (also from H&M) so they matched perfectly to the new duvet.  It's as if their eventual union was meant to be!
PURCHASE No 2:
SUPER SOFT MICROFIBER SHEET SET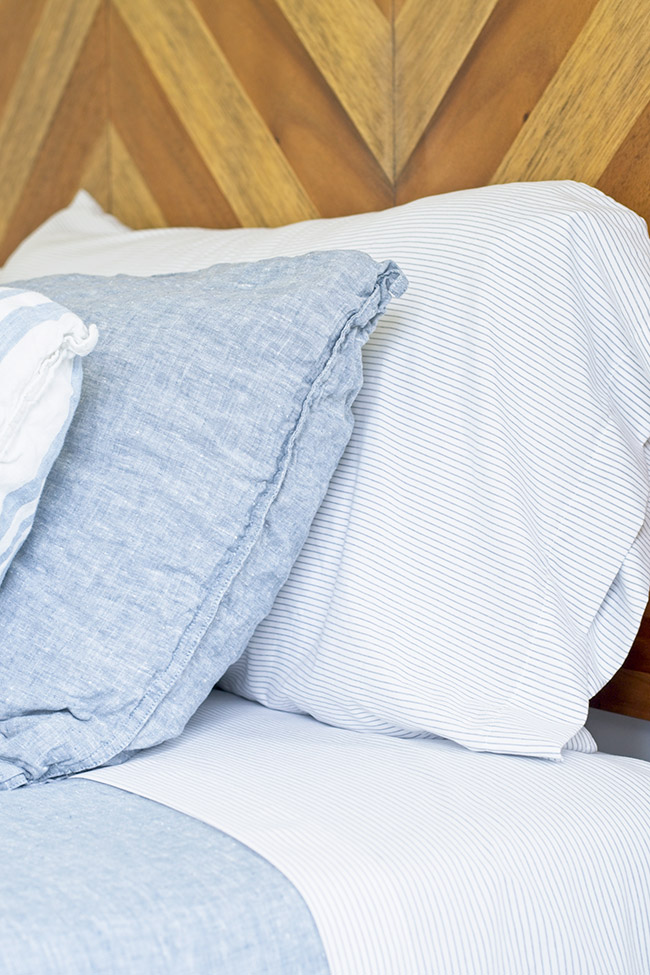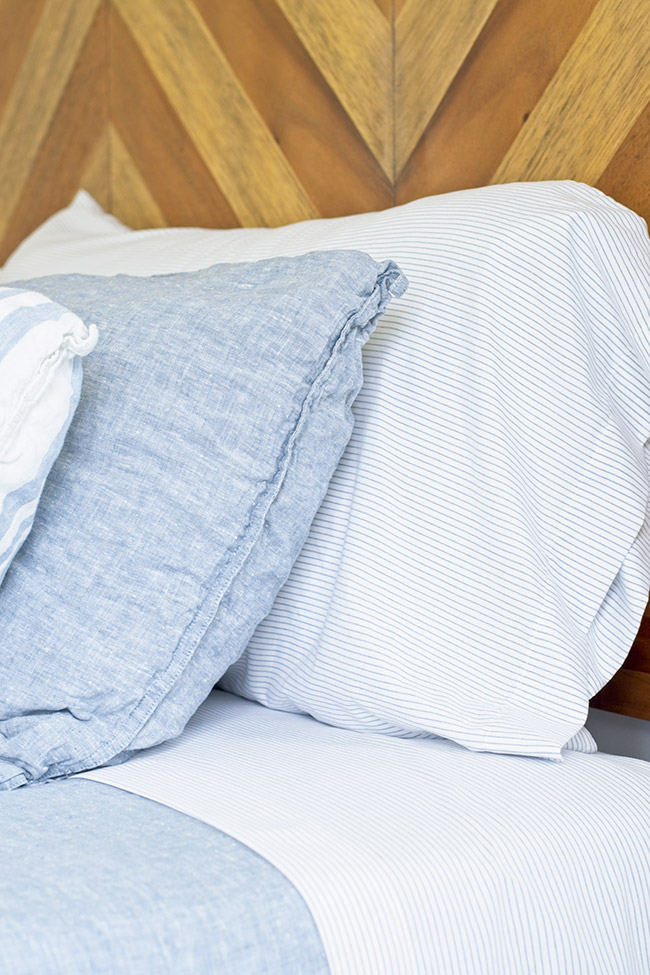 The Hubs and I celebrated our 17th wedding anniversary in October and he gave me cash as a gift and specifically told me to spend it on myself – not the dogs, not the house – but ME. I reluctantly took his blood money and stashed it away for a rainy day.
We've had the same set of organic cotton bed sheets from Target for at least 10 years now and they were starting to get little holes all over.  So I thought I'd use some of my rainy-day blood money stash to buy a new set of sheets.
I wanted something really soft, almost silky feeling.  I decided I'd start at our local Target since our organic cotton sheets had served us so well.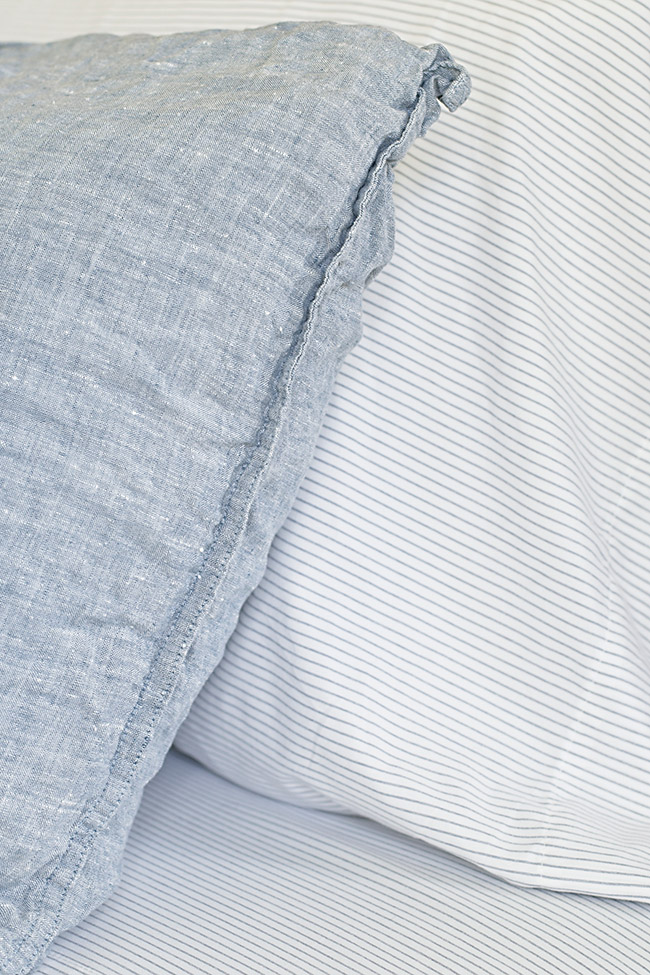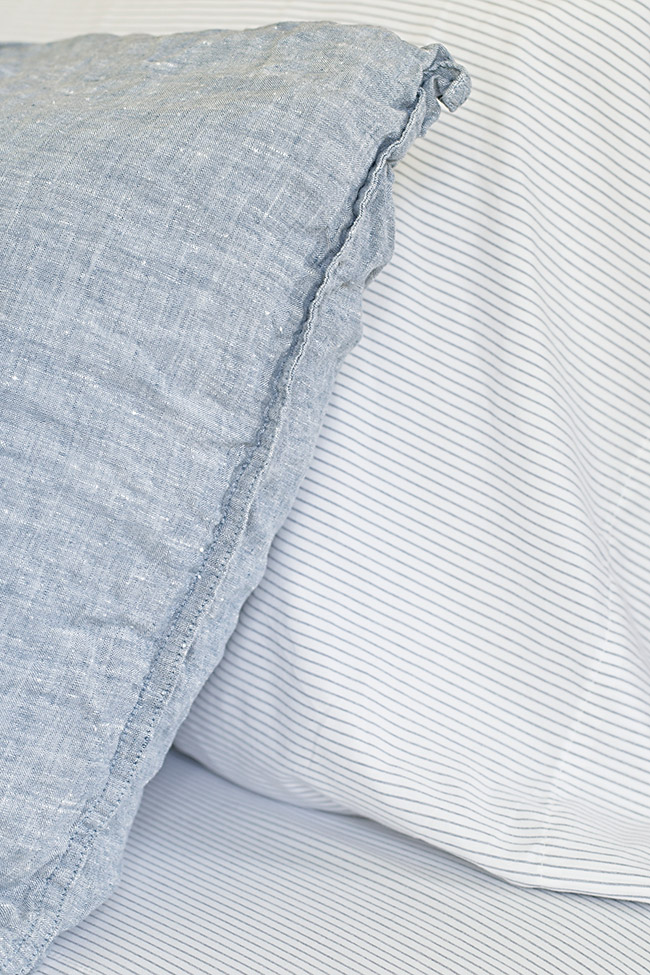 I literally touched EVERY single bed sheet set they had in that store to see what passed my test and surprisingly, it was this Room Essentials microfiber sheet set.
I never would have thought to buy a microfiber sheet set but man, it felt SO good when I ran my fingers all over it (in a non-creepy way, of course).
The set was only $24 but Lady Luck was on my side that day and I ended up finding a king-size set on sale for $16! I can't even begin to tell you how much in love I am with these sheets – they just feel so good against my skin!!
And bonus – the stripe color matches the new linen duvet perfectly.
PURCHASE No. 3:
SUPER COZY CHENILLE THROW BLANKET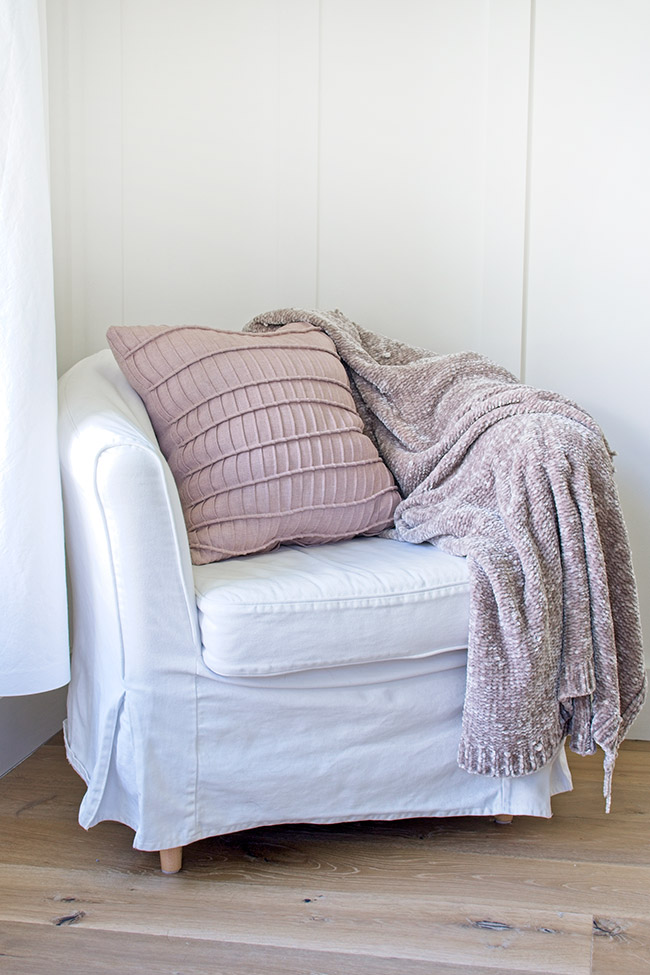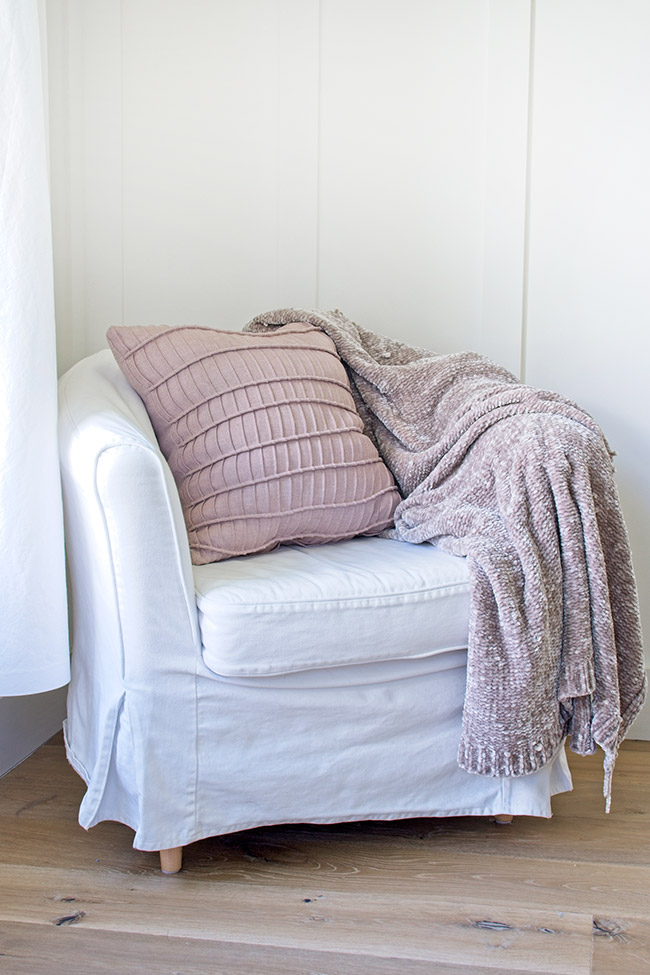 After I found those amazingly-soft bed sheets, I wandered around the store some more to see how much damage I could do.   Anyone that personally knows me knows I LOVES me a throw blanket.
It could be 95 degrees outside, but I'll still snuggle up on the sofa with a blanket while watching TV with The Hubs.  So naturally, I decided to head to the throw pillow & blanket aisle next.
When I found this Project 62 chenille blanket for $25, it was love at first touch.  Holy moly, this thing is CRAZY soft and lightweight.  I've been sleeping with it every night since I bought it 2 weeks ago.
I'm thinking about going back and getting another color and I've never done that with any blanket I've ever purchased. It's THAT crazy comfy!

Kismet Mei doing what she does best.
When I came home and proudly showed The Hubs my loot I scored for under $50 at Target, he said, "I thought I told you to use the money on yourself, not the house."  I shot back, "These ARE for me.  I'll use them EVERY day and they'll bring me joy, so shut your pie hole." He didn't even try to argue with that reasoning …
So what are some of your latest cozy purchases?  I'd love to hear all about them!
Thank you so much for following my blog and for letting me help you create your own lived-in, loved-in spaces!