Whenever I'm designing a space for myself, a friend, or a client, one of my requirements is you absolutely MUST love every piece you bring into your home. Every. Damned. Piece. 
Whether it be new, vintage, thrifted, or whatever.  YOU MUST LOVE IT. Period. Full stop.
So here is my decorating advice to you …
ONLY BUY PIECES YOU WILL
LOVE, LIKE SUPER HARD
If you're in the process of furnishing your home, don't run out and buy random crap just to fill up a room.
Not only does it end up being a colossal waste of your hard-earned money, but you will also end up regretting being stuck with crap you can't stand looking at on a daily basis.
So my advice to you is to be patient and wait for the perfect pieces to come along that you know will bring you joy and a BIG smile every time you look at them.
Case in point:  We had this West Elm platform bed in the guest bedroom of our previous home for 5 years (got it free with our West Elm rewards!).
Even though it was for our guest bedroom, I still wanted a headboard that looked special.  But in those 5 years, I never found one I loved quite enough.
Fast forward to 2017 when we moved into our farmhouse. I wanted the headboard to be tall, have some kind of interesting design, and I wanted warm wood tones.  And this time, I wanted to put the bed in our master bedroom to enjoy it every day.
This West Elm bed was my ultimate dream bed but since our construction project went over budget (typical unexpected expenses), I had to nix that purchase.  So bummed!
But I kept at it and finally – FINALLY – I came across this beauty on Wayfair for $400.
YES – $400!! Plus FREE shipping!



Look at how pretty it is in our bedroom!! It's like a piece of art.  LOVE.
Even though it's not the original dream bed from West Elm I wanted, it's a pretty dreamy headboard (it's SO pretty in person!).
I catch myself smiling EVERY time I look at it.  I plan on getting a different linen duvet in the next few months which will make our bed THAT much dreamier.
I can see us owning this unique headboard for many years because it's so unique and the wood is gorgeous.  So yes – I love this thing, like super hard.  It was totally worth the wait.
And now, I want YOU to have a bed you love … like super hard!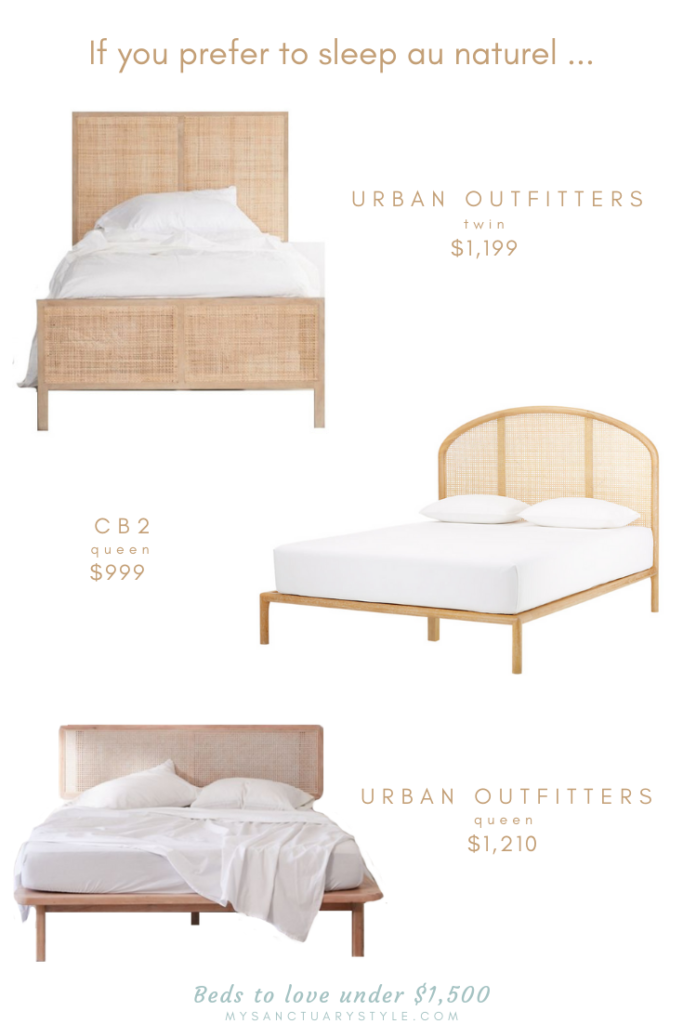 So which one of these beds is your fave?  For me, it's definitely any of those amazing rattan beds. GAH!
Thank you so much for following my blog and for letting me help you create your own lived-in, loved-in spaces!