By now, you're probably thinking, "OMG.  Is this EFFING design series over yet, because I don't have enough EFFING wine left to survive another EFFING post!!"  I feel ya, and we're soooo EFFING close so try to EFFING hang in there a wee bit EFFING longer.  It would probably do your liver some good to drink a little water anyway.
So let's move on to further dissecting my nonsensical design style:
#CALISCANDIMIDMODBOBEACHCOTFARMGLAM
We've already covered "CALI" , "SCANDI",  "MIDMOD" and "BO" , and now we're on to "BEACHCOT" which represents my next favorite design style:
BEACH COTTAGE
My interpretation of Beach Cottage design style is a space that exudes a sense of relaxation, as if you're on a permanent vacation in the islands somewhere.   Incorporating objects that evoke feelings of being near the sea and sand are essential to this design style, both in colors and textures.
A successfully designed beach cottage space should emit super cozy vibes as soon as guest walks into your home.  You want your guests to feel that they're welcome to take their shoes off and curl up on the sofa with a snuggly blanket. The space should feel serene, yet invigorating because it's giving someone's mind a chance to get some much-needed rest.
The best way I can reduce this design style to its human equivalent image is Jimmy Buffet as a super comfy, broken-in slipcovered sofa, topped off with a wacky, unshaven Matthew McConaughey as throw pillows to add some whimsy and texture.  "Alright, alright, alright.  It's margarita time, ladies … "
ESSENTIAL DESIGN ELEMENT #1:
SEASHELL ACCENTS
I moved from Chicago to Naples, Florida, over 2o years ago.  In case you don't know where Naples is located, it's way far south on the Gulf of Mexico side of the state that looks like America's flaccid penis. If you think I'm the only one that has come up with this unsettling – yet visually accurate – mental image, you're sadly mistaken, my friend:
I have always been drawn to bodies of water – whether they be freshwater or saltwater, large or small – because my soul feels so much inner peace and tranquility whenever I'm near water.  So I try to honor the water with little touches of the beach wherever I can.
Our last house was the sweetest little vintage fixer-upper beach cottage that was right across the street from a small bay.  It was a great house but it wasn't suiting our needs any longer so we decided to finally build our modern farmhouse that we're in now.
Transforming that cute beach cottage into something truly special will be an experience I will cherish forever.  I really do miss that quirky little house – it was so relaxing, charming and cozy – and I wanted to make sure I brought those same elements into our new modern farmhouse.
Our new farmhouse is about 5 miles from the beach, but I still wanted to incorporate little touches of beach living throughout the house without it looking too kitschy.  For example, the chandelier in our dining room (see photo at top of post and below) is made of capiz shells.  It's a very subtle way to add a beach cottage feel without having a shit ton of seashells all over the house.
And as our dining table centerpiece, I have a simple glass container that's filled with seashells we've collected from our beaches over many years.
Here's a view from the dining room to our foyer where a capiz shell star sits on the entry table that ties in with the capiz chandelier in the dining room.  There's a method to my seashell madness, people.

I also incorporated a subtle beachy feel in our farmhouse by using my West Elm sea glass bottle collection in different areas of our great room.
Additionally, I made some sea glass bottle urns for a few of our dearly departed pets. It's a super duper easy project to do and they're SO much prettier than typical pet urns that scream "HEY – DEAD PET IN HERE!!!" I wanted our beloved pets to be in the same room as us but without bringing feelings of sadness that typical urns can bring.  Now I smile whenever I look at their cute little beach glass urns.
I placed one of my sea glass bottle collections on this antique buffet I've had FOREVER (and I'm NEVER getting rid of!).  After we moved into the farmhouse, I gave the buffet a little makeover with some sleek modern brass knobs which really upped its design game. You can also see the little seashells I added to the huge glass lantern to the left.
Again, just some subtle touches of the beach scattered here and there throughout our home.  The point is, you don't need to use anchors, starfish, and other typical nautical objects in order to achieve a modern, beach cottage feel.


ESSENTIAL DESIGN ELEMENT #2:
SLIPCOVERED FURNITURE
Another important design element necessary to achieve that everlasting laid-back Jimmy Buffet vacation vibe is that of slipcovered furniture.  You want to find pieces that instantly make you want to sink way deep down into a sea of comfy cushions for DAYS.
I have used slipcovered furniture in our homes the last 20 years because not only do they tend to be incredibly comfortable, but they are practical as well since you can easily toss soiled slipcovers into the washer.
We had a white Pottery Barn sectional for over 10 years and it looked brand new because I washed the slipcovers once a month all those years (we practically had a zoo living inside our home).  And if you have a house full of dirty little kids (is there any other kind??), slipcovers will become your saving grace.  I PROMISE.
Here are some really awesome slipcovered sofas that would be perfect for introducing a beachy feel into your own home.  I included different price points because, HEY, it's your money.  I don't know what the hell you want to spend it on.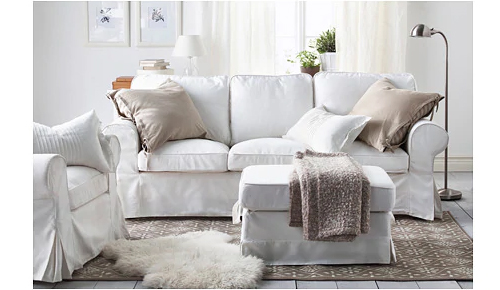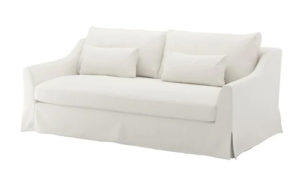 Don't these all instantly make you want to curl up in the fetal position while sucking your brandy-soaked thumb in them?  OMG. Total slipcovered Heaven right here, guys (especially that last one!).
ESSENTIAL DESIGN ELEMENT #3:
COLORS OF THE SAND AND SEA
If you want to bring in a feeling of the beach what better way to do so than to use the colors of the sea? Blues (especially aqua, turquoise, and navy), greens, and sand colors are essential elements of Beach Cottage style.
They'll give you that instant "I'm on my forever vacay so leave me the f@ck alone" feeling of relaxation you've been searching for in your home.  Let's take a look at a few spaces that use this soothing color palette to perfectly achieve a relaxing, beach cottage vibe:
Image Source:  House of Turquoise

Fun Fact – This house was my inspiration for the front elevation of our farmhouse!
ESSENTIAL DESIGN ELEMENT #4:
TEXTURE, TEXTURE, TEXTURE!!
This is hands-down one of my favorite design elements of Beach Cottage style.  Having texture throughout a space helps give it that cozy cottage feel that you never want to end.  And unlike a vacation, it doesn't have to!
So how do you achieve this essential element of texture?  My favorite ways to incorporate texture in this style are by natural elements such as sisal, jute, rattan, cotton/linen, and wood (especially through furniture and lots of wall, ceiling, and trim details).
As the old saying goes, "A picture is worth 1,000 words," so let's allow the following photos to do all the talking about how to incorporate some stunning textural elements into your space:
There are SO many beautiful Beach Cottage inspiration photos out there and it was really difficult narrowing them down for this post.   I hope this post gave you some serious inspo to add some modern coastal touches in your own home!
Thank you so much for following my blog and for letting me help you create your own lived-in, loved-in spaces!