I'm almost to the finish line of my seemingly never-ending "My Design Style Defined. Well, Sort Of…" series (what the hell was I thinking??).
We're heading towards the caboose end of this train wreck of a word that best describes my own design style:
#CALISCANDIMIDMODBOBEACHCOTFARMGLAM
We've already covered "CALI" , "SCANDI",  and "MIDMOD" , "BO",  and "BEACHCOT" , and now we're on to "FARM" which represents my next favorite design style:
 FARMHOUSE
I think it's safe to say that I don't need to give you an actual definition of Farmhouse style. It's pretty much been shoved down our throats on a daily basis since (The Amazing!) Joanna Gaines made "shiplap" a household word from her "Fixer Upper" days on HGTV. 
I've been a diehard fan of classic farmhouse style for over 30+ years now – well before it became a mainstream thing. I've always marched to the beat of my own weird drummer and Farmhouse style was considered "weird" in comparison to whatever was the style du jour (anyone remember Tuscan style? Yeah – I'm still trying to forget that one).  I used to tear out pages from Country Living, Cottage Living, and Southern Living magazines and save them in my Future Dreamhouse binders.  Thank goodness Pinterest came along because I think I was up to 10 full binders of tear sheets.
Since I was a child, I was always fascinated by old homes, especially farmhouses.  I lived in the south suburbs of Chicago and you just don't see many farmhouses in that area.  They've all been long gone – torn down to make way for boring tract developments.
I remember going on road trips to Indiana, Wisconsin, and Michigan and being mesmerized by the rows upon rows of corn rhythmically swaying back and forth in the gentle summer breeze.   And up on a hill would be THE sweetest little white farmhouse, keeping a vigilant watch over the vast acreage of cornfields.  I was in awe of the overly generous front porches, the horizontal siding, the charming windows, the gables – I could go on and on …
My interpretation of this design style is a home that feels carefree, welcoming, and unassuming, yet warm and full of character. I actually have a combo of two images that visually define Farmhouse style:  Laura Ingalls Wilder (because, DUH, she's basically a farmhouse in human form) mixed in with the stoic, rustic charm of Ron Swanson from "Parks & Recreation."  You probably thought I was going to use Joanna Gaines as my human equivalent image, didn't you? Well, I wasn't and I didn't.  So, there.
ESSENTIAL DESIGN ELEMENT #1:
CHARM, CHARM & EVEN MORE EFFING CHARM
You'll notice that there are some elements from the California Casual and Beach Cottage styles that carry over to Farmhouse style.  It's these elements that create the most charming character in a farmhouse.
Elements such as planked or textured walls, board & batten walls, tongue and groove (T&G) ceilings, wood beams, and brick or wide-planked wood floors set the tone for the warm feeling emanating throughout a farmhouse.
Let's stare at these pieces of charming eye candy for a minute or two:
I think you get the gist of what I mean by "charm, charm & even more effing charm."   Notice none of these photos show the ubiquitous "Farmhouse" signs that we see plastered all over Instagram and Pinterest.  While they're cute, they're just not my jam.  I'd rather have one-of-a-kind vintage objects that effortlessly radiate authentic farmhouse charm in a home rather than a sign trying to convince me that a newly-built tract home is a farmhouse.  It's a hard pass on that trend for me.
ESSENTIAL DESIGN ELEMENT #2:
ARCHITECTURAL SALVAGE
This is where the rugged, mustachioed Ron Swanson design analogy comes in.  Stick with me here – it'll make sense. Or maybe not.  I tend to be a "glass-half-full" kinda gal, but you do you, boo.
Anyway, a great way to incorporate instant rustic charm into a home (especially a typical builder-grade home) is through the use of architectural salvage pieces.  I'm a huge fan of incorporating salvaged objects into a home and I especially love hanging them as simple art pieces.  I have quite a bit of salvaged items I've collected over the years that I have no intention of ever getting rid of because they're so unique and interesting.
When I was designing our modern farmhouse, I wanted to make sure to mix a lot of old with the new to give our home a lived-in feel.  I wanted it to feel like it was an old home that got a modern facelift.  I'll never forget the time I was at the construction site when one of the finish-work contractors walked up to me and told me that he loved the house (especially the brick in our foyer and laundry room), and asked if it was an old house that we remodeled.  I was like, "Holy shit!!"  Nailed it.
A year before we even broke ground, The Hubs and I trekked about 45 minutes north of us to a fabulous architectural salvage yard.  I was looking for 4 tall antique 3-paned windows that I wanted to incorporate into both the dining room and master bathroom walls.  The Hubs actually found THE perfect windows that were salvaged from a house built in the early 1900s and they were MINTY GREEN (my fave!).  The best part?  They were only $50 a pair! They even had layers of chippy paint beneath them which I decided to keep intact to add to the charm factor.
The dining room is immediately to the right of our foyer and I didn't want that room to have a typical wall with a cased opening and feel closed off.  Rather, I wanted something architecturally interesting there that would provide visual separation of rooms, but let the space feel light and airy.
This photo was my inspiration for adding the dining room and master bathroom antique windows:

Image Source:  Unknown – found on Pinterest
The black windows are pretty freaking awesome, but a bit too modern for what I envisioned.  Plus, I really wanted something unique to set the tone that there is gonna be some really cool shit in this house.
Here is how I integrated the antique windows into both rooms and I seriously LOVE LOVE LOVE how they turned out.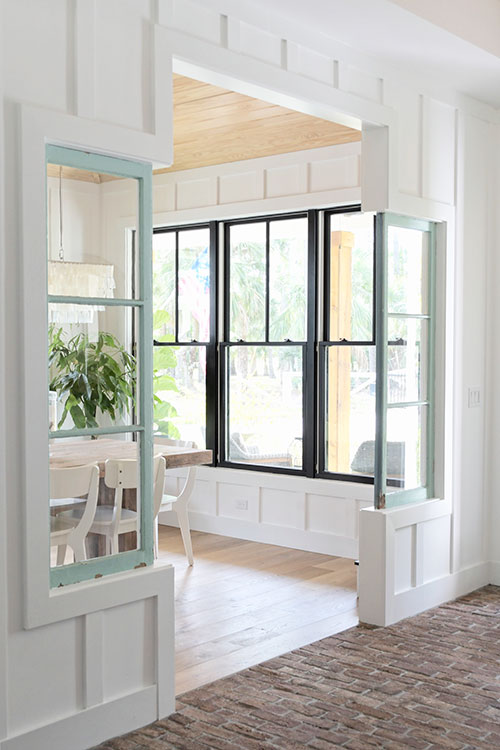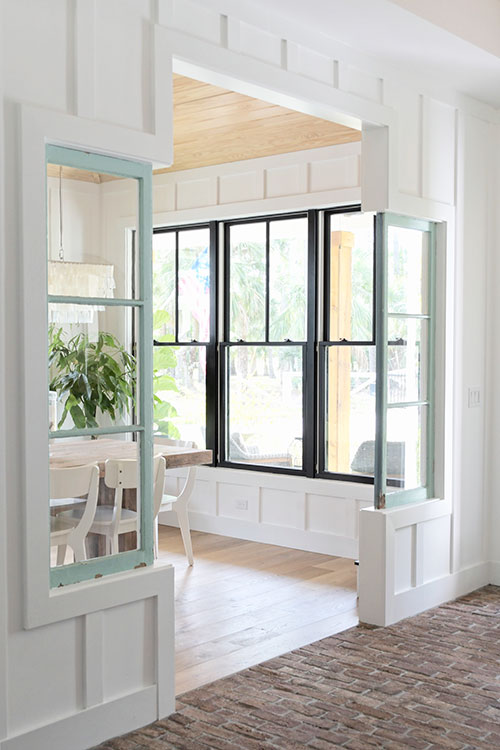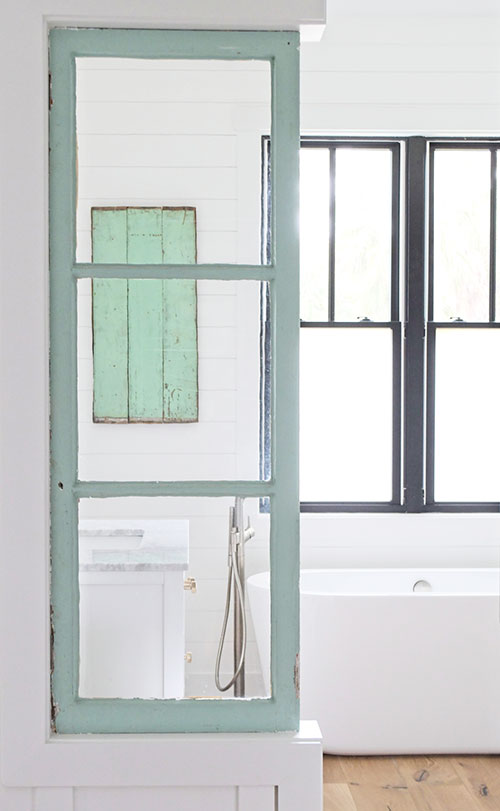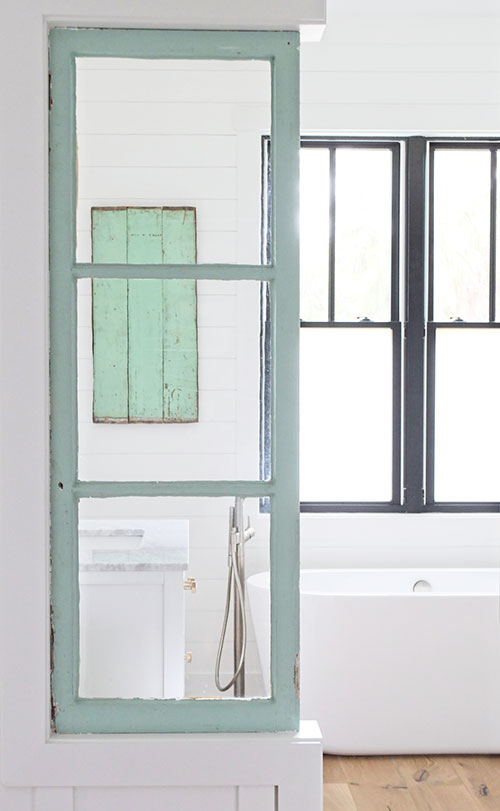 I love how truly unique they are and I love how the minty green adds just enough color to pop against the white walls. Plus, they add another layer of warmth to the rooms since they're made of wood and not metal.   With Farmhouse style, you definitely want to create spaces that feel warm and inviting and I really think these windows delivered that element perfectly.
I couldn't have achieved the same charming look and feel in these rooms using new windows, hence why incorporating salvaged items into your overall design is so important with Farmhouse style.  But truth be told, I'm also a sucker for anything old and chippy (husbands included).
ESSENTIAL DESIGN ELEMENT #3:
WELCOMING FRONT PORCHES & GABLED ROOFS
When you think of a farmhouse, what's the first thing that comes to mind?
For me, it's the alluring wraparound front porches that feel like they have giant freaky arms ready to envelop you in the biggest bear hug ever once you set foot on them.  These welcoming porches immediately make you feel warm and fuzzy inside and provide TONS of curb appeal which should – unless you don't have a soul – put a huge smile on your face.
They have a way of bringing your mind back to simpler times: no electronics, no 24-7 schedules, no Netflix (although it's probably the best invention ever, let's get real here), and make you feel a bit nostalgic for those carefree days of just being a kid running and playing in the summer sun.
The other architectural features that always get me hot and bothered about farmhouses are gabled roofs.  They add so much depth and character to such a simple vernacular.   The gabled roofs add the finishing touch to these farmhouses – it's like they're wearing little top hats. So charming!
Let's take a look at some of these gorgeous architectural details:
Image Source:  Southern Living | Photo: Laurey W. Glenn
Image Source:  Country Living (one of my faves – I still have this magazine issue because of this house)


I'm sure there are other elements in Farmhouse style I missed, but this article is based upon my own interpretation of the elements that mean the most to me in achieving this beloved style.
Thank you so much for following my blog and for letting me help you create your own lived-in, loved-in spaces!