We're more than halfway through my 7-part "My Design Style Defined. Well, Sort Of …" series, and ready to move along to Part 4.  So go grab a full glass of wine and your favorite fluffy blanket and settle in for awhile, 'cause this is a looong post.
As a reminder, this is the non-sensical word we've been dissecting that best describes my own design style:
#CALISCANDIMIDMODBOBEACHCOTFARMGLAM
We've already covered "CALI" , "SCANDI",  and "MIDMOD" and now we're on to "BO" which represents my next favorite design style:
BOHEMIAN (OR BOHO)
House Beautiful offers a great explanation of Bohemian design:  "Bohemian design today is about incorporating many different things from different philosophies, parts of the world, and ways of life. The result is an eclectic style that's as diverse as the people who inspire it."
My interpretation of this captivating design style is a space that feels effortlessly relaxing and down-to-earth, yet visually mesmerizing because of the use of bold colors and prints.  There's one human image that sums up this design style perfectly:  Kate Hudson with just a splash of Coachella (minus the angst).
ESSENTIAL DESIGN ELEMENT #1:
MAXIMALISM (PACKRATS, REJOICE!)
Now, Bohemian style is not for the faint of heart because it celebrates maximalism.  Like there is shit EVERYWHERE – every nook and cranny of a space is filled with things like art, items found through travels, plants – you get the idea.
When my eyes come across images of Boho design style, they are instantly mesmerized because of the beauty of these perfectly imperfect spaces, yet they also want to pop out of my head because it's overwhelming to stare at for too long.
Since I tend to gravitate towards minimalism (and because I want to keep my eyes in my head just a little bit longer), I use bits and pieces of Boho style in our modern farmhouse to give it a really relaxing, lived-in feel.
Thus, I don't have any of my own photos to use as examples of maximalism.  However,  I'd love to introduce you to Justina Blakeney who is THE goddess of this fascinating design style.  Check out these gorgeous spaces she designed!
You can see why Justina is the ultimate expert of this style – she perfectly layers all those comfy textiles by combining colors and textures, creating spaces that are stunning works of art.
I strongly encourage you to visit her website and blog and be prepared for some serious Boho inspiration.
ESSENTIAL DESIGN ELEMENT(S) #2:
BOLD COLORS & EXOTIC PATTERNS
I incorporated these elements in our modern farmhouse, but in very minimalistic, loosely-interpreted ways since my mind really enjoys peaceful, uncluttered spaces.
For example, I wanted to introduce a Moroccan tile pattern but I didn't want it to overwhelm any of the spaces in our home.  I was also mindful of picking a pattern that I wouldn't get sick of in a year so I decided on a more muted color instead of ubiquitous bold black & white patterns.
Tile is such a HUGE pain in the ass to rip out and re-do so I decided not to use the patterned tile on any floors. Instead, I used it in niche areas in our kitchen and bathrooms.  I figured this way, if I ever got tired of the tile, it would be SO easy (and inexpensive) to tile right over these suckers.   This is the Moroccan-patterned cement tile I ended up selecting:
Cement tile (also known as "encaustic tile") can get REALLY pricey so a big benefit to using them in small spaces is it's SO much friendlier to your wallet.  And in our case, we had to trim our build budget to stay on financial track and this was a great way to reduce some costs.
We also wanted to allocate our funds toward major architectural features such as the board & batten/shiplap walls throughout our home, and using this tile for little pops of impact throughout our spaces was a perfect solution.
What's really fun is when guests visit our farmhouse for the first time and take the obligatory New House Tour, they exclaim, "There's that cool tile again!" and then they realize how it ties in with the other spaces throughout our home.   Here's how I incorporated the cement tile in our farmhouse: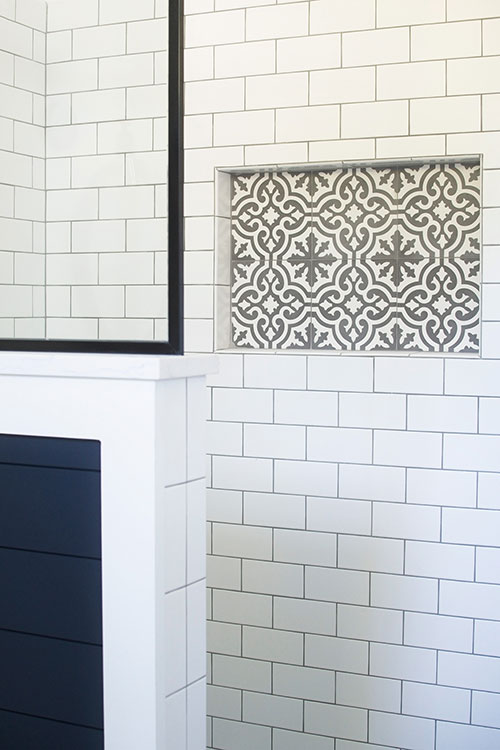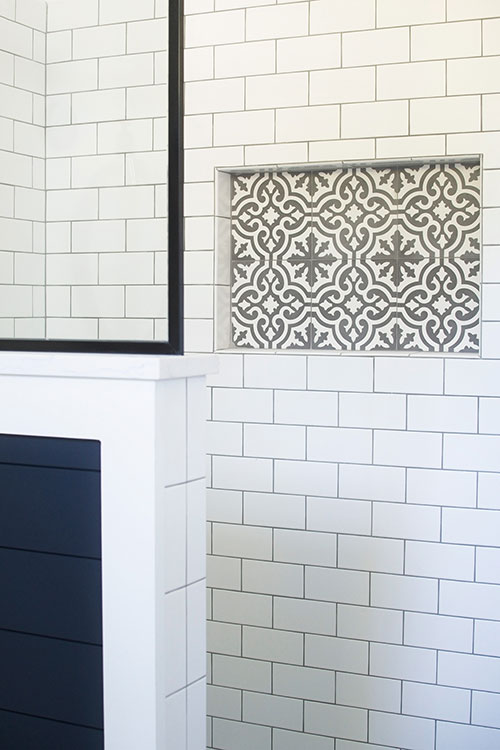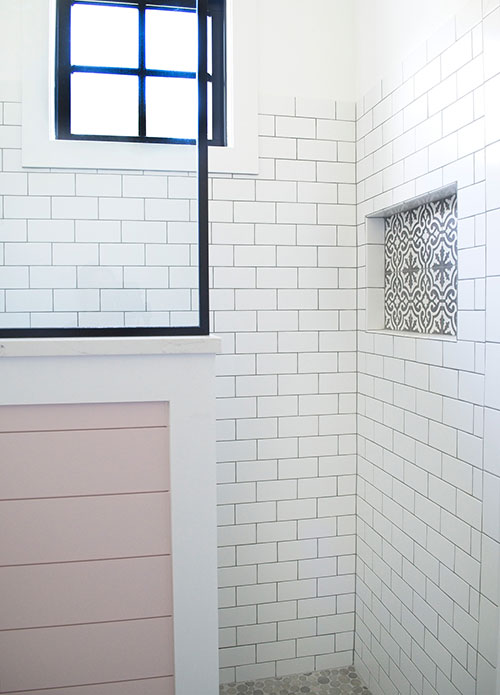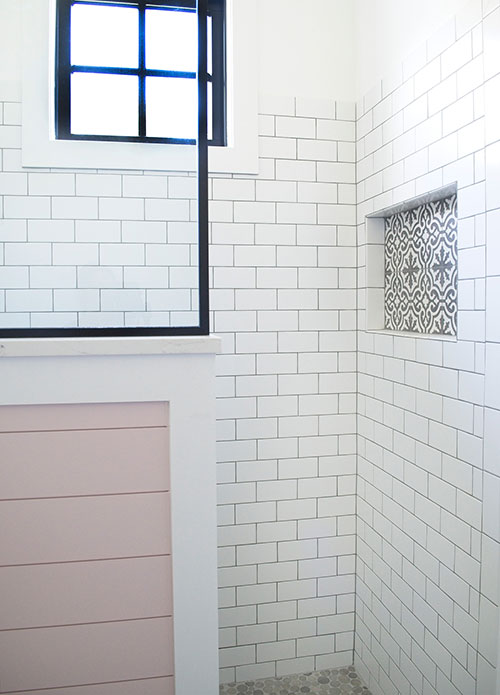 My minimalistic take on using bold colors in our farmhouse is through our bed's deep navy blue linen duvet cover (I have since changed it out) and our sofa's rich indigo slipcovers.  I know – not a Boho design kaleidoscope by any means but I really wanted to keep the Scandi style front and center in our home.
When decorating a space, I tend to find it more interesting to add different kinds of design styles. It gives it a more "lived-in" feel, like those objects have been collected over time and have really interesting stories behind them.
I also relish whenever someone looks in our home and can't really put their finger on what the hell my design style actually is. I consider that a job well done.


ESSENTIAL DESIGN ELEMENT #3:
INTERESTING TEXTILES FOR DAYS …
When you see photos of Bohemian design, you immediately notice the gorgeous lived-in textiles throughout a room.  Such as a previously-loved throw blanket, pillows covered in fringe, vintage rugs, or macrame EVERYTHING (to me there's NO such thing as too much macrame).  Interesting textiles are what really give this design style those cozy, laid-back vibes we all crave.
Let's go back to my interior designer girl crush – the amazing Emily Henderson – and check out one of my favorite styling projects she did for Target's Opalhouse line (I'm beyond addicted to this product line).
Take a look a how she styled this room from the wallpaper, to the bedding, down to the beads slung on the headboard for even more fun texture.  She doesn't leave out any detail and when I look at these photos, I instantly want to do a belly-flop onto that delicious bed! And yes, I just used the word "delicious" to describe a bed.  That's how I roll.
ESSENTIAL DESIGN ELEMENT(S) #4:
NATURAL ELEMENTS & HAND-MADE ARTISAN DECOR
What? Natural elements AGAIN?? Well, yes and no. Not like the natural material elements (like brick, stone & wood) we previously discussed with the other design styles.  The natural elements in this design are more about natural fabrics (like linen, cotton, burlap, sisal, etc.) as well as plants (can't get any more natural than an actual part of nature).
Hand-made artisan objects are fundamental to this design style as well.  The objects should tell a story; that there's some kind of interesting history involved with that object making it a truly one-of-a-kind piece.  Artisan products were made with love knowing that someone is going to enjoy the hell out of them for many years to come, and so you instantly feel a deep-rooted connection with that object.
Etsy and eBay are definitely great online resources for artisan products. Local vintage or antique shops, as well as farmers' markets, also make great resources to find really special hand-made items to add to your home.
So check out the bedroom design porn below.  Holy Moses – Anthropologie is the almighty Boho Bible of achieving this style perfectly. Just look at that stunning bed linen and all the artisan touches throughout the room!
That fantastical bed and its cozy linens – SWOON!  That textured side table – DOUBLE SWOON! That comfy rug – TRIPLE SWOON! That chandelier!  Way too many swoons involved with that one …
And then throw in those gorgeous plants for the perfect final touch.  I don't even smoke and I suddenly feel like I need a cigarette and a nap after that visual workout.
Since there is no way in hell I could ever top that dreamy bedroom photo, I'm gonna show you bits of our screened-in back porch.
This is the space where I added the majority of the Boho touches in our home.  I really wanted the space to feel inviting and relaxing, where your day's troubles would suddenly melt away by swinging around in the hanging chair (see photo at the top of this post).
When I do watch TV – which isn't very often – I absolutely love watching it out here.  There's always a breeze softly blowing the curtains and wind chimes, and I instantly fall asleep to the trickling sound of the water feature of our goldfish pond nearby.  It's our little slice of Boho Heaven on Earth.

I hope this article left you feeling relaxed and inspired because that's exactly how Boho style should make you feel!
Thank you so much for following my blog and for letting me help you create your own lived-in, loved-in spaces!