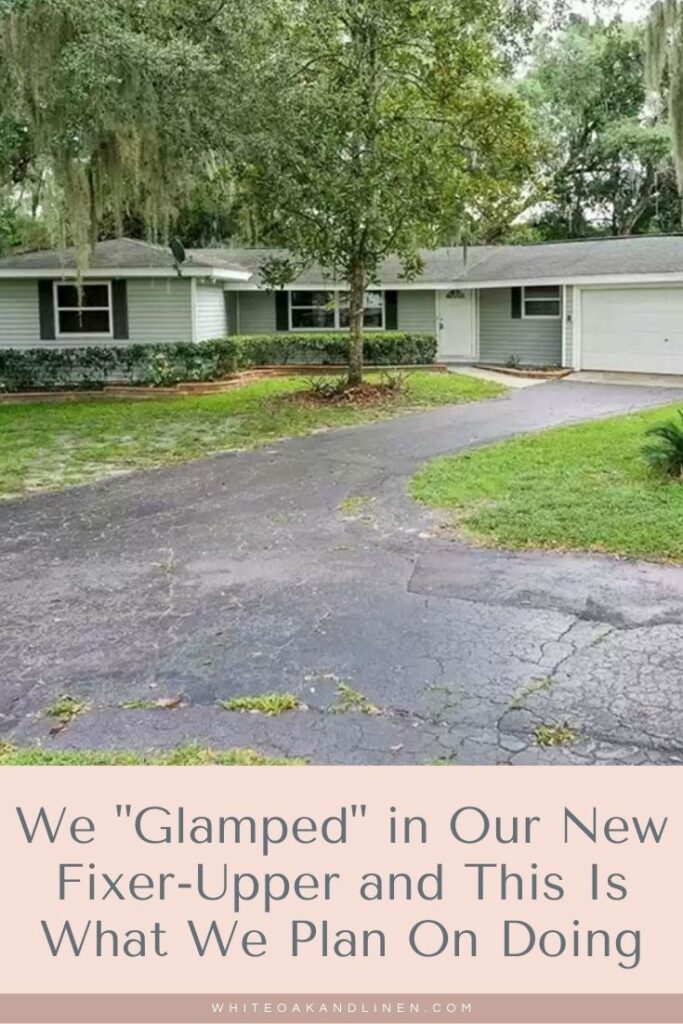 Well here were are … one week into 2022. Holy crap. MIND. COMPLETELY. BLOWN.
I feel like March 2020 was just here yet happened 10 years ago at the same time. You been feelin' like this lately too? Anyway, here's to hoping 2022 will be a merciful, healthy, and beautiful year for everyone because we sure as hell deserve it (and then some). 
Ok, so let's move on to what the meat of this post is about: our "glamping" trip in our new fixer-upper cottage over Thanksgiving week. If you're like, "Huh? What cottage?", you can get all caught up by clicking here.
In the off chance you've never heard of "glamping" before, it's a cross between "glamorous" and "camping" and usually conjures up lovely accommodations such as the photo of the ethereal glowing tent down below.
I can tell you that there was nothing remotely glamorous about our almost-weeklong stay in the cottage other than the fact that we had indoor plumbing and electricity, which I'm certainly not going to complain about (I refuse to poop in the woods like a wild animal – just sayin'…).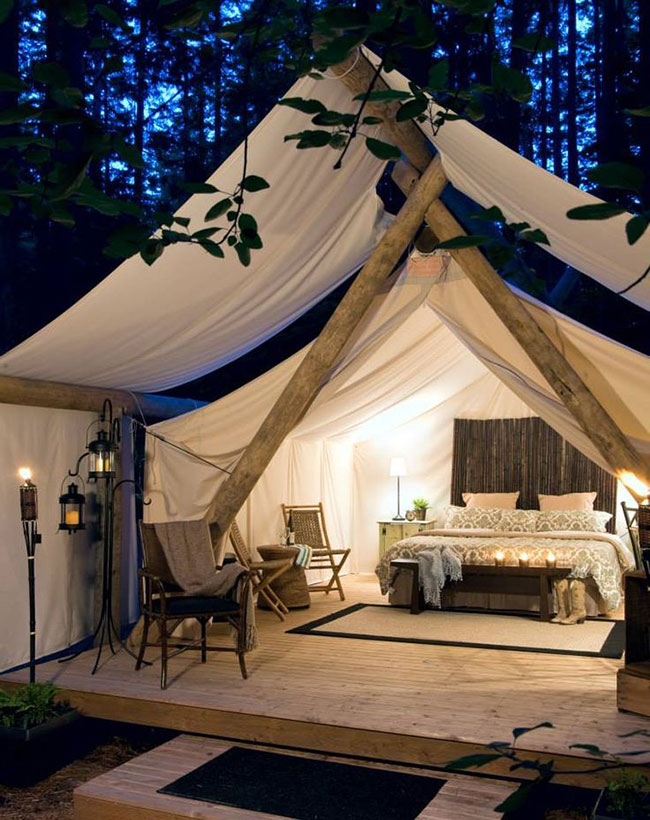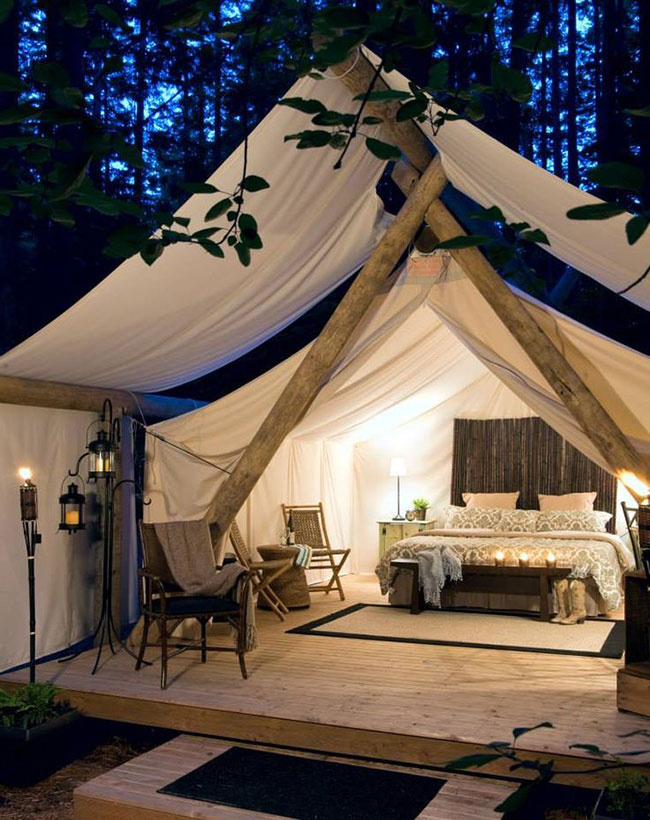 The cottage was vacant so we hauled up some air mattresses, a folding table (and a pretty tablecloth to zhoosh it up), 2 metal farmhouse chairs, a floor lamp, cooking essentials, a mobile hotspot so we could stream Hulu & Netflix (priorities, people!), and our 3 nutty rescue mutts and hunkered down for 6 days. 
Our version of "glamping" looked more like this: 
Despite not having typical creature comforts of home such as real furniture, a washer & dryer, and more than 6 pairs of clean underwear, we still enjoyed our stay and learned SO much about the house, the spectacular property it resides on, and what it would feel like living in Mount Dora.
Plus, it was The Hubs' first time seeing the house in person since I was the one that visited it during our due diligence period. He was in awe of the breathtaking backyard (just as I knew he would be!). It's really the reason we ended up buying the little shitbox. We saw SO much potential for it to become a really special place for our family.
GETTING TO KNOW OUR COTTAGE
The house was built in 1972 and it looks every bit of it – EVERYTHING is original (except for the laminate wood flooring) and not in a cute, "Hey, let's repurpose this" kind of way. This house needs a TON of work, pretty much down to the studs in every room. Thank goodness it's a small house or we'd never have the budget to properly renovate it.
Though the ceilings are 8' feet high, they seemed SO much shorter. We took out the tape measure and hoped that our eyes were deceiving us and thankfully, they were. They were dead-on 8' feet high which made us feel a bit better. But after staying there for 6 days, we decided we'd love to "pop the roof" to gain some more ceiling height and open up the spaces since the house is about 1,300 square feet and it started to feel claustrophobic, even without furniture.
Then while taking a shower in the primary bath (a weird Jack-and-Jill space shared with THE KITCHEN of all places) I felt like a giant but didn't know why. And when standing in front of the vanity afterward, I felt super tall again. In all my years of being 5'1", I never ever experienced this feeling before so I figured I needed to investigate this virgin phenomenon further.
I whipped out the trusty tape measure again and learned that the vanity was only 27" inches high when the typical vanity ranges anywhere from 30-32 inches. And the shower head was about 63" inches high when the typical shower head height is 80." Um, WHAT THE HELL?
When The Hubs took his first shower in there, he towered over the showerhead (he's 5'9") and we busted out laughing and assumed Snow White and her 7 dwarves must have lived in the house at some point since it's a short commute to Disney World. Mystery solved – well, at least in our warped minds.
The kitchen cabinets are in ROUGH shape and the whole room needs to be gutted and reconfigured because it's TEENY TINY. But it has a gorgeous southern view to the heavenly backyard and I'd love to take advantage of the stunning view even more.
There's a lot of work that needs to be done on the cottage but she's a diamond in the rough and I can't wait to give her the makeover she truly deserves!
WHAT WE DECIDED TO DO WITH THE COTTAGE
On Thanksgiving Day, I fired up the Crockpot with a roast, carrots, and taters, and we headed out to walk around the beautifully-decorated downtown area and take advantage of the invigoratingly cool weather.  It was chilly enough to wear our puffer coats which was such a treat for us after enduring recent 90° "winter" days in Naples.
After we returned to Naples a few days later and really started thinking things over, we decided on a new temporary plan for the future of our cottage.
Construction costs are sky-high right now and we don't want to have to continuously cross things off our Wish List because we can't afford them.  There's also a shortage for practically everything construction-related right now and that's not going to change any time soon (especially in the Orlando area) and we really don't want to deal with all of that additional stress this year. 
SOOOOO… we decided we're going to turn the cottage into a vacation rental for 2022. We're waiting until we sell our vacant lot that's just 3 houses down and then we'll take some of that money to spruce the cottage up and make it super cute, warm, and inviting.  We will also address some safety issues, mainly the sagging floors in a few spots, and then we'll be ready to share her and beautiful Mount Dora with others!
One of the awesome things about Mount Dora is it's only 40 minutes from Disney World, so it will be a great place for young families to stay and experience Mickey and his posse while also enjoying the laid-back, charming atmosphere of Mount Dora. It's also going to be pet friendly and will have a huge fenced-in backyard (not many vacation rentals in Mount Dora offer this amenity) for our 4-legged guests to enjoy as well.
At first I was really bummed about our new plans since I was looking forward to finally moving up to Mount Dora, but I know it's the best solution until the construction world gets back to somewhat normal and more affordable.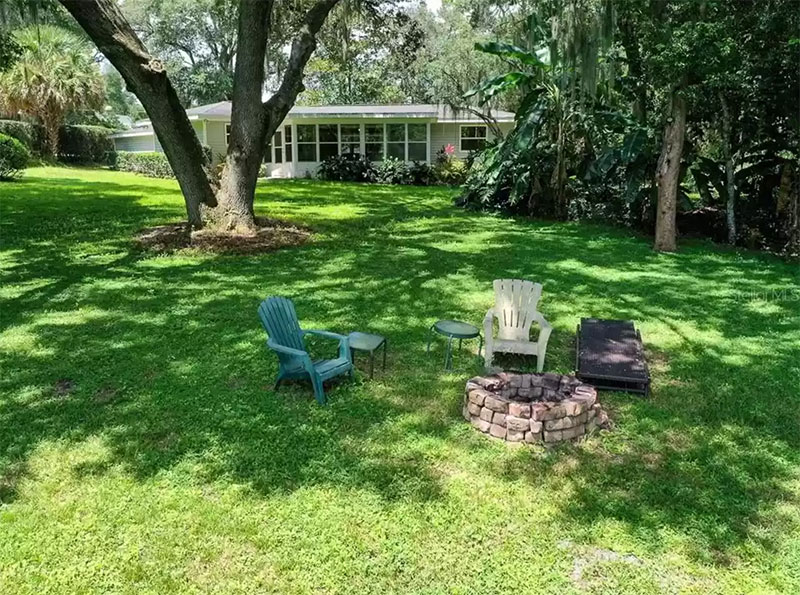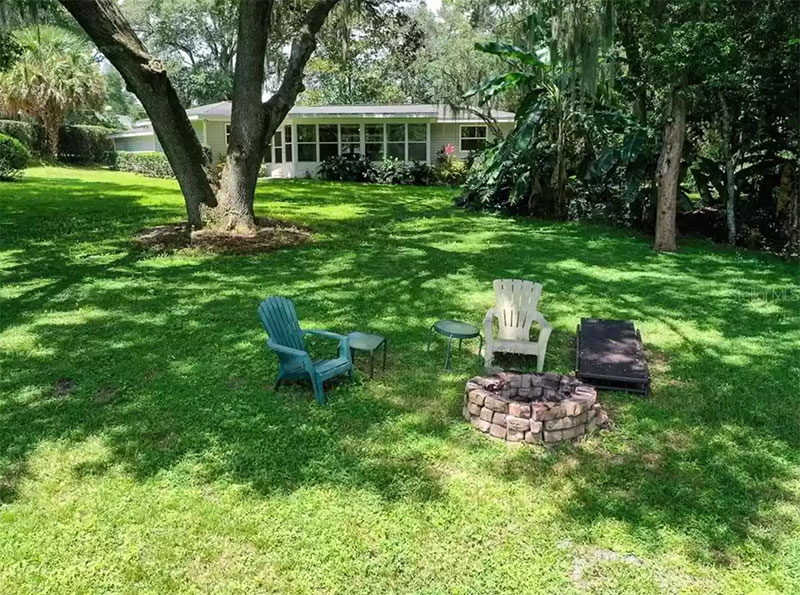 We'll be staying put in Naples for now until we're ready to make the big move to Mount Dora probably in 2023 but we plan on enjoying the cottage whenever it's not being rented out and I'm over-the-moon excited about that bonus!
I'm looking forward to taking this scary – yet exciting – new journey in 2022 and having you alongside me. I know nothing about vacation rentals but dammit, I'm going to dive in headfirst learn as much as I possibly can!
As always, THANK YOU from the bottom of my little heart for following my little blog – YOU'RE the reason why I keep chugging along and I'm SUPER DUPER grateful for that.
Stay tuned!  
---
If you enjoyed reading this article, make sure to sign up for the weekly newsletter below so you never miss a post.
Thank you so much for following my blog and allowing me to inspire you to create your own lived-in, loved-in spaces!