Earlier this year, I had the privilege of working on two kitchen refresh projects for some awesome e-design clients of mine.
Although both projects were quite challenging (mainly due to budgetary constraints), I absolutely loved the entire process and realized that if I ever wanted to specialize in something in the future, it would definitely be kitchen design.
But hands down, THE best part of both clients' projects is the fact that neither client wanted to do an all-white kitchen which was incredibly refreshing to me.
Now, HANG ON. Don't throw those rotten tomatoes at me just yet! I loves me an all-white kitchen as much as the next person but I'm kinda tired of looking at them. They're EVERYWHERE.
Plus, if an all-white kitchen isn't done just right (textures, warmth, contrast), it can look and feel sterile and starts creeping into "medical office" territory which isn't appealing to anyone other than a few random hypochondriacs.
Anyway, it was super fun getting creative with cabinet colors, fixtures, wall textures, and decor, but my favorite part was knowing my clients were delighted with the design options I presented. If my designs don't spark joy and excitement for my clients then, dammit, I haven't done my job very well!
I thought I'd quickly share a few renderings from their projects with you (I know you came here to see 10 beautiful kitchens!). There were some other options for each project as well, but these are my favorites.
In both projects, my clients needed to keep existing cabinetry and have them re-painted. In the 3rd rendering, I added a few new cabinets to the left of the stove to balance out the "heaviness" of the right side of the kitchen.
I know there are white upper cabinets in one of the projects, but there's a really good reason for that: that client's kitchen is, umm, very unique. Her house was built in the 1930s and the kitchen is actually located in a lower level, but not quite a basement level. The kitchen is very small and it shares the rest of the space with the dining room. And to top it off, the ceiling is lower than 8 feet.
So in this situation, I decided to use white upper cabinets to keep the space from feeling dark and confined. Basically, I wanted everything above the countertops to "disappear" so the small space could look as light and airy as possible while putting focus on the colorful base cabinets.
But moving on … come check out these 10 ridiculously BEAUTIFUL kitchens that have absolutely NO white cabinets.
Drop me a comment below and let me know which one of these beauties inspires you the most. I honestly can't choose- they're all so wonderfully different and overflowing with personality!
---
---
---
---
---
---
---
---
---
---
---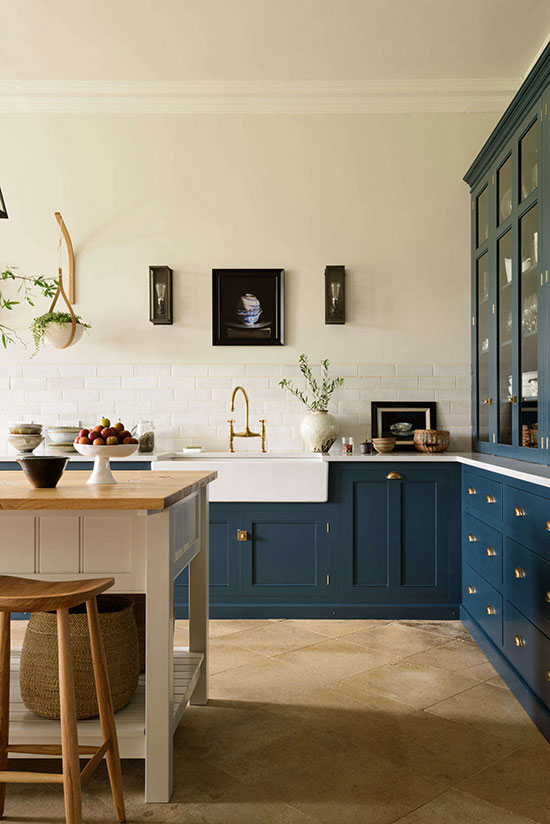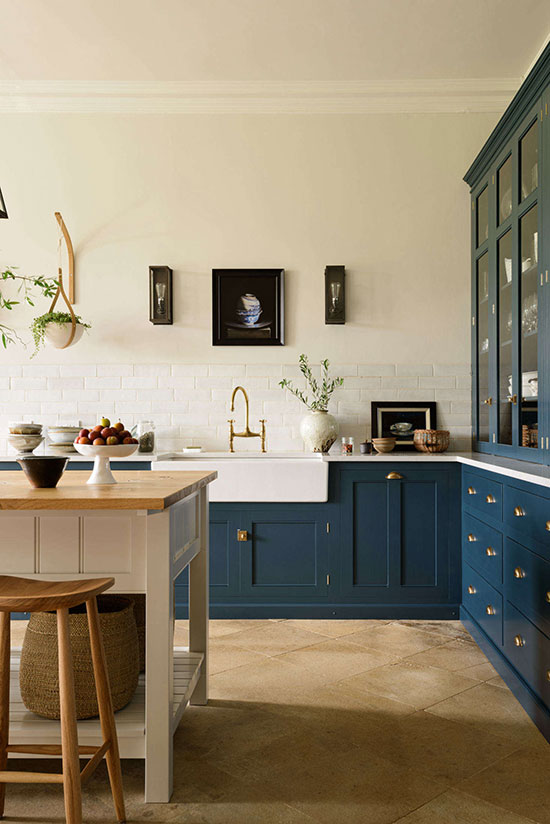 If you enjoyed reading this article, make sure to sign up for the weekly newsletter below so you never miss a post.
Thank you so much for following my blog and allowing me to inspire you to create your own lived-in, loved-in spaces!