I have a love/hate relationship with cement tile.  While I love Love LOVE all of the beautiful patterns on the market right now, I hate Hate HATE the fact that I tire of most patterns almost immediately.  My brain can't handle a large amount of bold patterns in one space – it registers it as "clutter" and basically short wires and shuts down.
For the last 4-5 years, patterned cement tiles have been all the rage and I doubt the mad love for them is going to die down any time soon.  While I'm all about showcasing your personality in your home, I'm also thoughtful about future resale and keep that in mind when designing a space.
If you're planning on selling your home anytime soon, you might want to stay away from this bold black & white pattern that's EVERYWHERE and choose something more subtle to attract a broader pool of buyers.  You don't want a prospective buyer to instantly think, "Great.  That's going to cost me a ton of money to rip those tiles out and replace them with something else."  That potential buyer will end up moving along to the next house – that's just reality.
So how can you add personality to your home without offending any future buyers?  I scoured the 'Net to find some gorgeous "safe" cement tile patterns for your next home project and I'm sharing those with you today!
FIRST: ENCAUSTIC TILES & CEMENT
TILES ARE NOT THE SAME THING
Even though the terms "encaustic tile" and "cement tile" are often used interchangeably, these materials are not one and the same.  Actually, there are several differences between them.
It really helps to know what these differences are because they will dictate how (floor and/or wall) and where (indoors and/or outdoors) you can use either of these tiles.  Learn more about the differences here, here, and here.
However, what they do share in common is the fact that they can get pretty pricey very quickly.  So thorough, accurate planning is a MUST when using either of these materials.
Cement tiles can be thicker than ceramic tile or wood flooring, so this will be a critical factor during the planning stages.  Plus, since cement tile is much heavier than ceramic tile or wood flooring, your space's subflooring or walls (for backsplashes, showers, etc.) might need to be stabilized to withstand the additional weight.
Cle´Tile has a great article on tips for the perfect cement tile installation.
Let's use a powder bathroom as an example of how quickly costs can add up when using this kind of tile.  The average powder bath is about 20 square feet.  We'll use an average of $8 per piece of cement tile (how this kind of tile is commonly priced).
Online tile shops will usually have a square footage calculator tool right there for you to use to figure out how many pieces you're going to need.  This super handy tool is what I'm using for this example.
For this exercise, we're going to use an 8″x8″ tile at the $8/piece price.   We will need 60 pieces of tile and at $8/each, the total price just for tile is $480 (not including taxes & shipping).  Remember: The $8/piece is just an average price – they can either be lower or much higher than that price.
Now you need to add in labor costs which can range anywhere from $10-$15/square foot.  So to install the 8″x8″ tiles would cost anywhere from $200-$300, bringing our total cost to $680-$780.   This doesn't take into account any work that needs to be done to add more support to flooring or walls.
If this is not in your budget, I recommend using ceramic tile that looks like cement tile. Not only can you save a ton of money going this route, but ceramic tiles are pretty much maintenance-free which is always a plus (cement tiles require quite a bit of maintenance).
But if you STILL have your heart set on using encaustic or cement tile, read on!
WHERE TO USE ENCAUSTIC & CEMENT TILES
WHEN YOU DON'T HAVE A BIG BUDGET

I chose to use cement tile sparingly throughout our home.
When I was designing our modern farmhouse back in 2016 (it was built in 2017), I knew I wanted to incorporate cement tiles into the mix for a splash of quirky fun.
I also knew I didn't want it to overpower any space and I didn't want to use it in a "permanent" way in the event we ended up selling our home in the near future.
And since I tire of busy patterns rather quickly, I usually work with a neutral base of "permanent" materials and spice things up through fabric, artwork, plants, and other accessories that are inexpensive & easy to change out.
Click here to see how I used small amounts of the cement tile (shown above in our kitchen) throughout our home.  This was a budget-friendly way to incorporate some Boho personality in our home but also made it very easy (and cost-effective!) for any future homeowner (or me) to change out if desired.
Let's move on and check out the 12 subtle cement tile patterns I found!
GORGEOUS SUBTLE CEMENT TILE PATTERNS
(Make sure to Pin these beauties for later!)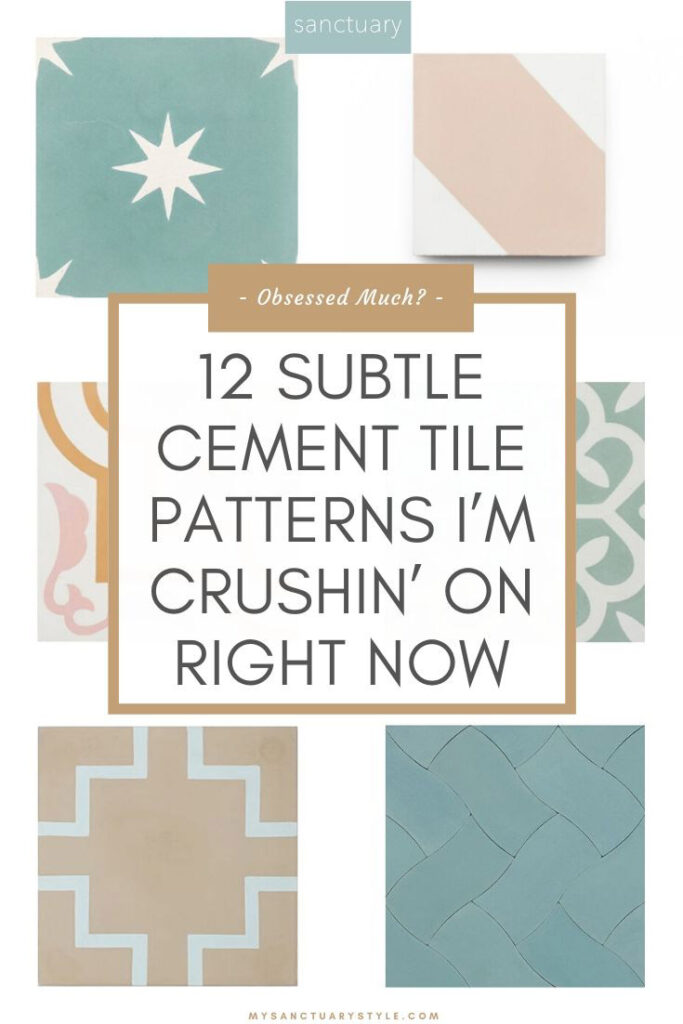 So what's YOUR favorite cement tile out of these 12?  Honestly, it's so hard to narrow it down to just one because they're all soooo gorgeous and full of personality! But, I think it's a toss-up between #9 and #12 for me.
Thank you so much for following my blog and for letting me help you create your own lived-in, loved-in spaces!