My mind is in a perpetual "batshit-crazy-hamster-on-a-wheel" state and never stops coming up with weird, creative (and sometimes, borderline insane) design ideas.
While that sounds cool in theory, it's not.  It can be mentally and physically exhausting when you can't shut your mind off for some much-needed rest. However, it can be quite rewarding IF you can remember what the hell your idea was in the first place …
So when I started getting some funky painted feature wall ideas popping into my head the other day, I knew I had to just go with it and see what equally-funky living room design idea I could come up with.
And the only decorating style I felt would be worthy of such interesting colors and decor, is one of my faves – Bohemian (Boho).
PAINTED FEATURE WALLS
If you're new to decorating or love to decorate but go through creative blocks, then this article might help jumpstart some ideas for your own home.
I'm going to start with a 3-D design layout of the geometric paint scheme that popped into my head the other day.  These feature walls are the foundation for the entire room.
The graphic paint designs look complicated, but they're really not when you break them down step by step:
Paint the base color on the walls.  I would let that dry for 24 hours before proceeding to the next step.

"Draw" the biggest geometric shape on the wall using painter's tape.  Make sure the tape adheres perfectly to the wall so paint doesn't have a way of getting under the tape.  The shape doesn't have to be perfect – that will make the wall even more interesting.

Click to see Real Simple's video and article about how to use/remove painter's tape.

TIP:  Use high-quality painter's tape that will leave clean lines behind.  Frog Tape is a favorite for many people.  It's a little pricey as far as painter's tape goes, but it's worth it because you don't want fuzzy paint lines for your feature walls.

 Paint the shapes. Create the shape by painting inside the tape borders, remove the tape and let the paint dry for a couple of hours before proceeding to the next step.
 Follow steps 2 & 3 for each shape.
 Enjoy your new funky feature wall!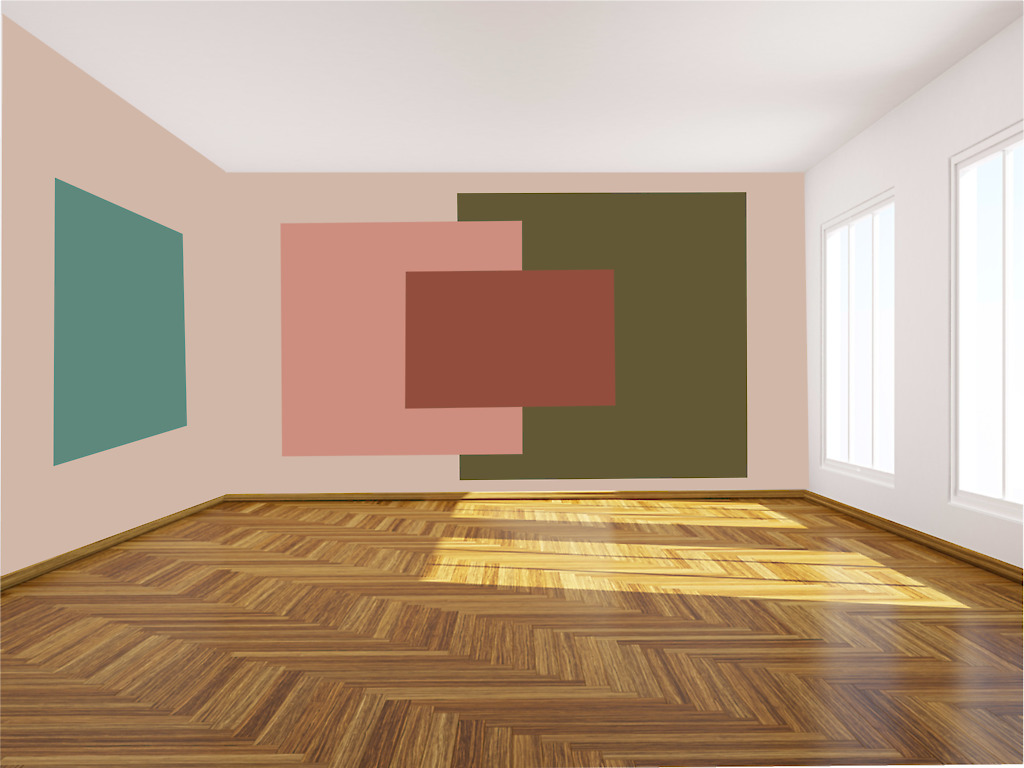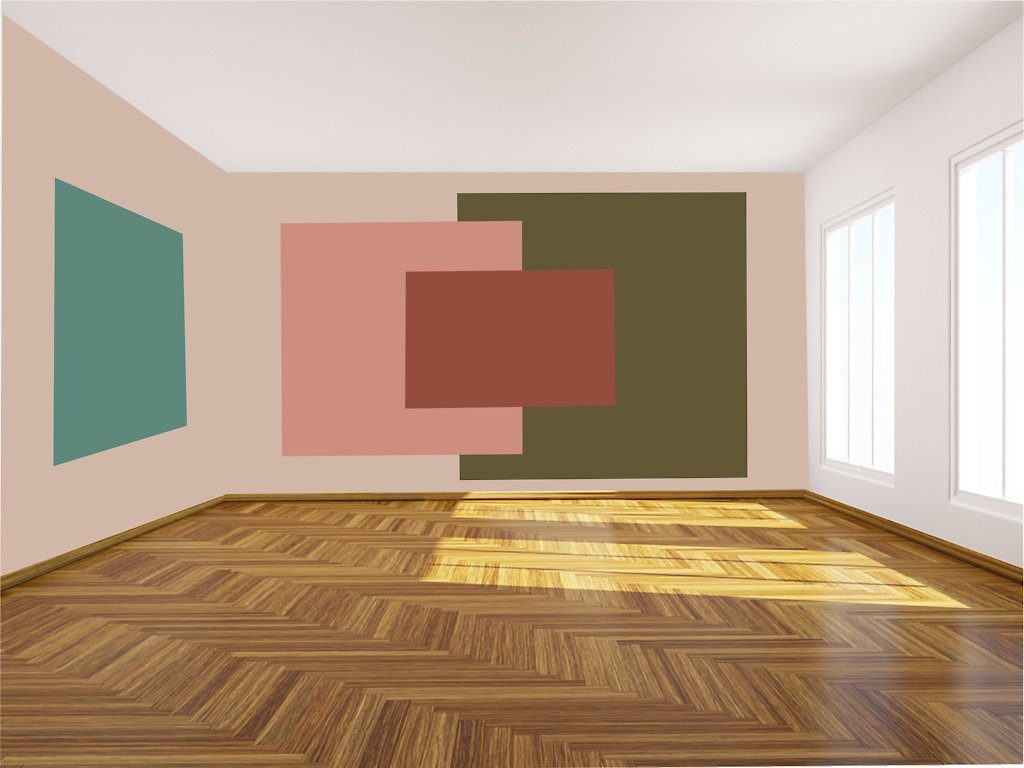 HOW TO ARRANGE FURNITURE & HOME DECOR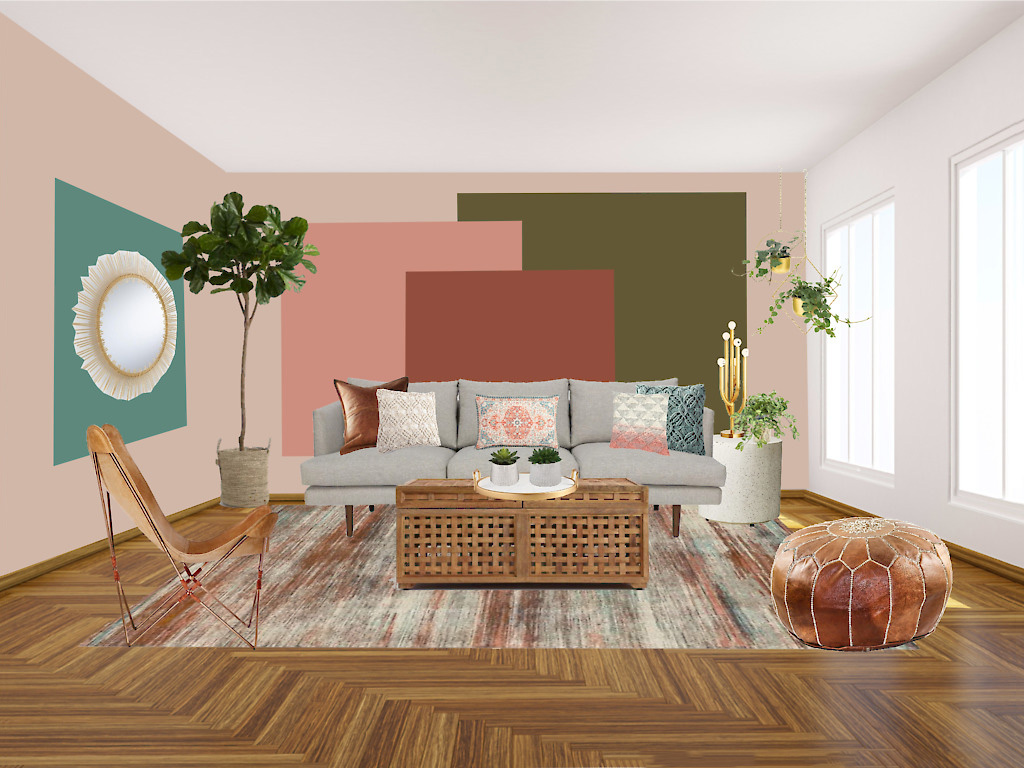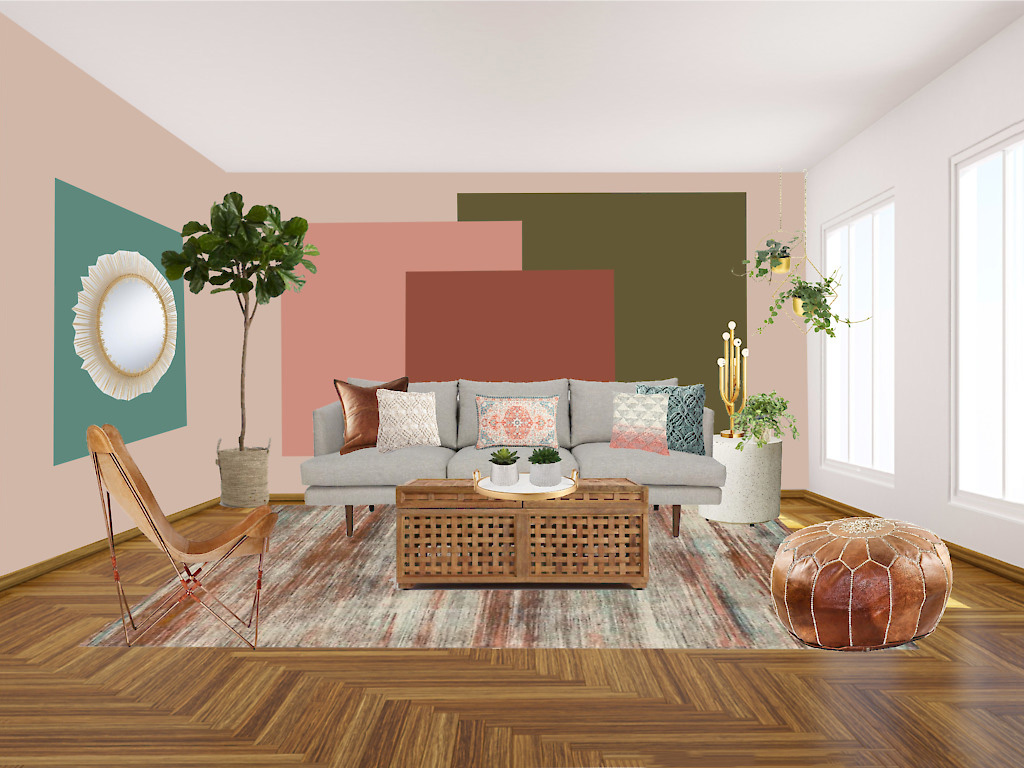 AAAAND, THE FANCY SCHMANCY MOOD BOARD
And there you have it!  The total for this room (excluding the cost of the paint) came in at just over $4,000.  The majority of that cost was from the sofa, the coffee table, the rug, and the butterfly chair.
You can certainly find less expensive versions of any of these items, which is the beauty of Mood boards – use them as a guide to help your creative brain get all revved up.
Thank you so much for following my blog and for letting me help you create your own lived-in, loved-in spaces!