As of today, there are only 47 shopping days left until Christmas.  That's right – 47 DAYS!!  And then throw Thanksgiving into the mix, and it's enough to make anyone's head spin right off their shoulders.
For the next few weeks, I'll be sharing some gift guides to help free up your valuable time (and headspace!) by doing the shopping for you so you can enjoy the holiday season and JUST BE.
This week's gift guide is targeted toward someone near and dear to my heart: The Homebody.
THE HAPPIEST TIME OF YEAR??
Let me preface this gift guide series with a confession:  I've never been into Christmas shopping for adults.   I'm not a Grinch – I just believe that holiday gift-giving efforts should be focused on children instead.
If you celebrate Christmas, try to remember what a truly magical time of year it was through your eyes as a young child. You'd secretly stay up all night writing your Wish List for Santa and his elves, while also praying you wouldn't end up with a giant lump of coal in your stocking.
Every day, you'd excitedly open up the next window of your advent calendar knowing that Santa would be visiting YOUR house very soon.  In nervous anticipation of Santa's arrival, you'd triple-check that your mom stocked up enough milk and cookies for The Big Day.  You may have even made some strategic last-minute edits to your Wish List.
But once you eventually found out that Santa was actually your parents – WOMP WOMP ? – that feeling of sincere awe and wonder dissipated and Christmas hasn't felt quite the same since that heartbreaking discovery. And let's face it, as adults, we don't need or want most of the stuff we get as gifts (uh, fidget spinners anyone?) and end up returning them, giving them away, or burning them in a bonfire.
All that aside, I actually do enjoy giving adults gifts for other occasions and love finding things that are stylish, thoughtful, functional, and something that would bring that person joy every day.
While I included a few holiday season-related items, I focused on keeping the gift guides non-holiday themed so they can be helpful resources for you during different times of the year.
Let's dive in!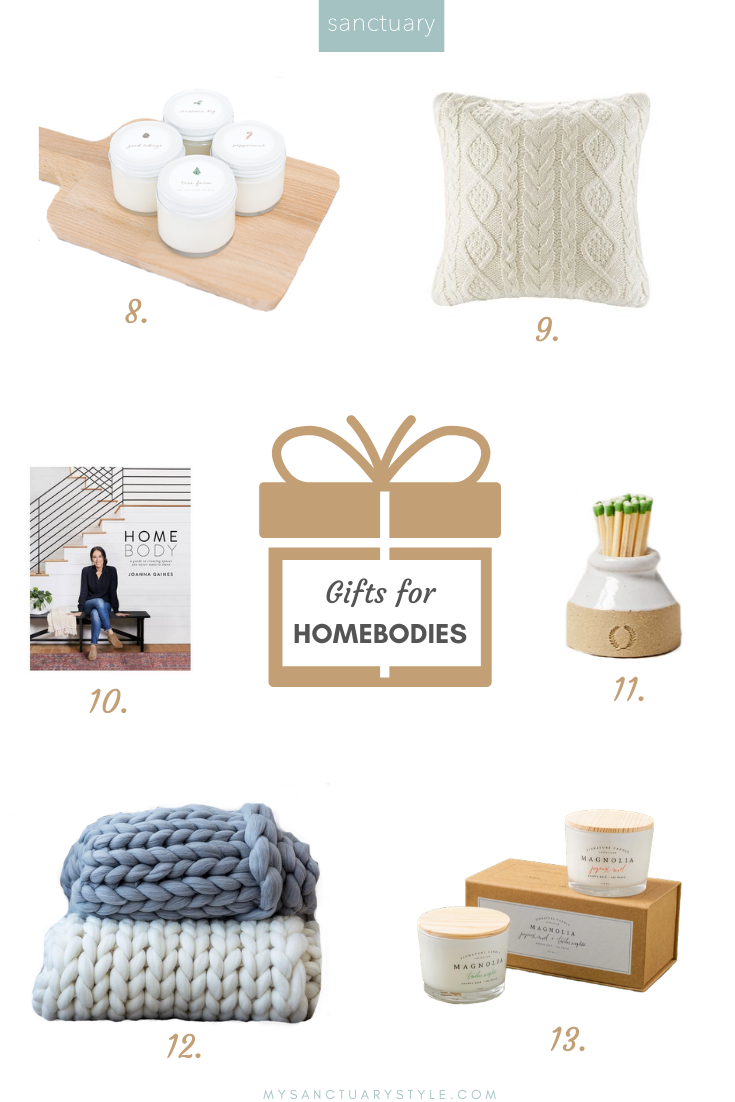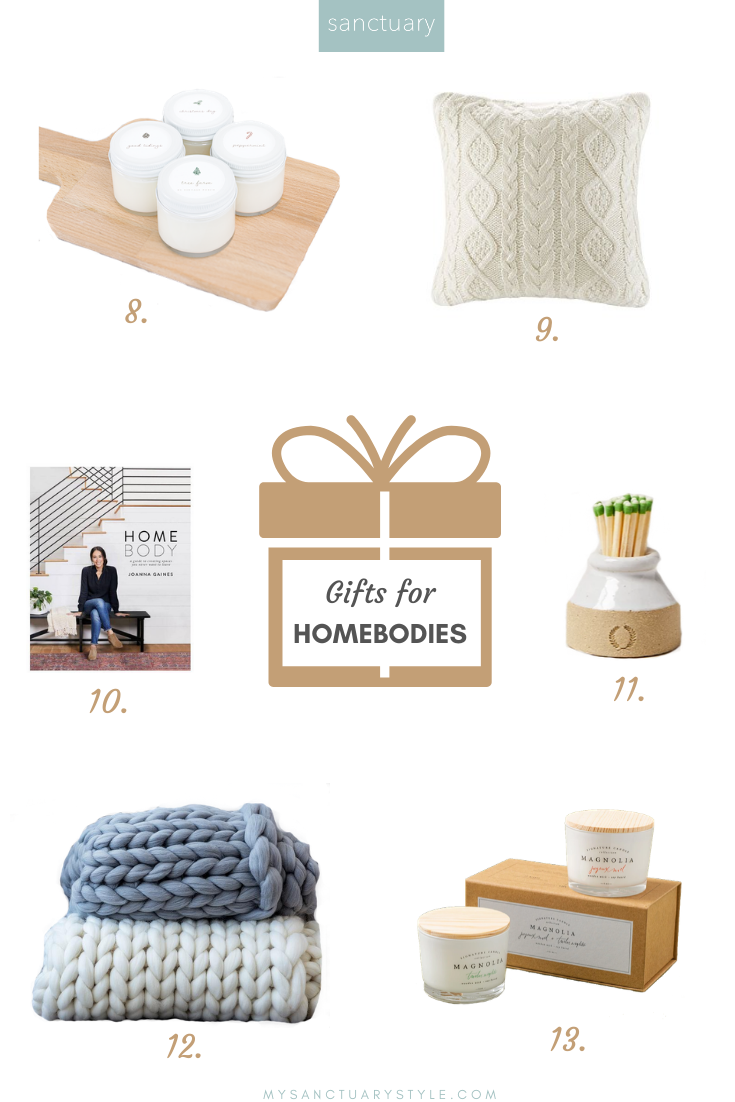 I am a homebody through and through and I can honestly say, I'd be beyond thrilled to get any of these items as gifts (especially the throw blankets).
Right now, I'm imagining being snuggled up on my sofa in that cozy sweatshirt, buried under that chunky throw,  Christmas candle crackling nearby while greedily devouring Queen Joanna's book (which I have and is an awesome read).   PURE. INTROVERTED. BLISS.
I have purchased candles from Antique Candle Co. before and the scents are ridiculously delicious. I also love that they offer sample packs to see what you like before you go all-in for a bigger candle.  Brilliant!
If you enjoyed reading this article, make sure to sign up for my weekly newsletter so you never miss another post. The signup box is conveniently located below.
Thank you so much for following my blog and for letting me help make your life + home a little more beautiful, simple, and serene! XOXO ❤︎